Ridgefield High School's Physical Education Program Motivates Students for Fitness
rsd
Monday, May 15, 2017
Did you know that only 27% of U.S. students in Grades 7-12 actually get 60 minutes of physical activity per day as recommended by the Centers for Disease Control (CDC)?
At Ridgefield High School, 41% of RHS students either engage in physical activity in the Physical Education Department or are enrolled in the high schools' health/wellness classes. RHS offers 12 Physical Education and Health classes daily. Its program includes classes in core, toning, and strength and conditioning.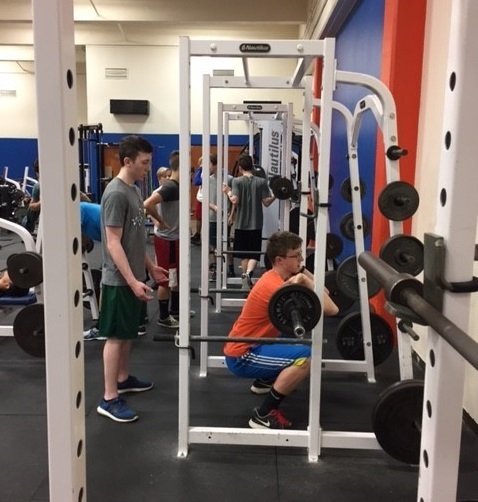 Junior Chris Lund (on left) is spotting for sophomore Nathan Sinks as he executes a front squat exercise
The goals of the RHS Physical Education/Health Education Department are to gain understanding in fitness and strength concepts; to engage students in a variety of fitness, strength, conditioning and game activities; to improve a student's fitness, strength and motor skills; and to encourage activity for a lifetime. According to the CDC, physical activity helps to improve cognitive performance and reduces depression and anxiety.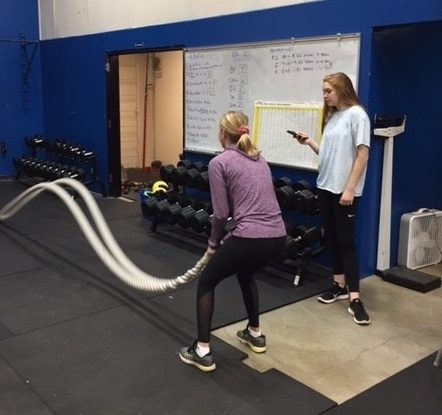 Freshman Annika Farley performs a 45-second battle rope training as freshman Emma Haynie keeps time.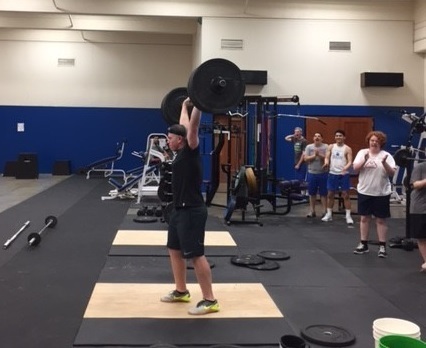 Junior Trent Meisner executes a 285-pound clean and jerk Olympic-style lift -- a personal best.
Ted Beyer, Jason Buffum and Tom Zimmer comprise the very capable teaching staff in Physical Education/Health Education at RHS. Their combined teaching experience spans a remarkable 59 years.
Buffum sees to it that students enjoy the classes. He encourages them to "dress down, participate and have fun while doing it."
"PE is like a trick, said RHS senior, Michaela Cloyd, "because it makes working out fun."