EDIT MAIN
June 18, 2020
Dear Ridgefield Families,
Thank you! We braved a challenging three months together. I can think of no better way to conclude the school year than by expressing my heartfelt appreciation to all our students, families, teachers, and staff who have demonstrated daily what it means to be #RidgefieldResilient.
On Wednesday, June 10 OSPI provided guidance on the opening of schools next year. The District continues preparations for the start of the 2020-2021 school year and we are well underway for a safe and sensible opening. Our team members are excited to see the return of students, yet we all remain well aware of the work ahead. After losing almost one-third of our face-to-face instructional days, it is imperative to maximize our time with your students this coming school year. Our children are counting on us.
Based on final guidance from the state, there will be aspects of schooling that will look different from those in previous years. Cleaning and disinfecting procedures, drop-off and pick-up, meal service, recess, and even getting through the building will change. In last week's "Reopening Survey" respondents clearly expressed concern over masks. Other families feel masks play an important role in keeping everyone safe. Please understand that the current guidelines require all students, staff, and visitors to wear masks. This is not a local district decision. We will continue to monitor state guidance and will adhere to the current recommendations at the time of opening. If you have questions or comments, I encourage you to contact policymakers and express your concerns. For your convenience, names and contact information are listed below.
Legislative District 18
Sen. Ann Rivers, ann.rivers@leg.wa.gov
Rep. Larry Hoff, larry.hoff@leg.wa.gov
Rep. Brandon Vick, brandon.vick@leg.wa.gov
Legislative District 17
Sen. Lynda Wilson, lynda.wilson@leg.wa.gov
Rep. Vicki Kraft, vicki.kraft@leg.wa.gov
Rep. Paul Harris, paul.harris@leg.wa.gov
Governor's Office – Senior Policy Advisory, Education & College Access
Maddy Thompson, maddy.thompson@gov.wa.gov
John Wiesman, jmwiesman@doh.wa.gov
Clark County Public Health
Questions about masks can be emailed to public.health@clark.wa.gov
The District is planning seven weekly camps starting the week of July 6. Each week we will offer different themes for the students. You can pick the week that your student would enjoy the most or sign up for the summer. Click on the link to the flyer to learn more.
Have a safe, healthy, and enjoyable summer!
Sincerely,
Dr. Nathan McCann
Superintendent
June 10, 2020

Dear Ridgefield Families,
As a father of two young boys, the past few weeks have shaken me in a way no other event has. The brutal and unconscionable killing of George Floyd has sparked protests, a collective call for equity, and an end to racism. "Where you see wrong, or inequality, or injustice, speak out, because this is your country. This is your democracy. Make it. Protect it. Pass it on." - Thurgood Marshall
Our district, like society as a whole, has a long way to go to ensure equitable opportunities for all. As you know, we are in the audacious pursuit of being the state's premier district. Foundational to that is the belief and commitment to providing a personalized learning experience for every student. To get to where we aspire, we must embrace and serve all learners. Serving all learners requires overt and consistent action to speak out against and eradicate all racist actions and behaviors. I was sharing with a school patron the other day that I keep a copy of Dr. Martin Luther King's "Why We Can't Wait" on my bookshelf. I read this book in college and it has stayed with me all these years. Watching the protests on television, I recently read Dr. King's "Letter from Birmingham Jail" again. Sadly, it is as timely and pertinent as the day it was written in 1963. That is nearly sixty years ago. We can do better and we must do better!
Our District has not been stagnant in regards to our efforts to provide equitable opportunities for all students. The Ridgefield School Board adopted an Equity Philosophy (Policy 1910) in August 2018. This policy serves to guide our work daily. Additionally, the District launched an Equity and Engagement Committee two years ago. Some of the activities and outcomes from this work include:
a partnership with Resolutions NW Educational Equity Training to increase our understanding of implicit/unconscious bias;
social justice training with ESD 112;
book studies (ex. Unconscious Bias in Schools);
implementing the See Something, Say Something Initiative (from Teaching Tolerance) in our schools;
participation as part of the first cohort in the statewide Inclusionary Practices Consortium, and more.
The coronavirus closure has highlighted obstacles that are not equitable and their impacts on each student. As I have shared previously, we are moving our Chromebook strategy to a 1:1 take home model for all students K-12 to reduce technology barriers that some students face. (K-2 students will keep their Chromebooks at school, but have the ability for those to go home in the event of any closure.)
In April, we began work to decluster our classrooms. The goal is to ensure that our K-6 classrooms reflect our school district's demographics. Declustering is an important outcome from our involvement in the statewide Inclusionary Practices Consortium referenced above.
Finally, while we hope for a traditional start of school, we are working hard to prepare for any necessary multi-modal learning plan with equity as the focus. The plan, which we continue to craft with members of administration and our teachers' association, seeks to provide additional support to our students most impacted by the school closures. We hope to have more information to share soon.
I'll close as I began; while our District continues to make strides, there is still more to be done. We are all the District and your voice matters. We are committed to continuing our efforts, and we must meet all forms of inequity and racism head-on with urgency. As Nelson Mandela so eloquently stated, "As long as poverty, injustice, and gross inequality persist in our world, none of us can truly rest."
Sincerely,
Dr. Nathan McCann
Superintendent
June 3, 2020
Dear Ridgefield Families,
The District values the opinions and ideas of the Ridgefield community. We received nearly 1,000 responses to last week's survey on how remote learning has impacted students' education. I am grateful for the grace and patience that families and students have displayed through this challenging time. Many respondents shared that the District's Continuity of Learning Plan was a tremendous undertaking and effective for the short-term. However, results have also made clear that it will not meet the educational needs of our students in the fall, should remote learning return, in part or whole.
I want a traditional 2020-2021 school year more than anything, and that is the District's goal. Work has been underway for weeks towards this end. Like you, I am incredibly concerned about the learning loss, unmet social-emotional needs, and the many additional services our students depend on that cannot be delivered with fidelity via the current distance-learning model. Despite our desires, we need to be prepared to follow the guidelines and requirements provided by other state governing bodies, including Governor Inslee, OSPI, and local and state health officials.
Using your feedback, the District will continue our work with stakeholders, including our valued bargaining units, to accomplish the following goals in preparation for the opening of school in September:
Review and select a consistent set of remote learning applications (i.e., Zoom) and learning platforms (i.e., Google Classroom);
Address families' desires for regular live video learning opportunities for students to meet with their teacher(s) in both large and small groups;
Create consistent schedules and expectations to support our students, families, and staff as we engage in daily remote learning.
I'll conclude with a shout-out to the Class of 2020. Your accomplishments make us all proud, and we are excited about the unlimited possibilities that await you. Go Spuds!
For those wishing to celebrate our seniors, be sure to tune in to the graduation ceremony, live-streamed on the District Facebook page on Friday, June 5, starting at 5:00 pm. The virtual graduation ceremony will also be made available on our Facebook page. The virtual ceremony includes graduate speeches, the recognition of seniors receiving awards and scholarships, the honoring of our military-bound seniors, and the celebration of senior participation in athletics and activities, as well as remarks from Principal Christen Palmer.
As always, thank you for your continued support. Stay well and remain #RidgefieldResilient.
Sincerely,
Dr. Nathan McCann
Superintendent
May 27, 2020
Dear Ridgefield Families,
We are experiencing fantastic weather, with the best still to come later this week. I hope you can find some time to get out and enjoy the beauty our region offers.
As I shared last week, the prospects for a "traditional" start to the school year remain uncertain. At this point, there are far more questions than answers. I understand how frustrating this is, and I share in that frustration. Please know, the District continues to work toward a solution, within the guidance from CDC, state, and local public health professionals, and the forthcoming recommendations from the OSPI Reopening Schools Committee. There are many facets to consider, including classroom instruction, food service, transportation, childcare, cleaning/sanitizing, local labor groups, and extra-curricular activities.
Your ideas, opinions, and thoughts are another critical component in our efforts to reopen schools. Please take a moment to complete this quick Parent survey (https://forms.gle/A7bpmi32dEajmbYS6). In the weeks ahead, you will have the opportunity to provide additional feedback for the District to consider.
Ridgefield High School graduation planning is complete. On June 5, graduates will begin the ceremony with an auto parade through town and conclude at RHS, where they will individually receive their diploma.
The ceremony will include three phases. Each phase will begin at Union Ridge Elementary and follow a route along Pioneer Street and up South Hillhurst Road to the high school. The phases will commence at 4:40pm, 5:40pm, and 6:40pm. Please help support the Class of 2020 and cheer on our Seniors as they pass by in their decorated cars. Go Spuds!
I'm very proud of our Ridgefield Family Resource Center (RFRC) team's efforts as they continue to serve families during this pandemic. If your family, or a family you know, could use some assistance, please visit the RFRC. We are here to serve. The resource center is open on Mondays 1:00pm – 5:00 pm, Wednesdays from 12:00pm – 4:00pm and on Thursdays from 1:00pm – 6:30pm. You can make an appointment outside of our regular hours by emailing christine.poppert@ridgefieldsd.org
I have often stated since the closing of schools that grace is something we all need to extend to each other during these difficult times. Our team, teachers, school board members, administrators, and support staff are committed to serving each child to ensure success and unlimited possibilities. Your active involvement is crucial toward that end. I offer my heartfelt thanks for all the support and goodwill that you have extended to the District.
Stay well and remain #RidgefieldResilient.
Sincerely,
Dr. Nathan McCann
Superintendent
May 20, 2020
Dear Ridgefield Families,
We are now less than one month from the official end of our school year, June 19. I am proud of our community and the work we have done to "flatten the curve." The task has not been easy, and it has not come without considerable sacrifice. Once again, I extend my appreciation to each of you for the grace and patience you have demonstrated as we transitioned to our distance learning model.
More specifically, I wish to thank the members of the Class of 2020 for their sacrifices. Their RHS careers came to a screeching halt three months early. Our seniors missed experiencing a number of "lasts;" their last game and performance, last lunch at school with friends, last prom, and many more. Fortunately, we can do something to give them a memorable send-off. On June 5, as part of our graduation ceremony, seniors and their families will drive through Ridgefield in an auto parade. I invite you to join me in safely celebrating their accomplishments and commemorating the conclusion of their K-12 experience. Look for final parade route details on June 1.
Just as we are focusing on the conclusion of the current school year, we are also looking ahead to next year. Rest assured, the District is working hard, planning and preparing for another school year with the realities of COVID - more on some of these plans to come later in this letter. What we know for sure, learning will continue. I encourage each of you to continue to engage in every learning opportunity that our staff are making available.
We are pleased to share that our remote WiFi Hot Spots are being accessed by families. We plan to continue this service to support our Continuity of Learning Plan. As with all our programs, we will continue to monitor use, potentially adjusting the locations to reach more families. If you are looking for connectivity a little closer to home, below is a link to free and low-cost Internet Plans from NDIA (National Digital Inclusion Alliance). https://www.digitalinclusion.org/free-low-cost-internet-plans/
We supported our Continuity of Learning Plan with the distribution of more than 750 Chromebooks to students. A reliable device is essential to participation in any distance learning model. In a previous ThoughtExchange, we heard from respondents that flexibility in learning (time, place, and pace) is a benefit of our new remote learning world.
As we look to the 2020-2021 school year, we are reviewing our district technology model to support a more flexible learning environment. Specifically, the district is exploring the move to a 1:1 Chromebook take home model. What might this look like? Our second through 12th grade students will be provided a district Chromebook in the fall for use at home and in school, rather than keeping all the Chromebooks on charging carts in classrooms. This will allow student learning to continue beyond the "regular" school day, times, and locations.
The opening of the 2020-2021 school year will be much different than any we have experienced before. There is so much that is still unknown. What I can tell you is currently, I do not believe a "traditional" start will be possible. A reopening schools task force is expected to have recommendations by mid-June. We continue to work closely with our fellow districts, colleagues at OSPI, and members of the public health community. I will keep you updated as we know more.
With all that said, summer may provide a window where we can offer more in-person opportunities for students. To the greatest extent possible, we will operate our summer programming. This includes running summer camps through Community Education, sports camps, and preparations for the fall sports season. I share this with the caveat that we will always adhere to the "Safe Start" orders in place at the time.
As always, stay well and remain #RidgefieldResilient.
Sincerely,
Dr. Nathan McCann
Superintendent
May 13, 2020
Dear Ridgefield Families,
This past weekend was beautiful. I hope you were able to get out and enjoy the sunshine while honoring all the moms in our community. As I look out the window, it seems our more typical spring weather has returned. I'm looking forward to enjoying the warm summer afternoons.
Last night the School Board spent significant time considering the vast array of unknowns and potential obstacles we face as we look forward to the 2020-2021 school year. I mentioned last week that the Governor has established a path for our return...Safe Start. I am grateful for the state guidance as it, along with the extensive work being done internally here in the District, will aid us in decision-making.
As we mentioned in our most recent ThoughtExchange, the District wants to use the COVID closure to positively shape the future of education in Ridgefield. Last week we asked you to share with us the best aspects of the Continuity of Learning Plan. Below is the word cloud that summarizes the 145 individual Thoughts that were shared with us.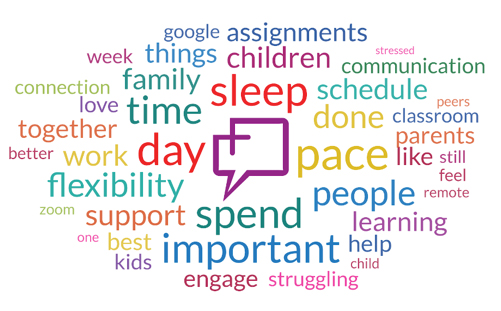 Earlier this week we launched additional temporary WiFi hotspot locations to expand connectivity options for our families. Additional WiFi Hotspots in the region can be located using the Washington State Drive-In WiFi Hotspots Location Finder from the Washington State Department of Commerce. The Ridgefield Community Center is identified on this site.
https://www.commerce.wa.gov/building-infrastructure/washington-state-drive-in-wifi-hotspots-location-finder/
If you are looking for connectivity a little closer to home, below is a link to free and low-cost Internet Plans from NDIA (National Digital Inclusion Alliance)
https://www.digitalinclusion.org/free-low-cost-internet-plans/
More than 28,000 meals have been served by our Food Service partner, Chartwells since the COVID-19 closure. We have been monitoring meal service daily to make adjustments as needed to maximize our resources. Based on the data collected, we are going to be making some changes to our weekend meal service. Beginning May 23, we will no longer be hosting drive-up or in-person meal service sites on Saturdays and Sundays. Rather, we will be providing weekend meals during Friday meal service. We believe this will expand the number of meals we serve, as we average nearly 250 more children on Fridays than the weekend combined.
Thank you for your continued support. Stay well and remain #RidgefieldResilient.
Sincerely,
Dr. Nathan McCann
Superintendent
May 6, 2020
Dear Ridgefield Families,
Let me begin this update with a flurry of thank yous! Today is National Nurses Day (marking the start of National Nurses Week) and the perfect time to give a well-deserved shout-out to our school nurses and every nurse in the Ridgefield community. Please help me send a special thank you to all the nurses in our community that continue to serve during this trying time. Post your appreciation and tag it #RidgefieldResilient.
Amazing stories of celebration and student learning continue to make their way to the District. I am so impressed with everyone's dedication and effort to move forward in this new remote learning world. I want to take a moment to thank all of our educators this week - National Teacher Appreciation Week. Thank you for your continued exemplary service during this stressful time. And thank you also to every student and family member who has taken time this week to celebrate the educators making a difference in their lives.
As the weather continues to warm, it reinforces how much I look forward to re-engaging with students, staff, and community members in person. A pathway to that end is now in place. As you know, Governor Inslee's "Safe Start" order articulates a phased approach to opening Washington State back up. You can learn more by reading the Governor's "Safe Start" order.
High school graduation is a monumental culminating point for both students and their families. A moment in time where we honor our senior students. The District has weighed many factors (some of which are listed below) to reach our final graduation decision. Ridgefield High School will hold a graduation ceremony on Friday, June 5. You can find an overview of graduation in RHS Principal Christen Palmer's letter to Spudder families.
A survey of senior students and their parents revealed that many seniors and parents still want graduation to be on June 5.
We cannot guarantee a traditional in-person graduation later in the summer

Admittedly, the Governor's phase-in approach will allow for groups of greater than 50 in Phase 4, but he has not provided specific dates for subsequent phases to begin. Instead, we will advance from stage to stage based on the state's dashboard data.

Given that graduation has been scheduled all year for June 5, we are confident that all students can participate on that day. The longer we would go into the summer means that we might begin losing students who will be going into the military, moving, working elsewhere, etc. from being able to attend.
From the beginning, the District has been committed to supporting our students with technology. With that in mind, Chromebooks for students that are still in need can be picked up Monday through Friday from 9 am - 4 pm at the RACC. This is a check-out process and takes a little longer, so please be patient. You will need to return the Chromebook by 4 pm on June 19 to the RACC. Additionally, our shipment of hot spots has arrived. We will provide hotspot internet access starting Tuesday, May 12 from 9:00 am - noon at five different locations. Look for the KWRL bus.
Cowlitz Crossing (gas station/convenience store at ilani)
Rosauers Supermarket
Mt. View Christian Academy
Whipple Creek 7th Day Adventist Church
Pioneer Vista Apartments

Later this week, the District will launch another ThoughtExchange. We invite you to participate. While we understand the trials and tribulations associated with our new remote learning world, we also believe there are hidden benefits. This week we are asking you to think about and share the best aspect of our new remote learning. We want to take this opportunity to think about how we might be able to shape the educational experience for our students, staff, parents, and community in the future.
Finally, I wish to send a heartfelt "Happy Mother's Day" to all the moms in the Ridgefield School District. Celebrating this Mother's Day will be different, but no less special. I look forward to dropping a gift off at my parent's house for my mom and spending some quality time this Sunday, watching our boys celebrate Amanda.
As always, stay well and remain #RidgefieldResilient.
Sincerely,
Dr. Nathan McCann
Superintendent
April 29, 2020
Dear Ridgefield Families,
As we see signs of light at the end of the tunnel, I am reminded of the special community we have here in Ridgefield. Whether through direct communication with families or during our weekly principal meetings, I hear story after story about the great work our teaching staff is doing in challenging conditions. Similarly, teachers and administrators are sharing success stories of their own, highlighting examples of outstanding student work products. I am deeply indebted to everyone for their efforts; thank you!
Though this has been a difficult time, I remain comforted by the fact that we will all come together again. That is why we must continue to ensure that our children remain actively engaged in the instruction our teachers are providing throughout these final seven weeks. This will ensure that our students are well-prepared for the start of the 2020-2021 school year.
Last night, the District honored our April employee and students of the month recipients remotely. While it is not nearly the same as celebrating in person, we treasured the opportunity to celebrate outstanding contributions to our schools. Please join me in congratulating our employee of the month, Kody Eastham (Maintenance department) and the following students of the month:
Meghan Miller (Early Learning Center)
Jaden Mitchell (South Ridge)
Amelia Meade (Union Ridge)
Kylee Clarke-Henderson (Sunset Ridge)
Nolan Meek (View Ridge)
Zackery Wells (Ridgefield High School)
Last week our ThoughtExchange focused on the challenges you are experiencing with the District's "Continuity of Learning" Plan. As we have come to expect, participation was phenomenal. We had 329 participants, 283 unique Thoughts with 4491 ratings. Attached is the Word Cloud. Please know that we will be using your feedback to help fine-tune our plan moving forward.
A couple of pieces of feedback we received that we are taking action on immediately include connectivity and a need for additional instructional devices.
The District has received its order of hotspots. Once our tech departments make the appropriate adjustments to them we will be placing the hotspots throughout the district to assist with connectivity issues experienced by some of our students.
The District will once again distribute Chromebooks only this time it's on a check-out (loaner) basis. Parents/Guardians or students over the age of 18 will be required to sign the Ridgefield Chromebook Checkout agreement (click here ). You may use the Chromebook during the entirety of the school closure. You will then return the Chromebook to the district office no later than 4:00 PM on Friday, June 19th, 2020. The distribution will take place at the Ridgefield Administrative & Civic Center (RACC, 510 Pioneer St.) on Friday, May 1st. Distribution will be as follows:
9:00 am - 11:00 am Grades 9-12
11:00 am - 1:00 pm Grades 5-8
1:00 pm - 3:00pm Grades K-4
As always, stay well and remain #RidgefieldResilient.
Sincerely,
Dr. Nathan McCann
Superintendent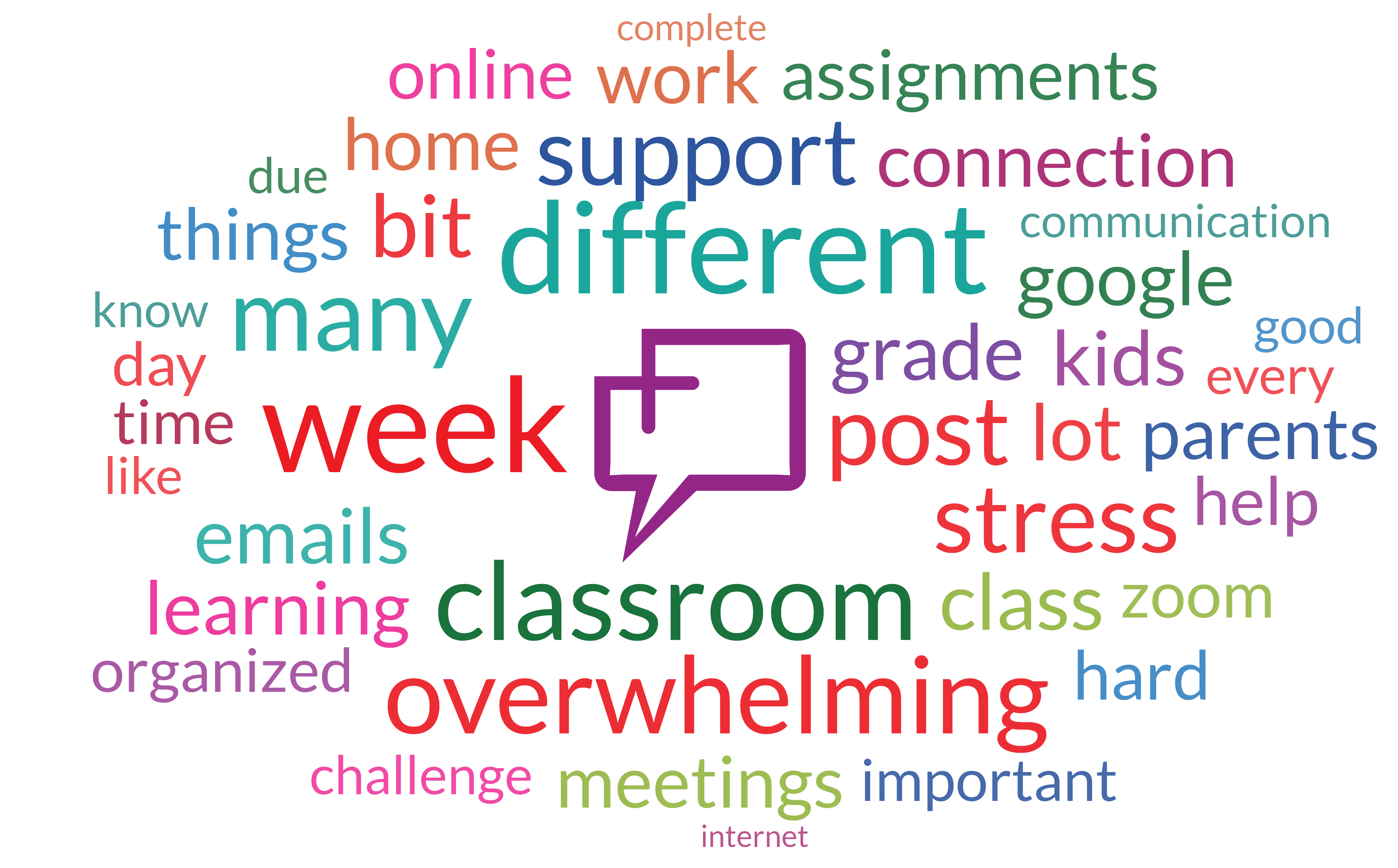 April 22, 2020
Dear Ridgefield Families,
State Superintendent of Public Instruction Chris Reykdal announced new rules that Washington state school districts must follow concerning student learning and grading. You can use this link to read the document in its entirety. This guidance will enhance statewide consistency while still allowing for some local flexibility.
What does this new guidance mean for our students?
K-6th:
End of year report cards will have an asterisk (*) in the final grading column. This will denote that the grading period was interrupted by the COVID-19 closure.
Teachers will communicate individual student engagement and growth related to essential standards.
7th-8th:
End of year report cards will have an asterisk (*) in the final grading column. This will denote that the grading period was interrupted by the COVID-19 closure.
Teachers will communicate individual student engagement and growth related to essential standards.
Staff will continue to provide weekly "expectation" grades.
9th-12th:
End of year report cards will have a COVID-19 designator, developed by the State. This will denote the grading period was interrupted by the COVID-19 closure.
Semester grades were frozen as of March 17. Students may improve grades in their individual classes, but will not be assigned any final grades lower than the grades they earned in their classes as of March 17.
The grading scale will be A-D, with the addition of an "I" for an Incomplete grade. An "F" grade may not be given for the final semester. If a student's grade on March 17 was an "F" and was not improved through distance learning, the student will be assigned an "I."
Any "I" grade will result in no credit being awarded for that semester course. Students receiving an "I" will work with the high school regarding opportunities to earn the credit through a variety of options.
Staff will be providing feedback to students/parents about how to improve their proficiency in grades.
The District's "Continuity of Learning" Plan will be adjusted to reflect this new guidance from OSPI.
We understand this is a global pandemic, a once-in-a-lifetime (hopefully) event that is rocking the world we know. For some families, nearly everything has changed. For others, perhaps the impact has been less severe. Our team recognizes that different families desire and need different amounts of learning opportunities. The goal is to provide as many learning experiences as possible to align with "regular" school closely, and that includes specialties like art, music, PE, etc.
Understandably, those may not be a priority for you and your children right now. You can select where you draw the line, the learning your children engage in, and the learning that you choose for now to take a pass on. Those opportunities will be there later as well if you decide to opt-in at that point. We do not want families trying to do more than they can handle at any given point; it leads to frustration and diminishing returns. I know in my family we are using the beach analogy, slowly wading in, and then venturing a little farther at a time as we become comfortable with the waves and water temperature. We expect we will get better with this over time as a family. This line of thinking gives us permission to extend some grace to ourselves, the school district, and everyone else. We're all going through this for the first time.
We are here to support you and your family. Please let me know if we can be of any additional assistance.
Stay well and remain #RidgefieldResilient.
Sincerely,
Dr. Nathan McCann
Superintendent
April 21, 2020
Dear Ridgefield Families,
I have said many, many times that Ridgefield is a special place. Last Friday was another shining example of #RidgefieldResilient and our community's deep connections. The line of cars stretched well down Royle...all to honor the Senior Class of 2020. We have heard from many of you that the night brought you to tears. Know that we love our Seniors and are working hard to make the end of their Ridgefield education memorable.
Yesterday, South Ridge Elementary School staff drove through various neighborhoods honoring their students and families. This is yet another example of our community coming together to show support and appreciation. Much love to our Roadrunners!
Last week we launched our second ThoughtExchange interactive survey. We asked you to share what resources and supports would be helpful to ensure students are successful with our new online learning world. We heard from 434 individuals; thank you for your participation. There were 313 unique "Thoughts" shared and nearly 6000 "Thought" ratings. I was especially grateful for the 117 students who participated. Your voice matters! Attached is a word cloud that highlights the most frequently used words.
The top three rated "Thoughts" are:
"An agenda. I appreciate teachers who send out a weekly agenda with everything that is expected and info for practice."
"Since many students are doing independent learning at their own time, it'd be helpful if posted assignments were titled by DATE and DUE DATE. Example: THURSDAY 4/16: Video on Chapter 14. DUE FRIDAY 4/17."
"Time and organizational skills. There's a lot to keep track of."
Your feedback will be helpful as we continue to move forward with our Continuity of Learning plan. Please look for another opportunity to share your perspective with the District later this week when we release our next "Thought".
A quick reminder that next Monday (April 27), our schools will be in session. This day originally was scheduled as a teacher workday. With the adjusted calendar, the school year concludes on Friday, June 19. Currently, we are planning to open the 2020-2021 school year in typical fashion on Tuesday, September 1.
Thank you for your continued support of our schools. As always, stay well and remain #RidgefieldResilient.
Sincerely,
Dr. Nathan McCann
Superintendent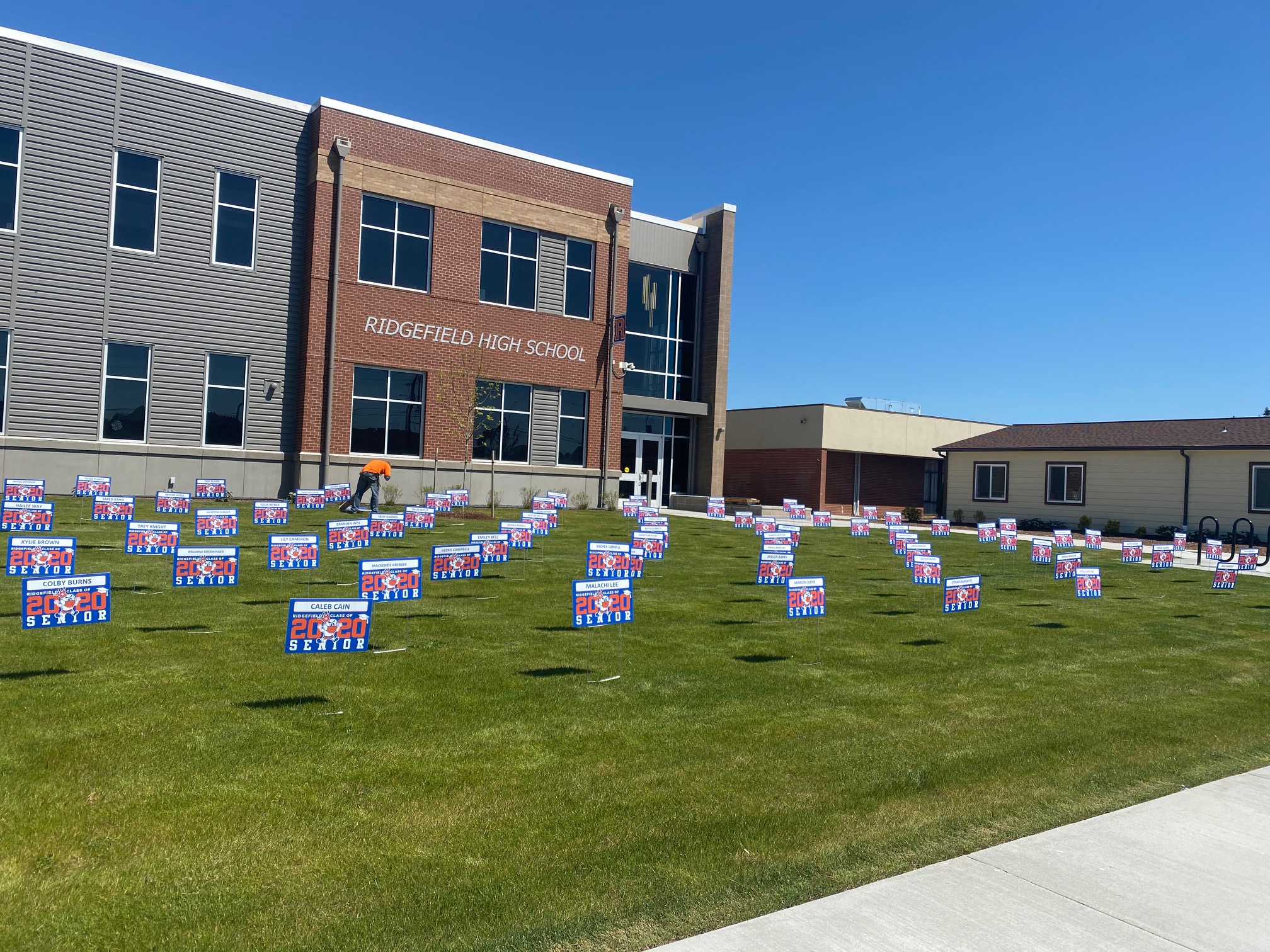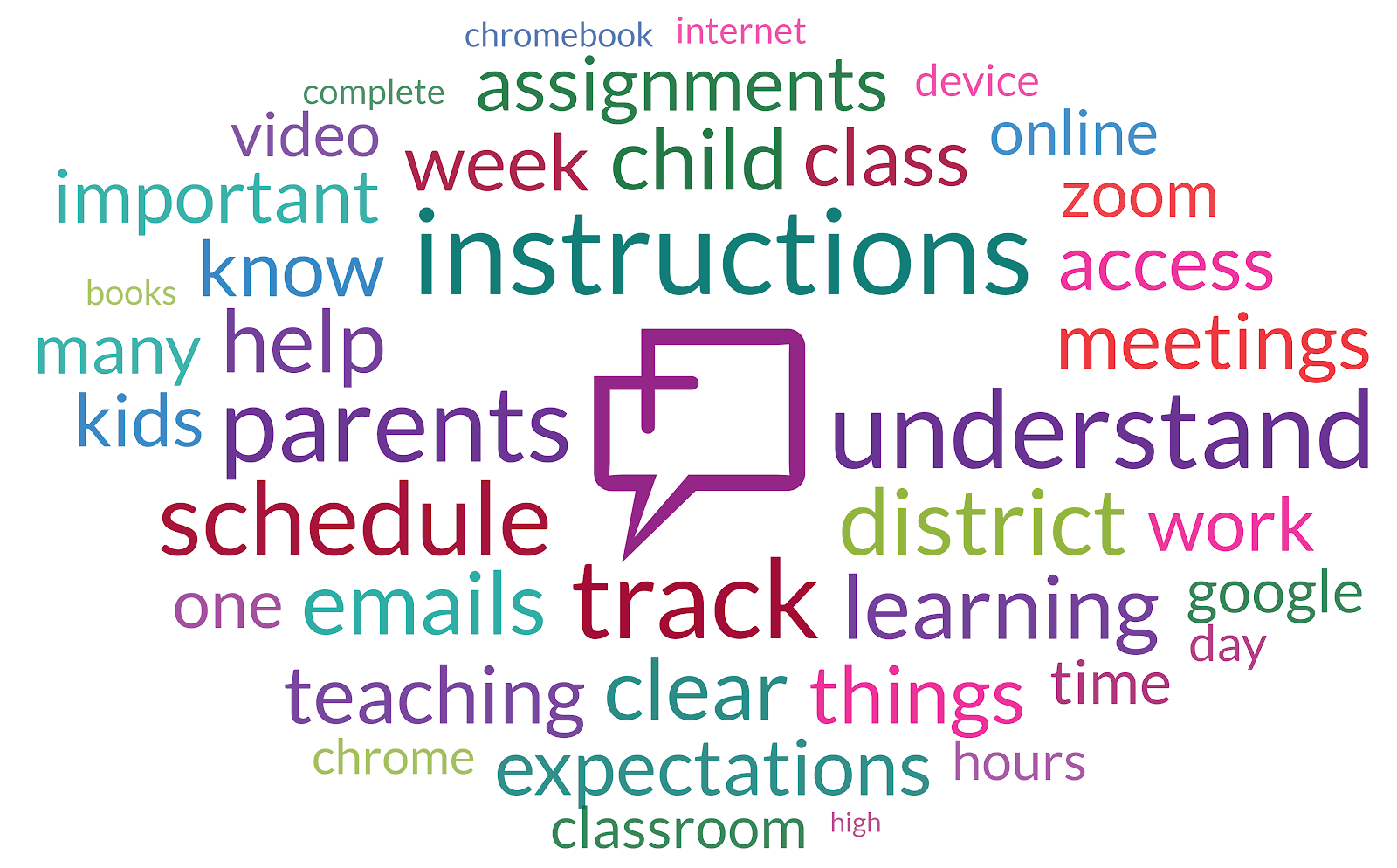 April 14, 2020
Dear Ridgefield Families,
In some ways it feels like just yesterday, and in other ways it feels like a year ago...so much has happened and so much has changed, but one significant thing remains constant, the resiliency of Ridgefield. I firmly believe that our resilience will enable us to become more connected as a community when we return. #RidgefieldResilient indeed!
This Friday, April 17, the District will honor our RHS Seniors by participating in the "Be the Light" campaign. We will be turning on both the stadium and RORC lights at 8:20 pm (20:20 in 24-hour time) for 20 minutes and twenty seconds. We invite you to join us in recognizing the Class of 2020 by turning on your porch lights at 8:20 pm. We also ask all senior families to drive by the stadium and/or RORC and honk your horns, bang pots and pans, etc. to celebrate the accomplishments of our graduating senior class. Please know, the District still intends to hold a graduation ceremony. More information to come.
The District continues to provide both breakfast and lunch to the children of Ridgefield. Last week alone, there were over 3800 meals provided. The District will continue to provide meals through June 19, the last day of remote learning. Follow the link for pick up times and locations. Meals
Last week we launched our first Thought Exchange, seeking examples of #RidgefieldResilient. Nearly 500 individuals participated in this first Thought, sharing 167 unique examples and casting 3032 ratings. Attached, please find a word cloud that highlights the most frequently shared thoughts. We will release another Thought for discussion tomorrow (Wednesday, April 15).
We officially began our Continuity of Learning Plan today to support students through remote learning. Should you need paper materials, please email your request to your child's teacher. Once the print materials are available, your teacher will notify you that they are ready and can be picked up at the RACC.
As of today, the District has distributed over 650 Chromebooks to students in the community. This is far greater than we originally anticipated the need to be. The District is down to a limited supply of Chromebooks. Therefore, we will now only be providing one (1) per household, as the Chromebooks are intended for homes without any other device to use during this time of remote learning. The next distribution day will be this Friday from 9:00-11:00 and 1:00-3:00 at the RACC, 510 Pioneer Street.
As always, thank you for your continued support. Stay well and remain #RidgefieldResilient.
Sincerely,
Dr. Nathan McCann
Superintendent
April 7, 2020
Dear Ridgefield Families,
Yesterday afternoon Governor Jay Inslee ordered all public and private schools in the state of Washington to remain closed through the end of the school year. As painful as this may be, this is the right call. While our schools will remain closed, learning will continue! As you know, our "Continuity of Learning" Plan is already in place and we shared the plan with you last week. This week, students are engaging in SEL (social-emotional learning) review lessons to prepare for core academic learning starting next week. To facilitate online learning, the District has distributed nearly 600 Chromebooks to families and an additional 150 Chromebooks are ready for disbursement this Friday.
Many defining moments occur during our lives. One of the most monumental is high school graduation. Please know that the Ridgefield School District is committed to a live, in-person graduation ceremony. Ultimately, when and where it takes place, and what the event explicitly looks like, remain to be determined. Our goal is to hold a ceremony that prioritizes health and safety and maximizes connectedness to the fullest extent possible.
Other defining moments occur through academic and athletic competitions. In keeping with the Governor's directive, the WIAA has canceled the spring sports season. This means many of our students will not have an opportunity to showcase their talents and create lasting memories. Gone too are our spring musical and theatrical performances. Please know our hearts go out to all students and families.
Since the onset of the pandemic, the District has remained resolute in its commitment to continue meal service to students. Last week alone, we served 3412 meals to children. Meal service through the end of the year will continue as scheduled Mondays - Fridays. Please click on the link for pick up locations and times.
We are relaunching student meal service on the weekends, beginning this Saturday, April 11. All children 0-18 may pick up breakfast and lunch from 11:00 am - noon at Union Ridge Elementary School on Saturdays and Sundays.
While I am sure you have questions, know we will do our best to keep you informed as we move forward. The Governor's "Stay Home, Stay Healthy" order is in place until May 4. Our goal is that once the order is lifted, we will slowly open the buildings to allow students to gather their personal belongings.
As always, thank you for your continued support. Stay well and remain #RidgefieldResilient.
Sincerely,
Dr. Nathan McCann
Superintendent
April 1, 2020
Dear Ridgefield Families,
On Monday, April 6, the Ridgefield School District will begin school online. The first week will focus on social-emotional learning lessons that the whole family can participate in to help get students ready to engage in a more rigorous and structured virtual learning environment.
Monday morning, you will receive an email through Skyward Messenger, as well as an automated phone call, letting you know that the social-emotional learning lessons are available on the District website.
Over the last several weeks, the District has worked collaboratively with Ridgefield teacher leaders to craft our "Continuity of Learning" plan. I wish to thank each member of that team, administrators and teachers, for their hard work and dedication to our students and families. To see the plan in its entirety, click here .
This is a wholly different endeavor than our traditional school structure. We are fully committed to continuous improvement. We anticipate, and frankly predict, there will be hiccups and speeds bumps as we get started. We ask for your patience and grace as we begin this journey together.
We look forward to resuming school on Monday. Enjoy the rest of your spring break. Stay well and remain #RidgefieldResilient.
Sincerely,
Dr. Nathan McCann
Superintendent
March 24, 2020
Dear Ridgefield Families,
I know this is an incredibly stressful time. Like you, I closely follow the news on the novel coronavirus spread, and so much of the news is scary. Given that, this update will focus on our #RidgefieldResilient efforts.
We have served nearly 1500 meals during the closure so far, including 288 today. Words cannot adequately express my deep appreciation for the work of our Chartwells food services team. I am pleased to announce that meal service for children 0-18 will continue during our spring break (March 30 – April 4). Look for more information soon.
Another example of #RidgefieldResilient is the effort to distribute Chromebooks to our students lacking technology devices at home. The distribution will begin later this week, with more details to come. If you still have a need and haven't yet signed up, please email chromebooks@ridgefieldsd.org with your child(ren)'s name and grade level.
Additionally, we are exploring options to bring open-access WiFi hotspots to areas throughout the District, beginning the week of April 6. As specific details become available, I will share it with you.
Daycare for students who are in kindergarten through fourth grade and are the children of first responders and health care professionals will begin on Monday, April 6. This program will be at the RACC, and the hours of operation are tentatively set from 7:00 a.m. – 6:30 p.m.
Our Ridgefield Family Resource Center continues to be a vital support for families throughout the District. Much thanks to the team (including a dedicated group of volunteers) who make this happen daily.
While the need is great and the timing would dictate now, the School Board is committed to keeping our focus where it needs to be, fighting the spread of coronavirus and serving our students and families during this difficult time. Therefore, tonight it is anticipated the Board will take action on a resolution postponing the bond election until August.
Stay well and remain #RidgefieldResilient.
Sincerely,
Dr. Nathan McCann
Superintendent
March 17, 2020
Greetings Ridgefield Families,
Here is the latest news, information, and updates. Starting yesterday, the Ridgefield School District implemented a student meal service for all students ages 0-18 at Union Ridge and South Ridge. On the first day, we served 41 students, and today we served 94 students. As we see the need increasing, we will continue to look for ways to expand our service model. Stay tuned for more information.
The District is proud to share with you today that one of our learning partners, Imagine Learning, is providing a license for all K-6 students in the District. Imagine Learning is an online language and literacy tool, tailored to each child's individual learning needs. More information is attached to this letter.
The District understands the educational impact that comes with a six-week school closure. With that in mind, we are in the process of preparing practice and resource packets to help families as we all work collectively to support our children.
Many of the resources today are online, requiring computer devices and broadband connectivity. We know this presents an obstacle for some of our families. The District has student Chromebooks scheduled for replacement after the academic year. With schools closed, the technology department is working hard to ready these devices for distribution to students through our Ridgefield Family Resource Center. Please email Chris Poppert at christine.poppert@ridgefieldsd.org to get your name on the list if your child lacks a device. We will let you know as soon as they are available for distribution.
I encourage families in need of internet access to read the following link, highlighting Comcast's efforts to provide Xfinity WiFi: https://www.kgw.com/article/news/local/technology/...
COVID-19 and the actions we are taking to fight the virus are unprecedented in my lifetime. However, tough times have a way of bringing out the best in people. In Ridgefield, we spend a lot of time talking about the three R's, Responsible, Respectful, Resilient. Although the efforts the District has made to combat the virus has disrupted our daily routines, I see example after example of resiliency in action. The District is known for our PursuingPremier hashtag. While we pull together during this national crisis, the District will conclude social media posts with #RidgefieldResilient. I encourage each of you to join the District and use this hashtag to share inspiring stories of resilience that you observe.
Stay healthy and thank you for your continued support of our schools and community.
Sincerely,
Dr. Nathan McCann
Superintendent
March 13, 2020
Dear Ridgefield Families,
As promised, I am reaching back out to you with the most recent developments involving the spread of the novel coronavirus. Just a few moments ago, Governor Jay Inslee ordered all Washington K-12 schools closed through April 24. Ridgefield will close, effective end of business today.
We are proud of the many services we provide our students and families and understand that the community depends on us being there. We are in the midst of a state, national, and frankly, global crisis. It is imperative that we do our part to combat the spread of the coronavirus.
For Ridgefield, the impact includes the following:
All athletics, clubs and events are canceled;
The school calendar is modified to include the following make-up days—April 27, June 15, 16, 17, 18, and 19. The District will apply for a state waiver for the additional missed days;
As of now, RHS graduation will be held as scheduled on June 5;
Breakfast and lunch service for students who qualify for free and reduced-price meals will continue. More information will be forthcoming;
Daycare will be available for families, with children in grades K-4, in the medical fields, first responders, and families unable to find alternative care. More details forthcoming.
We will continue to keep you updated. Please check your email, social media, and the District website regularly.
I have every confidence in our community to rise and meet this challenge. As always, thank you for your continued support.
Sincerely,
Dr. Nathan McCann
Superintendent
March 12, 2020
Dear Ridgefield Families,
I write to you this afternoon with an update on the District's continuing work developing contingency plans in the event of a long-term closure caused by the novel coronavirus. I shared with our staff earlier today that for me, one of the most unsettling elements in this crisis is the uncertainty and lack of personal control that surrounds the entire situation. I take comfort in getting up to date information. I hope this update provides a bit of comfort to you.
Our top priority is the health and well-being of our entire community. Stopping the spread of coronavirus must be the lens through which decision-making is made. We take our role in supporting this effort seriously. To this end, we remain in regular contact with our local public health officials as well as state officials, including the Governor's Office, OSPI, and the Department of Health.
As you may already be aware, earlier today Governor Inslee closed all K-12 public and private schools in King, Pierce, and Snohomish counties, valid through April 24. That order impacts approximately 600,000 students or more than half of our entire state's K-12 population.
Effective immediately, the Ridgefield School District is implementing the following restrictions until further notice. This includes:
Student activities and athletics are restricted to travel within the ESD 112 region (Clark, Cowlitz, Klickitat, Pacific, Skamania, and Wahkiakum counties);
Visiting student participants will be limited to those within the region as well;
Athletic practices and club meetings will continue as scheduled for now;
Community Education activities and classes are suspended, beginning March 14;
District facilities are closed to all external rental groups;
Large non-essential indoor student and adult gatherings such as music and theater performances, assemblies, and team banquets are postponed or canceled.
Please know, additional sanitizing and disinfecting protocols are already in place at all District facilities. However, the District's diligent sanitizing procedures do not replace best practices of remaining home when students exhibit flu-like symptoms, proper handwashing, covering your coughs and sneezes, and adhering to social-distancing practices wherever possible.
We will continue to provide you with updates.
Sincerely,
Dr. Nathan McCann
Superintendent
March 11, 2020
Dear Ridgefield Families,
Today, Governor Inslee announced that events and gatherings with more than 250 people in attendance in the Seattle Metro area (King, Pierce, and Snohomish counties) are prohibited until March 31. This proclamation has been enacted to limit the spread of the novel coronavirus. Furthermore, the Governor and Public Health Seattle & King County asked school districts in those counties to prepare for potential school closures that could conceivably last weeks or months.
The coronavirus outbreak is rapidly evolving, and there is the potential that additional limitations may be implemented in other regions of the state, including ours.
Student, staff, and the entire Ridgefield community's health and safety is our top priority. Every decision we make is with that priority in mind.
At this time, the Ridgefield School District is canceling participation in events outside of the ESD 112 region (Clark, Cowlitz, Klickitat, Pacific, Skamania, and Wahkiakum counties). This includes playing host to teams and clubs from outside the area.
It is possible that more restrictions, up to and including school closure, like those the Seattle Metro area are preparing for, will be implemented in our area.
We are preparing contingency plans with our neighboring districts in Clark County. Please know, as of right now, the recommendation from Clark County Public Health related to schools in Clark County has not changed.
The coronavirus outbreak is an unprecedented crisis. It is in moments like this that I am particularly grateful to live and serve in our great community. Together, we are stronger, and together we will get through this stressful time.
We will continue to be in regular communication with you as we work through these issues.
Sincerely,
Dr. Nathan McCann
Superintendent
March 7, 2020
Dear Ridgefield families,
While there are no cases of coronavirus (COVID-19) in any Ridgefield Schools, the Clark County Health Department announced the first confirmed case of COVID-19 in Clark County. The confirmed case and the small number of people who had close contact with the individual are in quarantine. An update from Public Health is available at https://www.clark.wa.gov/public-health/close-conta...
This is an evolving situation, and we remain in regular communication with the health department officials. We will rely on public health officials' guidance to make the best decisions for the health of students/staff and families.
Steps the district is taking to keep students and staff healthy and safe:
We are evaluating student and staff participation in events that require travel outside of the district on a daily and case by case basis. In general, the district follows the lead of the host organization and any additional guidance from public health officials regarding cancellation of events. Parents and guardians always make the final decision on whether their student will attend events outside of our district.
We are reviewing planned district events through the end of spring break. The district and individual schools will be providing updates on an ongoing basis, so please watch for changes.
If the COVID-19 illness spreads more broadly, we will follow the guidance and recommendations of public health officials.
Prevent the spread of illness:
Wash hands often with soap and water for at least 20 seconds. When soap and water are not available, use an alcohol-based hand sanitizer that contains at least 60 percent alcohol.
Avoid touching your eyes, nose or mouth with unwashed hands.
Cover coughs and sneezes. Use a tissue, then throw the tissue in the trash and wash your hands.
Stay home and away from others when sick.
Avoid close contact with people who are sick.
Clean and disinfect objects and surfaces that are frequently touched.
Plan for childcare:
Begin making plans for childcare at home if your child gets sick or if school is cancelled due to the spread of illness. The district will give families as much notice as possible. Please know this could happen with very short notice.
If a school in the district (or the district entirely) is directed to close by public health officials, the same process for a snow day will be followed, including closing facilities, rescheduling of athletic and extracurricular practices and events, and closure of before/after school programs. The district will schedule makeup days and consider whether to pursue a waiver of missed days.
Stay informed through official channels:
The Washington State Department of Health (DOH) website and the Centers for Disease Control (CDC) website are excellent resources for official information and are updated regularly. If you have specific questions, you may call the DOH information line at 1-800-525-0127 and press #. You can also find resources about COVID-19, including how to talk to your kids about the illness at www.esd112.org/coronavirus-resources. There is a direct link from our school district homepage.
Sincerely,
Dr. Nathan McCann
Superintendent
March 2, 2020
Good evening Ridgefield Parents/Guardians,
If you are like me, you are closely following the developing situation around the noel coronavirus that causes COVID-19. Please know, student and staff health and safety are the District's top priority.
With that in mind, tomorrow (Tuesday, March 3) every student in the Ridgefield School District will watch an age-appropriate video on proper handwashing technique. Additionally, students will view and discuss a "Stop the Spread of Germs" poster created by the Center for Disease Control. Teachers may also show and discuss an engaging 3-minute video about the novel coronavirus and COVID-19. The links to the hand-washing videos are listed below, and I have attached the poster.
Ridgefield School District will continue to closely monitor the situation, take precautions, and follow the recommendations from our local and state health agencies. We will continue to keep you updated.
Sincerely,
Dr. Nathan McCann
Superintendent