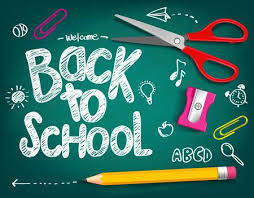 Welcome Back Families!
Jill Neyenhouse
Monday, August 12, 2019
August 12, 2019
Dear South Ridge Families,
Welcome back to another incredible year at South Ridge! I am so happy and excited to be returning for my second year as Principal. I can't wait to see all your darlings on the first day of school. I hope everyone had a wonderful summer and got out to enjoy our beautiful Pacific Northwest.
Class placements will be released by August 23rd. There is so much thought, effort and time that goes into appropriately placing each child. We want to make sure that each class is equitable in size and make up so that every student can have a successful learning experience at South Ridge. We are very lucky to have such amazing teachers so I know that every student will have a great learning experience regardless of who is their teacher.
The first day of school for Grades 1-4 is August 28th. Kindergartners will start on September 3rd (see 2nd page for Kinder info). School begins at 9:05 (except on Wednesdays 10:05) and students are welcome to arrive at 8:45, especially if they are eating breakfast at school. Our release time is 3:35 every day. School supply lists are posted on the school website (click here).
Our Back to School Night is August 27th, from 6-7pm. This is your opportunity to drop off supplies, meet your student's teacher, and find their classroom. I hope to see many of you at this event! I know last year I really enjoyed getting to meet so many families before the school year started.
As summer swiftly approaches its end, I hope you get out one last time to enjoy it. I am excited for what this year holds for us as a school family. Thank you for entrusting us to help your child learn and grow. We will see you all very soon!
Sincerely,
Jill Neyenhouse
Principal
Kindergarten Important Dates 2019-2020
August 19-21

Kindergarten assessments

Office will schedule individual times for incoming students to come to school for an academic screener, lasting about 20 minutes

August 28-30

Family Connections Meetings

Classroom teachers will schedule individual times to meet with incoming kindergarten families during regular school hours.

September 3

9:05 - 3:35

First regular day of school for all kindergartners

Students will eat lunch at school and have a busy first day!