Since 1912, thousands of Ridgefield High School alumni have entered the workforce and made their professional marks in the world. From artists to zoologists, then back again from Zumba instructors to archeologists, you'll find Spudders who are leaving lasting legacies in their chosen fields. The transition out of high school can be challenging, exciting and sometimes scary, but with support from your Spudder community, you can and will find your path.
Career and College Readiness
A career is more than just a job. In our ever-changing world, careers require life-long learning. At Ridgefield School District, we strive to ignite a love of learning by helping students explore their interests, strengths and skills to set them on their path for success. Ridgefield School District offers a variety of ways for students to experience a range of activities that support the development of personal career goals including athletics, clubs, curriculum and the state of Washington Career Guidance program.
Career Readiness is about learning, personal development, and demonstrating skills that will make our students successful no matter the path they choose. In order to help students learn to set goals, identify solutions, explore careers and plan for training opportunities, students will complete their High School and Beyond Plan using Xello. The High School and Beyond Plan helps students identify opportunities and meet graduation requirements while aligning with the students' career interests. Click here to learn more about Xello.
College Readiness requires academic preparation. Current high school graduation requirements differ from college entrance requirements. Students and families must clearly understand what colleges and trade programs require when selecting high school courses to ensure students are ready for the next step.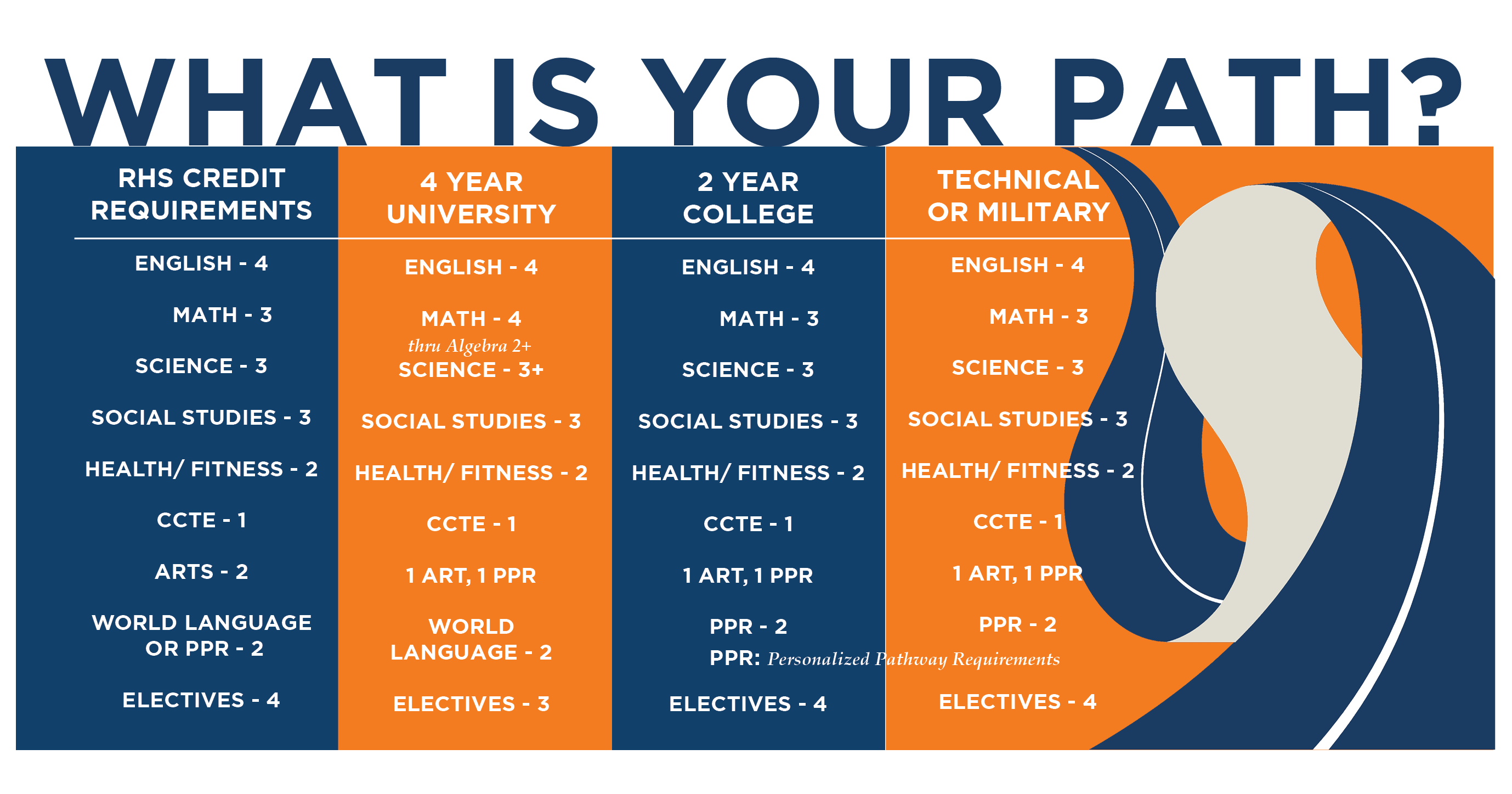 Some high school courses offer students the ability to earn college and high school credit simultaneously. These Dual-Credit opportunities help some students accelerate their graduation timelines and support student success in college. Dual Credit programs allow students to take college-level courses while still in high school. Students may become eligible for college credit based on scores obtained in the year-end examinations and through taking college-level classes – either at their high school or at colleges and universities. Ridgefield offers students Dual Credit opportunities such as Advanced Placement; College, Career, and Technical Education (CCTE) programs; College in the High School (CiHS); and the Running Start program.
College, Career and Technical Education (CCTE) courses help students explore career options, support academic and life skills, and enable achievement of high academic standards, leadership, and preparation for career and college.
Center for Advanced Professional Studies (CAPS) programs are nationally recognized, innovative high school programs. Students fast forward into their future and are fully immersed in a professional culture, solving real world problems, using industry standard tools and are mentored by actual employers. CAPS is an example of how business, community and public education can partner to produce personalized learning experiences that educate the workforce of tomorrow, especially in high skill, high demand jobs. Learn more about Ridgefield's CAPS program, Innovation Ridge here.
The information below will help you navigate common questions and understand options. Remember this is your journey and you don't have to pursue the same pathways as your fellow students! Your teachers and counselors are here to help so don't be afraid to ask for support. You are not expected to have all the answers. Check out the EXPLORE section below to learn more about specific careers, job availability, salaries and so much more!
FOLLOW US ON INSTAGRAM FOR ALL THE LATEST INFORMATION, EVENTS AND OPPORTUNITIES!