Ridgefield Students Receive Top Honors at State High School Art Show
rsd
Monday, May 13, 2019

Two Ridgefield High School students were honored for their artwork entries in the 46th Annual Superintendent's High School Art Show at the Office of the Superintendent of Public Instruction (OSPI).
Kylie Brown, a junior, was recognized as one of the State Winners. Her entry, a ceramic/mixed media piece entitled Lamia's Pierre, won the Professional Educator Standards Board Award. Grace Arnold, a freshman, received an Honorable Mention Award for her entry, Final Judgement.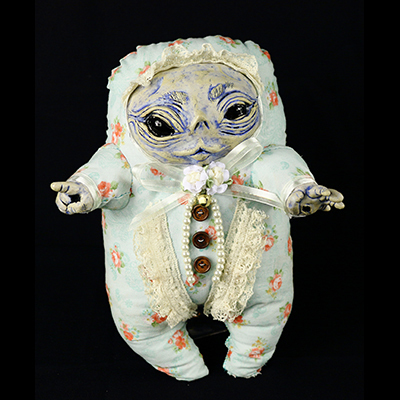 "Lamia's Pierre" by Kylie Brown, State Winner
"Final Judgement" by Grace Arnold, Honorable Mention

Both student artwork entries advanced to the state competition after receiving high marks at the 2019 Southwest Washington Regional High School Art show at Educational Service District 112 held in March. In the recent statewide competition, after several rounds of judging and selections, Brown's artwork stood out as one of the 15 state award winners, and Arnold's entry was one of six selected to receive an Honorable Mention award.
All 15 state-winning art pieces will become part of the permanent collection on display at OSPI and various participating partner organization offices in the state. All of the 2019 Art Show entries, including regional winners, state winners and honorable mention recipients can be viewed online at: http://www.k12.wa.us/Arts/ArtShow/default.aspx.
A Reception and Awards Ceremony will be held at OSPI on Friday, May 17th to honor all state award recipients.