TED Talk Project Showcases Students' Interests, Inspirations and Ideas
Marie Bouvier
Tuesday, January 28, 2020
TED Talks are a mainstay on the internet. Experts give short speeches on a wide range of topics, hoping to inspire, teach, and drive positive change. Ridgefield High School sophomores created their own original TED Talks for English class—and the results were impressive.
Why is breakfast important? How does music decrease stress? What are some easy ways to help the homeless? Is being bored necessarily a bad thing? Can being more observant impact your relationships with others? These questions and many more were answered in their TED Talk speeches.
Some presentations were rooted in personal experience. Emily Vossenkuhl spoke about her family's annual volunteer work with Bike First, a Portland camp that teaches youth with Down Syndrome how to ride a bike; she asked students not to assume what others could or could not do. Evan Skerlec, whose family moved frequently, shared what it was like to be the new kid and the importance of talking to new students.
Evan Skerlec gives a TED Talk about his family's moves across the country and his experiences as a new kid in school.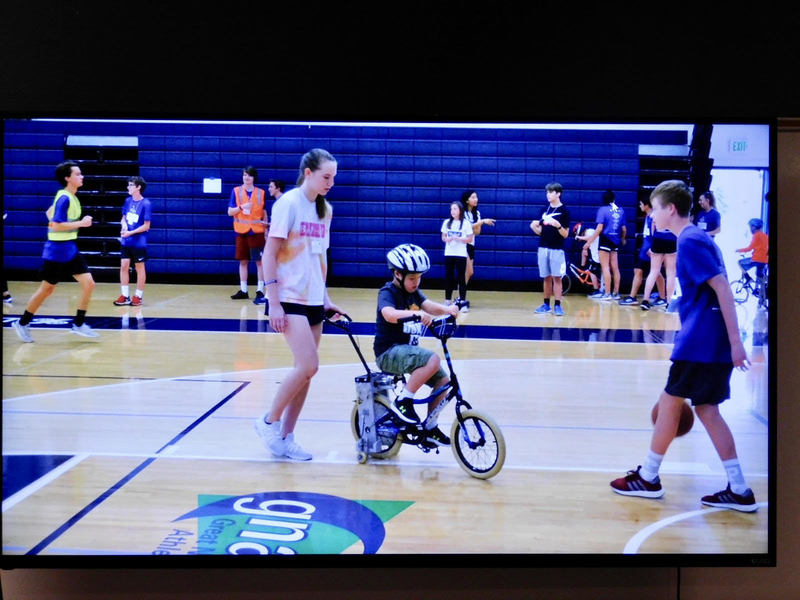 Emily Vossenkuhl shared a photo of her experience as a volunteer at Bike First, a camp that teaches youth with Down Syndrome how to ride bikes.

Other students found their inspiration in the everyday. Shawn Will showed how handwriting changes based on the way you hold a pencil, then asked the class to consider trying something new—even for daily activities, like writing. Aidan Debroeck shared how everyday objects might have uses you haven't noticed (like the stapler setting that bends staples out rather than in)—and drew a parallel with a friend who he was surprised to learn was a skilled pianist. He asked students not to misjudge others and to treat everyone with respect.
Other students built their presentations on research. Taylor Zanas said she spent hours each day on social media (when asked, nearly the entire class agreed they did the same). Then she shared a University of Pennsylvania study that showed limiting social media use to thirty minutes a day improved sleep and sense of well-being. She challenged students to try using social media less often. Lauren Campbell pointed to research by the University of Phoenix that estimated high school students received up to 17.5 hours of homework each week. She argued that this burden made it more challenging to engage in extracurricular activities, like theater and sports, and suggested students advocate for less homework with teachers, school board members, and parents.
All of the presentations centered around the question: What immediate changes can we make today in an effort to improve ourselves and our communities tomorrow? The Ridgefield High School TED Talks educated and inspired many students toward positive change. To see similar speeches—and maybe find your own change—go to www.ted.com or www.tedxteen.com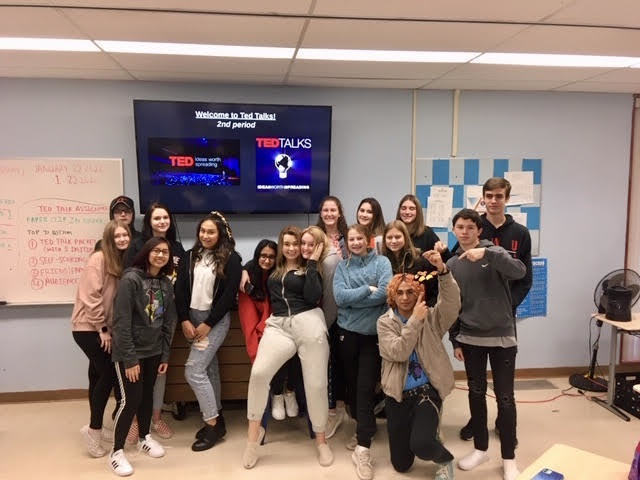 Tyler Ochsner's second period class posed for a quick photo before their TED Talks.