District to Implement Electronic Flyer Distribution on November 14
rsd
Tuesday, November 06, 2018
Ridgefield School District is moving from distributing paper flyers to digital flyer delivery via Peachjar, a free online service for schools. This means that e-flyers will now be emailed directly to parents' inboxes, as well as posted on school websites for easy access.
To view school-approved digital flyers, parents would simply click the Peachjar button on a school's website homepage starting November 14th.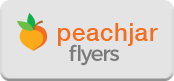 No action will be required by parents, provided that their email contact information is current at their child's school. Parents will receive a welcome email from Peachjar that includes a username and password. This will give them the opportunity to manage their account and flyer delivery preferences. Logging in to the account is not necessary to receive or view school digital flyers.
Once a flyer is posted to a school's Peachjar site, parents can view the flyer through the Peachjar button at the bottom of each school's home page. Additionally, flyers will be delivered to all parents' emails as an embedded image, not a link. This means parents will immediately see the flyer and be able to click through to an organization's website to sign-up for an event.
To ensure smooth delivery of e-flyers, it is recommended that parents add school@peachjar.com to their email contacts and click "always display images" when the first e-flyer is received.
Parents not receiving the welcome email can register for an account by clicking the Peachjar button on the homepage of their school starting November 14th. Other family members can register to receive flyers as well.
The Peachjar system is used exclusively for distribution of school-approved flyers. Email addresses will not be shared or used for any other purpose.
This "green" initiative will save our schools tons of paper and reduce copy costs by thousands of dollars. On top of that, posting school flyers in this "electronic backpack" removes a significant administrative burden from teachers, office staff, and volunteers.
To learn more about Peachjar, visit their website at www.peachjar.com.