Art Teacher Demonstrates Use of Technology in Ridgefield Art Classes
rsd
Monday, March 04, 2019
Alan Adams, art teacher at the newly built Sunset Ridge Intermediate School, gave an in-class demonstration of the use of new iPads and digital art programs to Ridgefield Public Schools Foundation (RPSF) board members and Columbia Credit Union's (CCU) Chief Marketing Officer, Colleen Boccia on Tuesday, February 26th.
According to a press release from the RPSF, the new iPads and art programs were purchased by Mr. Adams through the RPSF Innovation Grant. The grant was initially launched in 2018 and allocated three, $5000 grants to teachers in the Ridgefield School District. The RPSF grant selection committee looked for applicants that would incorporate new, creative, and original or out-of-the box programs in their classrooms. The recipients included Mr. Adams: 21st Century Art, RHS Science Teachers: Science Tech Equipment, and Jeff Brink: Spud Bot Academy.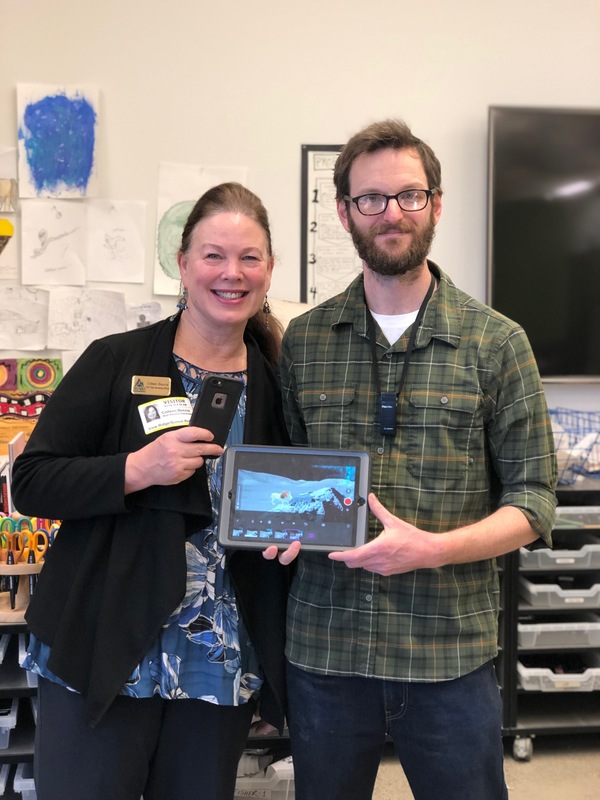 Colleen Boccia from Columbia Credit Union and Ridgefield art teacher Alan Adams
During a tour on Tuesday, Mr. Adams showed board members and visitors how he uses iPad technology to integrate traditional fine arts and techniques with new and innovative approaches used in industry today. Students are able to build digital portfolios, and take advantage of digital art curriculum such as animation, film making, coding-based art, and digital painting.
It is through the partnership between the RPSF and CCU, that funding for innovated learning like this is possible. Columbia Credit Union's senior vice president chief marketing officer, Colleen Boccia, who toured the art classes on Tuesday said "iPads are making art not only recreational, but are allowing students to envision art as a relevant, important part of their everyday lives." Boccia, a long-time Ridgefield resident, added, "I am so excited to see this monumental shift made possible through the RPSF Innovation Grant!"
The Ridgefield Public Schools Foundation recently released the application for the 2019 Innovation Grant sponsored by Columbia Credit Union. Grants up to $5000 will be available to any certified, classified or high school students employed or enrolled in RSD. Applications are due April 8, 2019. A full list of eligibility requirements and instructions can be found at www.ridgefieldpsf.org.
The Ridgefield Public Schools Foundation is a privately funded, non-profit organization, established in 2009. Our mission is to advance programs and activities that support whole student development for which public resources are insufficient or unavailable.
About Columbia Credit Union: Established in 1952, Columbia Credit Union serves 94,500 members with local consumer, business, mortgage, investment, and insurance services. Columbia Credit Union has $1.3 billion in assets. It was voted Best of Clark County for the last 10 years by readers of The Columbian, was selected Best in Business for the last five years by readers of the Vancouver Business Journal, and received a 2017 Award for Workplace Excellence from Peter Barron Stark Companies. Columbia Credit Union is recognized for superior financial stability and performance as one of the Top 200 Healthiest Credit Unions in America by Deposit-Accounts.com, ranking #1 in the Portland-metro area and #33 in the U.S. Columbia Credit Union also holds Bauer Financial's "5 Star" and Weiss' "Recommended" ratings. As a certified Clark County Green Business, Columbia Credit Union upholds sustainable business practices, including construction under U.S. Green Building Council LEED standards.