Library Ninjas at Union Ridge Elementary
Marie Bouvier
Thursday, April 11, 2019
Ninjas are known for being silent, stealthily moving through the night dressed entirely in black. But would you expect to find a ninja in the library? Probably not, but there are plenty of ninjas at Union Ridge Elementary.
One wall of the library has photos of students sporting black headbands and big smiles. They are the Union Ridge library ninjas. Librarian Jubilee Roth created the library ninja program to encourage good library behavior. "They follow all library routines in a sneaky, stealthy, leave-no-trace book shopping way," she explained. The rules are simple:
Ninjas use their bookshelf markers correctly
Ninjas use their whisper voices
Ninjas clean up after themselves and others
Ninjas read!
Students who follow all the ninja routines regularly become Master Ninja Librarians. They earn a ninja headband, handmade by Roth, and get a selfie with her that is posted on the wall to celebrate.
The program has been a great success. Roth is pleased with how well the students are following the library rules, hoping to achieve ninja status. "The kids ask every library class if there are new ninjas and are so excited when they earn a headband." So when you see a kid wearing a black headband, you might be talking to a Master Ninja Librarian.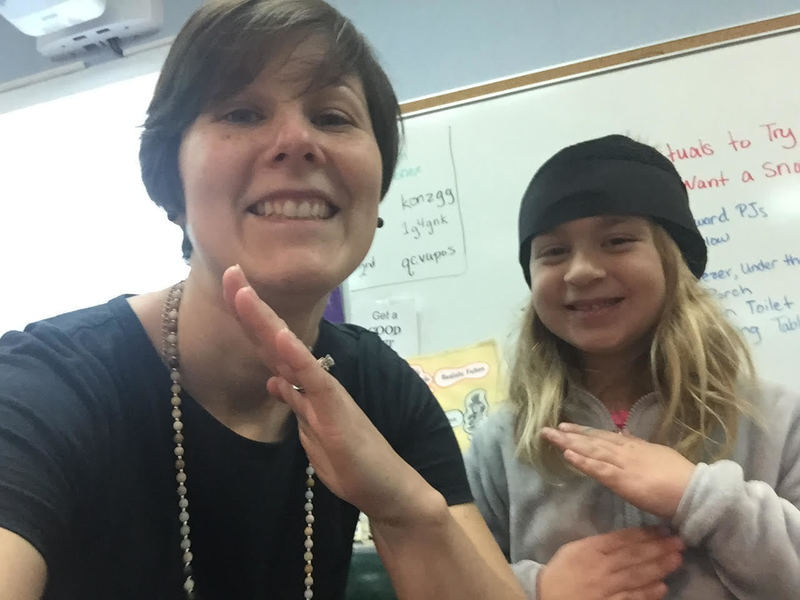 Union Ridge Librarian Jubilee Roth strikes a pose with Master Ninja Librarian, Ruby Stenbak.