Math Is Cool Team Advances to State Competition
Marie Bouvier
Tuesday, May 07, 2019
Fifth and sixth grade students filtered slowly into the classroom after school. They talked about their day and munched on some cookies. One student turned a stool on its side and sat on its post like an axle, pretending to motor along the floor. Just kids hanging out. But these students are going to spend another hour practicing math problems as they prepare for the statewide Math Is Cool competition.
At the Clark County Math Is Cool competition in February, the fifth grade team from Ridgefield was the first place winner, and the sixth grade team was the second place winner. The top four students from each team qualified to go to state competitions.
This year, Sunset Ridge Intermediate School fielded Ridgefield's largest team to date. Kelly O'Boyle, coach for the sixth grade team, said they had 24 students on the original team and 30 on the fifth grade team. O'Boyle is proud of all the students. "It says something about Ridgefield schools, how many kids want to be a part of our program. That's what I love about it. We don't say that they have to be in accelerated math. They join because they like math; they like to compete." State competitions are in May.
The Math Is Cool competition is comprised of six sections:
Mental Math (individual competition with eight problems, no writing, talking, or answer changes allowed)
Individual Test (individual competition with 40 questions)
Team Multiple Choice (each team works together on ten problems, with penalties for incorrect answers)
Team Test (each team works together on ten problems)
Relays (each team takes turns answering two series of four related questions—one wrong answer can render other answers incorrect)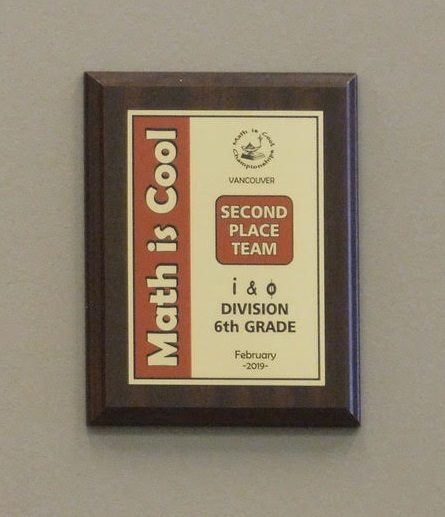 College Bowl (each team competes with another team to be first to buzz in with correct answers to ten problems each round)
Each section requires its own strategy. And the more you practice, the more familiar you are with the format. Team practices were two and a half hours each in the weeks leading up to countywide competition; now they know what they are facing and practice an hour at a time with a smaller team.
James Stevens, coach for the fifth grade team, explained that several of the students had been to statewide competition before. One fifth grade student called out his friend for staying up late and drinking Pepsi at last year's competition. "But I had a good reason!" he responded. "I was playing Zelda!"
O'Boyle said "They are looking forward to competing again. We are really proud of all of them." And the students are proud too. A hand-lettered t-shirt worn by sixth grade team member, Emily Merrill read: Math Is Cool RULES!
Congratulations to our Math Is Cool students and their coaches. Best of luck at state!