Stellar Year for Ridgefield High School Golf Team
Marie Bouvier
Monday, May 13, 2019
In a year with many successes, the Ridgefield High School golf team had a standout year. They won the 2A League individual day golf tournament. They won the Hudson Invitational and the Titan Cup, where they competed with 3A and 4A schools. In October, they won the 2A District IV Golf Championship. And with the team's remarkable performance at District, the entire varsity team—all six members—qualified to go to state competition in May.
The RHS Golf Team lifts the District Championship trophy. Photo credit: Bob Ball Photography.
With a field of 80 players at District competition, three of the RHS golfers were in the top five players, and all six students made the top 15. Cade Bringhurst placed second, Kellen Bringhurst placed fourth, and Kale Suomi placed fifth. Caden Whitsitt placed ninth, Nick Radosevich placed 11th, and Eli Saenz placed 14th.
In an interview with the Reflector, Kellen Bringhurst said, "Definitely the fact we could send all six to state was huge for us. Our main goal—we've said it from the beginning—is for this year was that we wanted to win state as a team."
"We've got a lot of good players on this team, and only two of them are seniors, Kale (Suomi) and I. So for the next three or four years, our team has a lot of great potential and talent. I want to leave a little bit of a legacy for them to follow. A state title would be sweet to leave behind."
Topping off the League honors, sophomore Cade Bringhurst won Player of the Year. This is his second year as Player of the Year. And Coach Bob Ball won District Coach of the Year. "That's thanks to Cade and the rest of them," Ball said. "You don't win that without players doing well."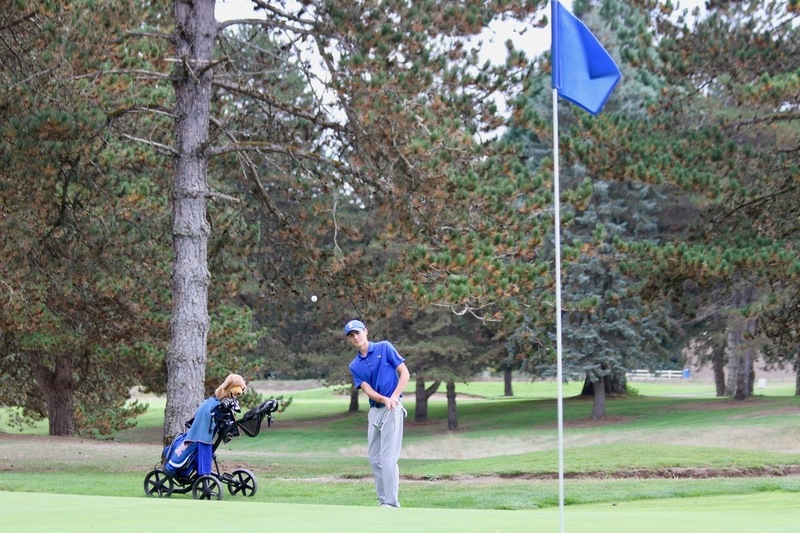 Caden Whitsitt competes at the 2A GHSL tournament. Photo credit: Bob Ball Photography.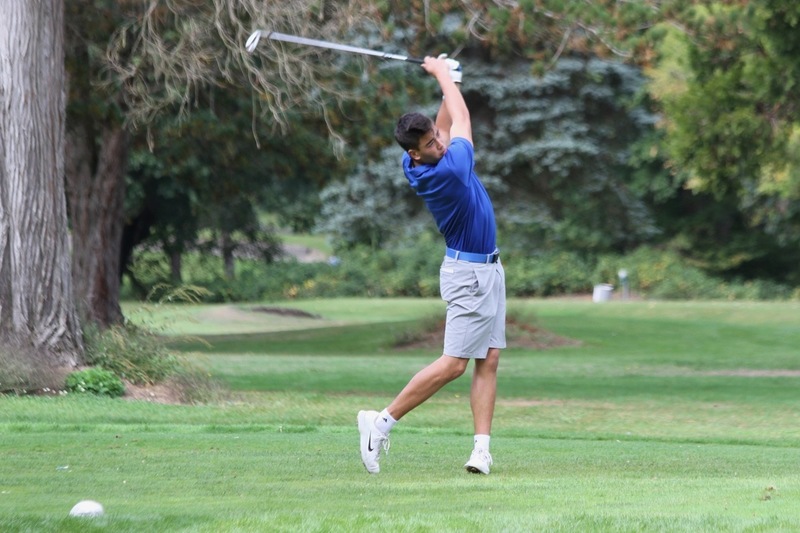 Kellen Bringhurst competes at the 2A GSHL golf tournament. Photo credit: Bob Ball Photography.

Coach Ball is proud of the students and what they have achieved. He pointed out that last year, the same set of students won the Washington Interscholastic Activities Association 2A boys' golf academic championship, with a 3.9 collective GPA for the team. "They're good, smart kids. Good students," Ball said. He expects them to do well both academically and athletically again this year.
Three of the six students are playing other sports right now, so practice time is limited before the state tournament. But Coach Ball said they will be preparing by working on fundamentals. They'll also be learning about the course where they'll be playing, Liberty Lake Golf Course just outside of Spokane, and learning about the strategy it takes to play it.
The whole Ridgefield High School golf team will be going to state competition on May 21st and 22nd. If you see the team members or Coach Ball, please congratulate them and wish them luck at state.