Spanish Class Holds Mexican Heritage Celebration
Marie Bouvier
Tuesday, May 28, 2019
The tables were loaded with delicious Mexican food. Nopales (cactus), arroz con leche (rice pudding), fresh tortilla chips with six kinds of salsa, conchas (sweet bread shaped like shells), Takis (spicy corn chips), rico coco cookies, Vasito tamarind candy, and Jarritos (fruit flavored soda) made a colorful display the students could hardly wait to dig into.
The teacher, Jennifer Zora, flipped tortillas by hand at the griddle. "A true Mexicana turns her tortillas without a spatula. My fingerprints are almost gone!" she laughed.
Jair Guitron carefully stirred the arroz con leche that his friend, Julian Galant, brought. "This is delicious!" he told his classmates. "You will like it." The students filed through to fill their plates, then sat down together. Conversation was lively, in English and in Spanish, as music videos played.
The Spanish class at View Ridge Middle School completed a unit on Mexico.
The Mexican Heritage Celebration was the end of their class unit on Mexico. By the end of the semester, the students will have toured through many Spanish speaking regions: South America, Central America, Mexico, Spain, and the Caribbean.
The students use workbooks with a wide range of activities, from practicing vocabulary to writing entire paragraphs in Spanish. Their progress has been fast since the semester began, and when they pair off to start doing skits together, you can hear their comfort speaking the new language.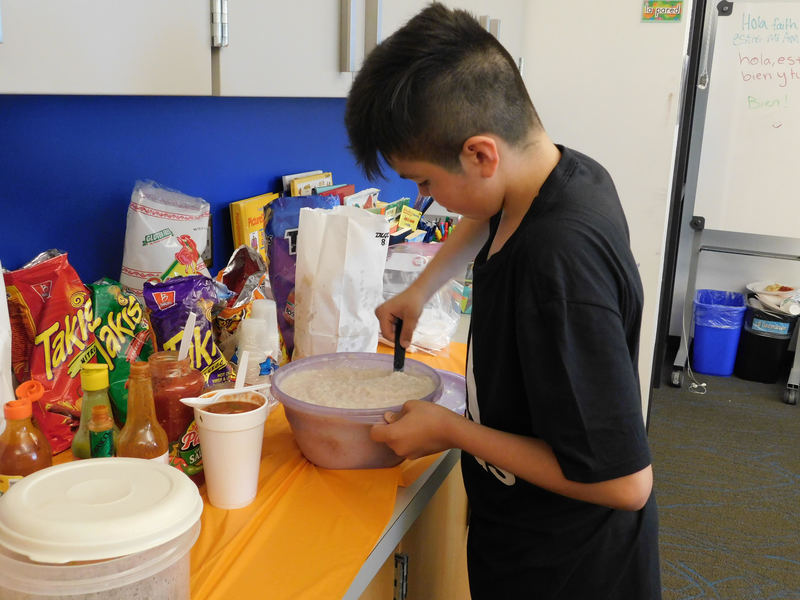 Jair Guitron stirs arroz con leche.
This is the first year the Ridgefield School District has offered Spanish classes in addition to French classes at the middle school level. For the students, learning the second most spoken language in the world is a clear benefit.
Zora teaches Spanish at the middle school and the high school. "Teaching seventh and eighth graders is something special," she said. "At that age, they are like sponges; they pick it up so quickly." She smiled as she watched the students practicing their skits. "They're doing so well, we might have to change our Spanish I classes at the high school to be more advanced."