Union Ridge Elementary Presents Annual Culture Parade
Marie Bouvier
Thursday, June 20, 2019
The city of Ridgefield is well known for its old-fashioned Fourth of July parade. But a smaller annual parade is making its mark on Ridgefield too: the Union Ridge Elementary School Culture Parade.
The sixth annual Culture Parade went through downtown Ridgefield, showing the community what the classes studied during the school year. Each grade highlighted a different facet of world culture.
The parade was led by the school's assistant principal, Brian Heim, and Ridgefield Mayor Don Stose. The first students in the parade were kindergarteners, who reflected their personal family history and culture with timelines of their lives.
First graders studied the cultures of individual countries. They wore paper vests decorated with country flags and interesting facts. Many of the students' families had personal connections to the countries they chose.
Next were the second graders, who studied the cultural influence of historical figures. Each student carried a posterboard with a drawing and biographical facts about the person they studied. The posterboard made a costume of the historic figure, with the student's face showing thorough a cutout.
The third-grade classes studied the culture of different regions of the United States. Each regional group marched together, some of them shouting slogans—like "West is best!"—and handing out postcards to promote their region. Students carried posters and dressed to reflect the culture of the region they studied.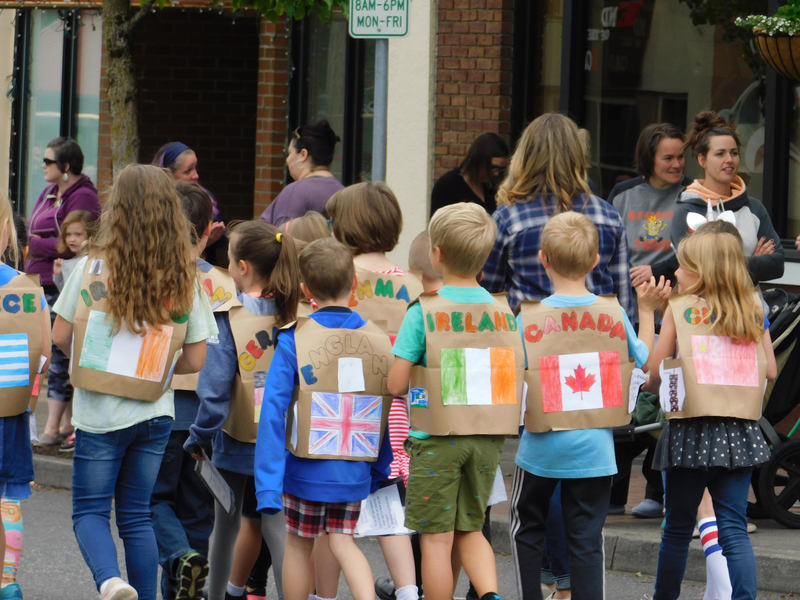 First graders display country flags and facts on their paper vests.
Third grader Leela Weeks dressed as the Statue of Liberty for the Culture Parade.
To close the parade, the fourth graders brought their study of the culture of the state of Washington. On each block, the students waited for the music to start before performing Washington's state dance, the square dance. Dressed in western wear, they brought a lively close to the parade.
Many people lined the streets to cheer for the students. But one set of parade watchers got a lot of attention: the firefighters standing by the fire truck parked near City Hall. As the students passed the fire truck, their eyes widened. One kindergartener got brave and asked a firefighter, "Why are you here?"
The firefighter answered, "We're here because you're here, buddy! We're here to support you!" The firefighters applauded and high-fived the students as they walked past. And the students beamed, enjoying the support of the community for their culture parade.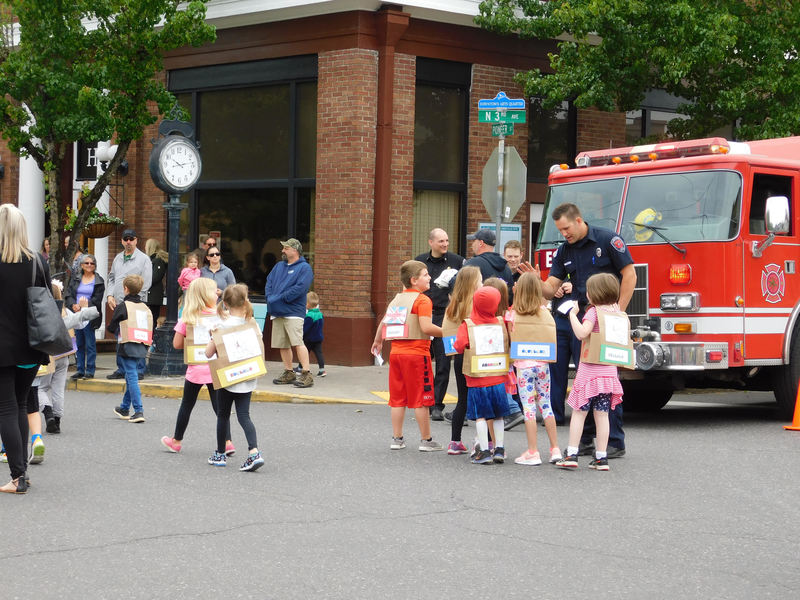 A firefighter high-fives students as they walk the parade route.