Register Soon for 2019-20 School Bus Transportation
rsd
Friday, July 12, 2019
Thank you to all the families who have already registered their students for school bus transportation for the coming school year!
Students who plan to use school bus transportation in 2019-20 must register on the KWRL Transportation Portal. This is required even for students who have been riding the bus in previous years. Registration will:
validate home addresses;
allow parents to provide alternative pick-up or drop-off locations; and
ensure that students acknowledge and adhere to KWRL school bus rules
To register, please visit the KWRL Transportation Portal at https://portal.kwrl.org/parent/registration. Parents can sign in using their Skyward username and password. Parents who do not remember this information can try resetting the password with the "forgot password" link. For further assistance, call the District Office at 360-619-1309.
Alternatively, parents can also log in using their Google or Facebook Account but only if the email address they log in with is already entered in the Skyward system.
To assist families having challenges with registering on the portal, the Ridgefield School District will be hosting a registration event on Monday, July 15, 4-7 pm at the Ridgefield Administrative & Civic Center (RACC), 510 Pioneer Street in downtown Ridgefield. District computers will be available, and office staff from KWRL and the District Office will be on hand to assist in completing registrations and answering questions.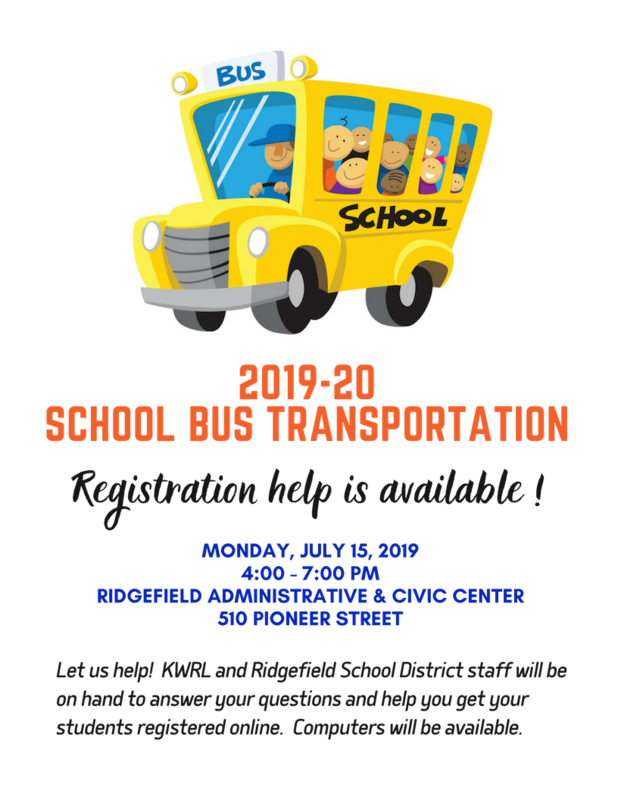 Note: Parents or guardians of incoming kindergarten students and students new to the district who have already enrolled with the district but do not yet have their Skyward credentials are encouraged to attend this event to get their student(s) registered for school bus transportation.
School bus registration does not guarantee transportation. All registrations will be reviewed and are subject to district approval.
New bus routes will be released to the KWRL website at www.kwrl.org approximately two weeks prior to the start of the 2019-20 school year. If you have any questions regarding the school bus registration process, please email the KWRL Transportation office at info@kwrl.org.