Sweet Prizes for Library Patron of the Week
Marie Bouvier
Wednesday, September 18, 2019
Most people know it's important to be quiet in the library. But now good behavior in the library can earn you a sweet reward with the Library Patron of the Week program.
Tiffany Tamez, the library aide at Sunset Ridge Intermediate School and View Ridge Middle School, explained that the library expectations are pretty simple: be quiet, show respect to all, and have no overdue books. Students who meet those expectations are entered into a drawing for Library Patron of the Week. Winners are drawn each week in rotation, fifth and seventh graders one week, and sixth and eighth graders the following week. There will be new winners all school year.
The names of the Library Patrons of the Week will be displayed on a special bulletin board in the library. And winners can select their own prize from the big bins of candy. (Alternate prizes are also available if a student has allergies or prefers something else.) Students will be notified via their school email if they win.
So shhh! Don't be too loud. You might just earn a sweet prize for your good behavior.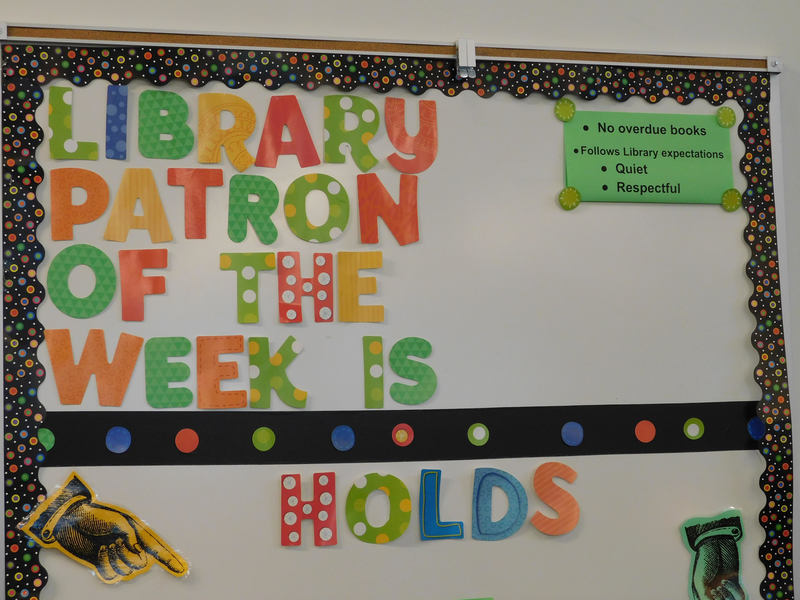 The new bulletin board announces the Library Patron of the Week.
Big bins of candy are waiting for the winners to choose their prize.
Library expectations are simple: Be quiet, be respectful to all, and return your books on time.