What Is Cispus? Cispus 101
Marie Bouvier
Wednesday, September 25, 2019
It's the end of September, so people in Ridgefield are starting to talk about Cispus. But what is Cispus? Here's a little Cispus 101 to let you know the basics.
Ridgefield's Cispus Outdoor School was founded in 1969 by Union Ridge Elementary School principal John Hudson. He wanted to inspire children to have a lifelong love of the outdoors, so he planned a weeklong trip with the entire fifth grade class to the Cispus Learning Center and Campus in the Gifford Pinchot National Forest. It was so successful it became an annual event in the first week in October.
Ridgefield's Cispus is one of the longest running outdoor schools in the northwest. Celebrating its 50th anniversary this year, there are generations of Ridgefield students who have taken part in this life-changing experience of outdoor learning.
Students learn more than just academics at Cispus. They're still taking classes, with hands on activities like soil and water sampling or tree and plant identification. But they're also learning to build survival shelters and fires, practicing manners at family-style dinners, and keeping cabins and dining rooms clean. Learning is an all-day activity at Cispus.
Cispus is really outdoors! While there are cabins for sleeping and common areas for dining and gathering, a lot of the coursework and activities take place outdoors, rain or shine. And these make for some of the best Cispus memories, like hiking up to the waterfall or competing in the Golden Marshmallow contest at the campfire.
What are wood cookies? Wood cookies are wooden badges that show which cabin you're in or what awards you have earned for your achievements during camp. Many campers keep their wood cookies for years after camp.
Cispus is more than just teachers and students. Cabin counselors are high school students; many of them attended Cispus as kids themselves. Volunteers from the community come for the whole week and take charge of many activities, from unloading suitcases to guiding hikes. Medical staff are always on hand to help. And there's an entire camp and kitchen staff for support.
Cispus is a once-in-a-lifetime event for fifth graders. For many of them, it's a first taste of independence away from home, and a chance to challenge themselves with completely new activities. They spend a week doing all their classes outdoors, hiking, learning survival skills, and gathering around huge campfires. When they return, they're new members in a club with fifty years of campers. Cispus is woven into the very fiber of the Ridgefield community, a unique week of camp that opens new doors to learning.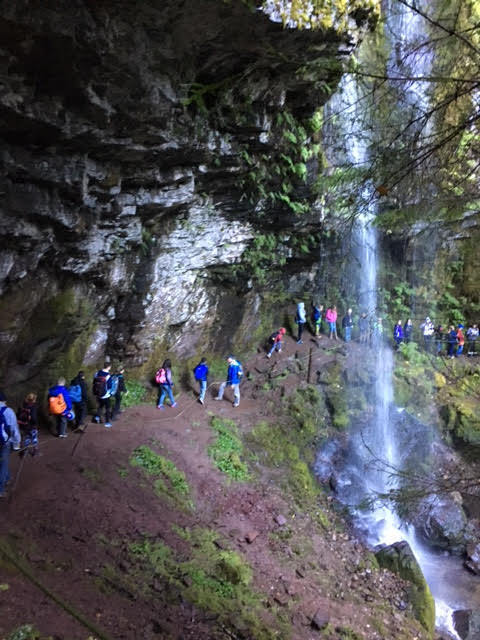 Students hike under the waterfall at Cispus Outdoor School. Photo credit: Annie Pintler.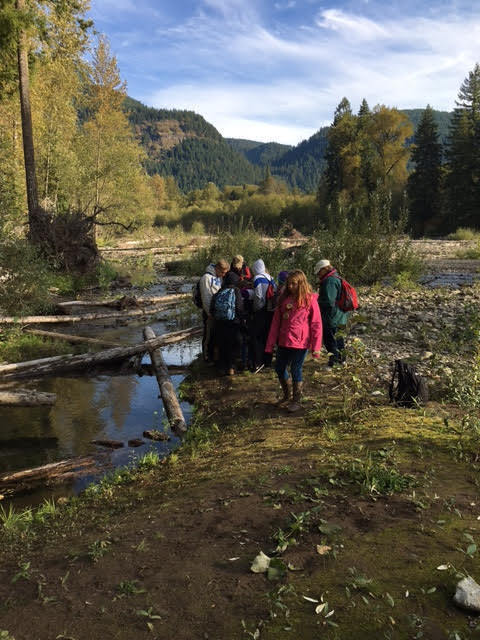 Cispus Learning Center and Campus is in the middle of the beautiful Gifford Pinchot National Forest. Photo credit: Annie Pintler.
Students learn to build a survival shelter. Photo credit: Annie Pintler.