Volunteer Commitment to Cispus Outdoor School: The Yaddof Family
Marie Bouvier
Monday, October 14, 2019
Cispus Outdoor School is a long tradition in the Yaddof family—not just for the kids, but for the parents too. Susan and Bill Yaddof went to Cispus for the first time as fifth graders.
In high school, Susan returned as a counselor. All three of their daughters attended as fifth graders; one served as a counselor. And ten years ago, when their daughters had all completed Cispus, Susan and Bill started volunteering. They were there when the camp celebrated its 50th anniversary this year—and many of those years have had one or more Yaddofs at camp.
Their volunteer work actually starts at home. Bill makes all of the wood cookies that are awarded to students when they complete various tasks. He started doing it when his daughters were in school, slicing fir branches into smooth rounds, then drilling two holes for the cord. "I made about a thousand this year," Bill said. "But I guess it adds up over time, with 800 or more each year for 15 years." The wood cookies are a very special reminder of time at Cispus, so people keep them for years. Bill still has the original wood cookies he earned when he went to Cispus in fifth grade—and he still wears them every time he goes to camp.
The Yaddofs both work full-time, so they take an entire week of their own vacation time each year to go to camp as volunteers. But they don't get to spend much of their vacation time together, as Susan stays in the women's cabin and Bill stays in the men's cabin. "We see each other in passing, while he's going to one activity and I'm going to another," Susan said. "We do kiss each other good night each night. But we wouldn't have it any other way."
When they started volunteering, they jumped in wherever they were needed. Susan enjoyed crafting and helped students learn to make bracelets. Bill had experience with the Boy Scouts, so he taught students to build fires and emergency shelters. After a couple of years, they knew the camp well enough to lead hikes, guiding classes to sites where they could look for macroinvertebrates or find a nurse log (a fallen tree providing protection and nourishment for seedlings).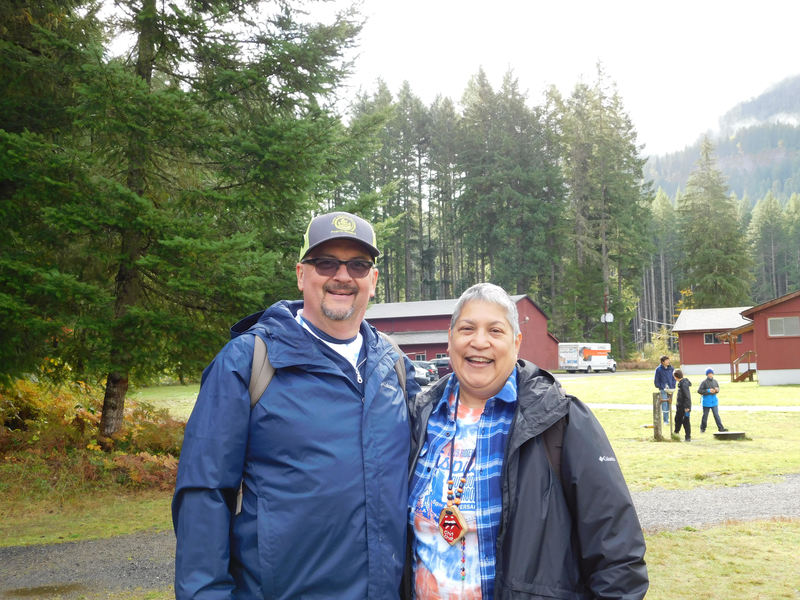 Bill and Susan Yaddof return from morning hikes with the students and compare how many miles they had each completed that day.
This year they are inheriting flag duty from Tevis Laspa, another long-time volunteer who will be retiring from Cispus after many years of service. Bill works with the students on flag folding and etiquette, while Susan shares stories of flag history at the flag raising and lowering each day. And of course, they help the students with everything from homesickness to table manners.
For the Yaddofs, volunteering at Cispus is an important tradition for their family. "We absolutely believe in the program," Susan said. "It meant so much to us as kids; it meant so much to me as a counselor. We hope that our daughters might one day want to go as volunteers too. We're thankful for getting to do it all of these years and to get to continue."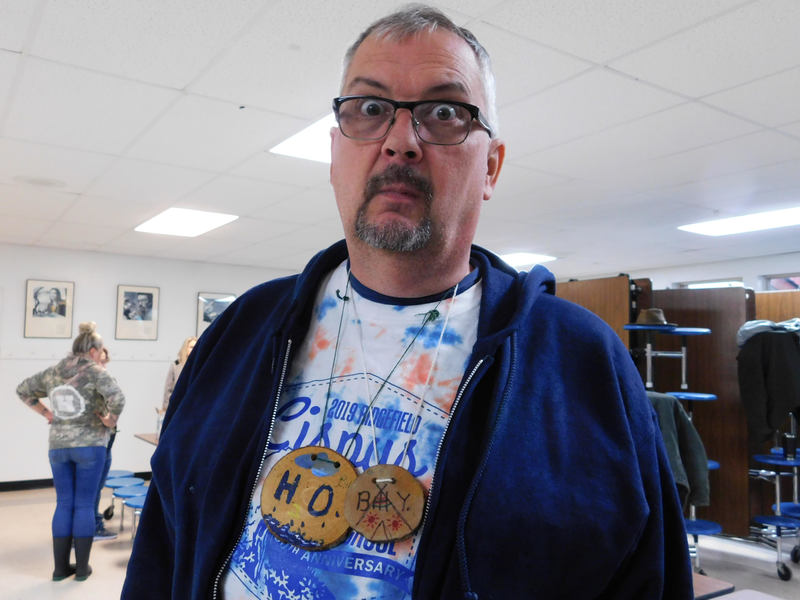 "Make a face like a fifth grader!" Bill Yaddof still wears his original fifth grade wood cookies each year.
Both of them think Cispus is a vital part of our community in Ridgefield, and the fact that it continues year after year is something that makes our schools special. "We see how important it is for these kids, to be outside and exploring, going on hikes, studying water and soil and plants. Even being without their parents, some of them for the first time ever. It's a rite of passage. We love being a part of that growth. It's a tremendous gift to us."
And year after year, the Yaddofs have given back to Cispus, impacting hundreds of students, making each child's experience a little more special.