SOCKtober Sock Drive!
Marie Bouvier
Monday, November 04, 2019
As homeless shelters prepare for winter, socks are one of the most requested and least donated items. An elementary school class in Ridgefield is doing its part to help. Stephanie Brown's class is leading a SOCKtober sock drive, and they hope to donate 3,000 pairs of socks to the Ridgefield Family Resource Center and the Council for the Homeless.
The SOCKtober poster announces Union Ridge Elementary's sock drive.

SOCKtober is a national movement that lets kids help the homeless in a tangible way. Brown's RISE (Reaching Independence through Structured Education) class is in its second year of leading the sock drive at Union Ridge Elementary School. Many of Brown's students are on the autism spectrum or face other challenges, and the students run every element of the program, from delivering classroom donation bags to tracking the number of socks collected.
On collection days, they partner with fourth grade HiCap (Highly Capable Program) students. The pairs of students take turns going to the classroom doors to collect socks. Some students are shy, but they still manage to knock on the door to ask, "Do you have socks?" and say "Thank you!" The large wagon they use to collect donations fills quickly; they have so many socks they need to go back for another wagon. After the socks are all collected, they sort and graph the donations.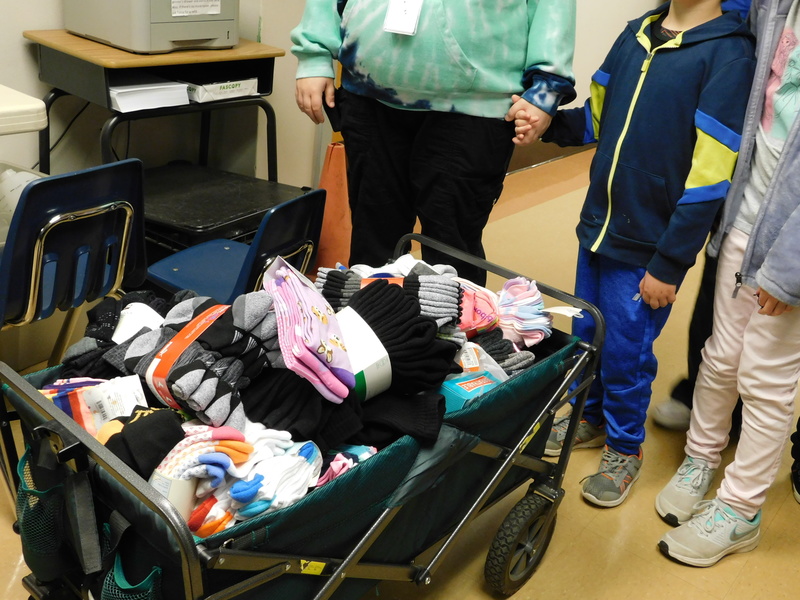 Hundreds of socks have been collected--but many more are still needed.
Last year the students had a goal of 2,000 pairs of socks. This year, their goal is even higher: 3,000 pairs. But they have a little extra help. Bombas is a sock company that donates one pair of socks for every pair purchased. Brown applied for a grant last year. She was excited to learn that one thousand pairs of socks would be donated to the SOCKtober drive through the Bombas grant program. "I was so excited!" she said. "They're such nice socks, and it's a huge donation."
Brown is understandably proud of the students in the program. "We have some of the most impacted students in our district, and here they are doing something fantastic and wonderful." She beams as she watches the kids bring armfuls of socks to the wagon, working together to make a difference for others.
If you would like to donate new socks for the SOCKtober sock drive, please deliver them to the main office at Union Ridge Elementary School, 330 North Fifth Avenue in downtown Ridgefield.