Campfire Event at Abrams Park Celebrates 50 Years of Cispus
Marie Bouvier
Monday, November 04, 2019
Roaring campfires, camp songs, and roasted marshmallows are essential parts of Cispus. So Ridgefield celebrated its 50th year of attending Cispus Outdoor School with a fun campfire event at Abrams Park.
Unfortunately, the park wasn't the right venue for an actual bonfire. But fire pits with wood fires subbed in, and the smoky smell was enough to evoke memories of camp, whether you attended this year or decades ago.
Sunset Ridge Intermediate School principal Todd Graves recognized the community effort that goes into making Cispus happen. "There are a lot of people that we need to thank tonight, and instead of me standing here and reading a list of names that would go on for hours and hours and hours, I just want to say thank you to everyone that has been involved with Cispus."
Two special awards were presented. One award honored John Hudson, Sr., the principal who founded Cispus. His granddaughters and great-granddaughters accepted the award. The second award went to Allene Wodaege, who worked with Hudson to found and develop the program and served as the program director for 25 years. Wodaege and her daughter, Carla Bonebrake, were there to accept the award.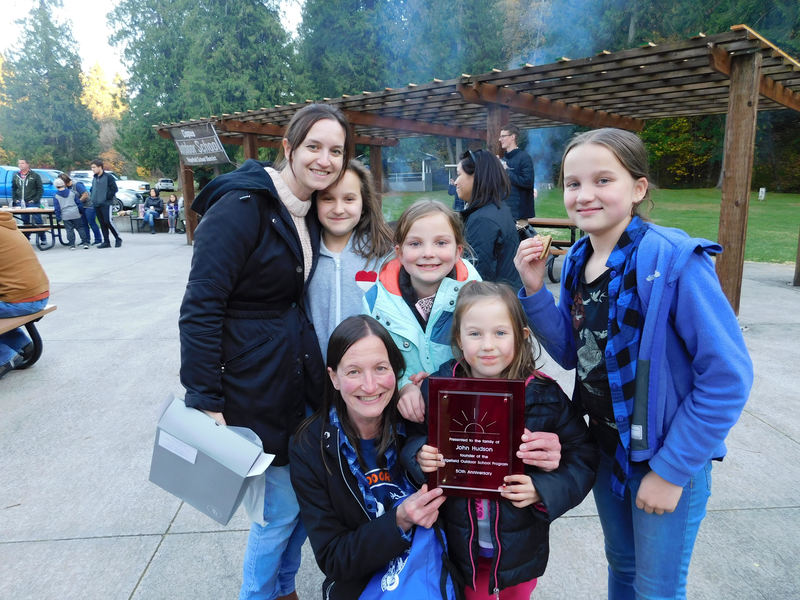 John Hudson, Sr.'s granddaughters and great-granddaughters accepted the award on his behalf.
Allene Wodaege was delighted to receive the award recognizing her dedication to the Cispus program.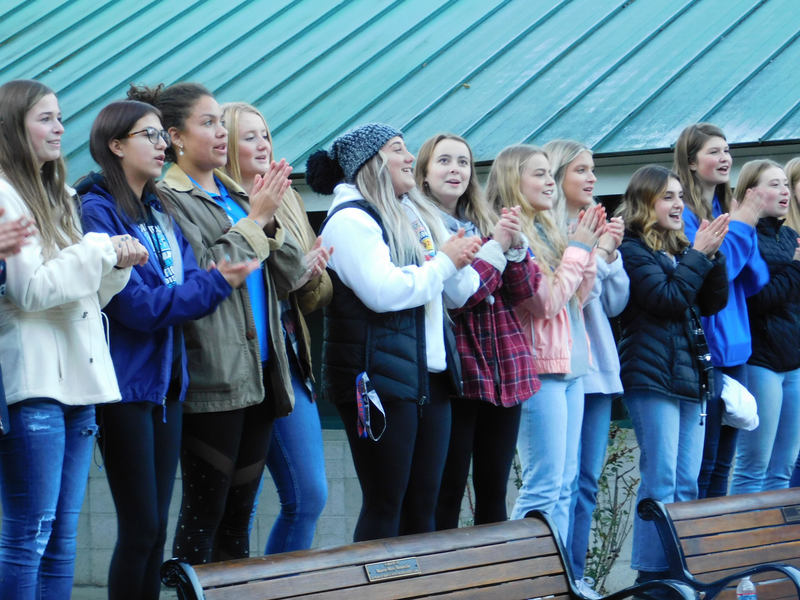 Camp counselors lead the crowd in a round of Cispus songs.
Much like at Cispus, the evening was filled with good food and lots of fun. The Lions Club grilled delicious hot dogs and hamburgers for the large crowd. Piles of marshmallows, chocolate, and graham crackers were ready for s'mores. Kids and adults practiced roasting perfect golden marshmallows over the fire pits. And the counselors from this year's camp led the group in Cispus songs.
People marveled at the fact Cispus had been around for 50 years and hoped it would be around for another 50. They talked about their own memories of Cispus—as students, as counselors, as parents, as volunteers. Cispus has become an essential part of the Ridgefield experience, one that so many people in our community treasure. As the fires started to die down and the sun started to set, it felt like a little bit of Cispus magic was right there in Abrams Park.