Learning About Dia de los Muertos
Marie Bouvier
Friday, November 15, 2019
Gavin Clarke's second grade class at South Ridge Elementary School sat quietly at their desks, waiting for their special guest. When Rebeca Jaramillo came in, their eyes widened. Her hair was decorated with beautiful flowers, and she wore a colorfully embroidered long skirt. She carried a guitar. This was going to be interesting!
"What do you know about the Day of the Dead?" Jaramillo asked. Many students raised their hands to give answers: It is celebrated once a year. It is a day to celebrate the person who is dead that you really loved. You put things the person likes around their picture. "Yes! That is all true!" she said.
Jaramillo and her son, Miguel, explained that the Day of the Dead is a special day to remember and celebrate loved ones who have passed away. Small altars or shrines in homes have photos of loved ones, as well as items representing the four elements: wind, water, earth, and fire.
"The earth is flowers," she said, "especially the cempasuchil, a Mexican flower." The wind is represented by paper pennants that flutter in the air. Fire is represented by a candle. "And water, it is usually something to drink, like tea or juice or hot chocolate. Maybe you don't know," she said, "but chocolate is from Mexico." A few kids gasp. "Mexico brings chocolate to the world!"
Jaramillo asked for questions, and one student asked, "Why do you wear flowers in your hair?"
Jaramillo smiled. "These flowers and clothes are all bright colors because I am very happy! I want my family to see me and find me. In Mexico, you go to the cemetery, and you don't feel scared. It is always clean, a lot of flowers, music, food; it is a big party. You should not be scared! Because this is your family, your loved ones."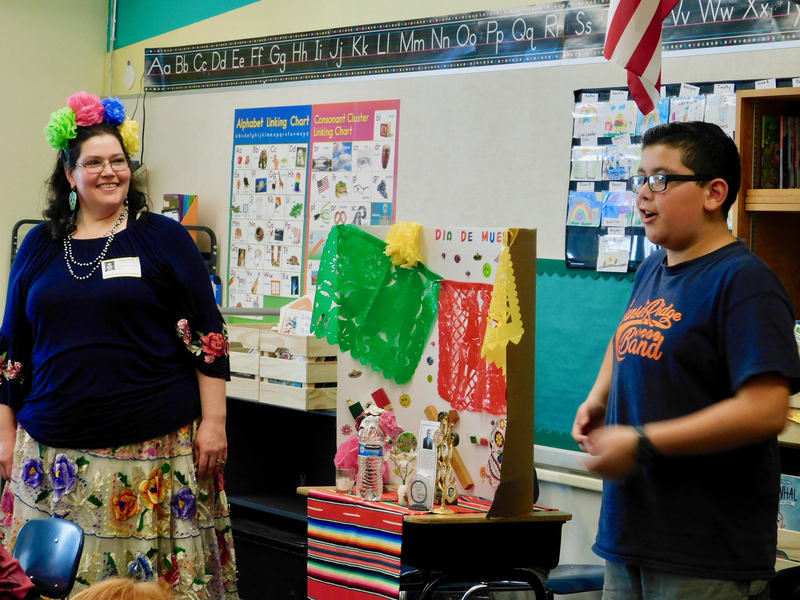 Rebeca Jaramillo and her son, Miguel, teach students about Dia de los Muertos.

This display shows students the types of items typically placed on home altars or shrines during Dia de los Muertos to remember loved ones who have passed away.
Jaramillo pulled out her guitar; her son Miguel had a keyboard. With help from the class, they sang the song Remember Me from the movie Coco. They passed out coloring sheets. And there was one last surprise: Mexican candy. Soon the students were eating and laughing and sharing with each other, enjoying a party, like the Mexican celebrations for the Day of the Dead.
Jaramillo's other son, Sebastian, is in Clarke's class. Clarke invited parents to school to celebrate their cultural events with his class. "My class has students from many different backgrounds that represent the future of Ridgefield," he said. "I hope that those under-represented communities feel welcomed to share their culture with the students, and I hope the students learn to respect many different cultures in their experience here."