Ridgefield School District Breaks Ground on New 5-8 Schools Complex
rsd
Monday, May 01, 2017
Even though the weather was less than ideal, it was clear that rain wasn't going to dampen the spirits of the crowd who gathered yesterday afternoon to attend the historic groundbreaking ceremony for Ridgefield School District's proposed new 5-8 schools complex.
Architectural rendering of new 5-8 schools complex
Superintendent Nathan McCann welcomed honored dignitaries, school staff and community members to the construction site located on South Hillhurst Road across from Ridgefield High School. The groundbreaking ceremony officially kicks off the start of construction of Ridgefield's new schools complex, a result of the hugely successful passage of the district's 2017 bond in February.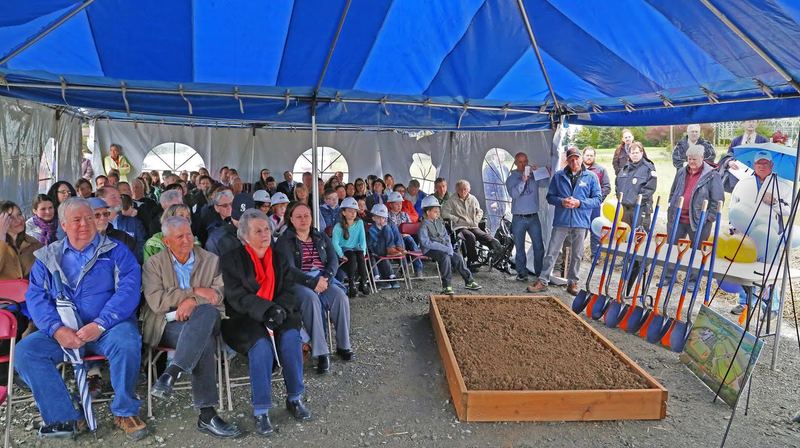 Photo courtesy of Ridgefield Life Magazine
Guest speakers included Amy Draper, Co-Chair of the Capital Facilities Advisory Committee; Jim Maul from Citizens for Ridgefield Schools; Ridgefield Mayor Ron Onslow; Scott Gullickson, Ridgefield School Board President; and Pete Bartel, longtime Ridgefield resident who grew up on the farm that for decades once occupied the new school site.
"Although this ground no longer grows spuds," said Bartel in his speech, "it will continue to grow Spudders."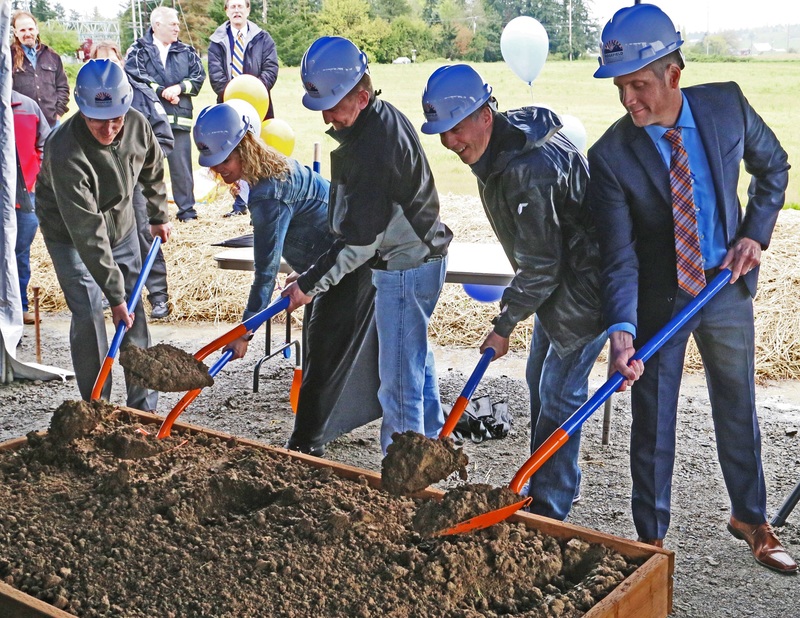 Ridgefield School District Board members (from left) Joseph Vance, Becky Greenwald, Scott Gullickson and Steve Radosevich join Superintendent Nathan McCann during the groundbreaking ceremony (photo courtesy of Ridgefield Life Magazine)
Ridgefield third graders break ground. From left: Colin Hutton, Gabriel Warren, Sanjana Bryant, Ella Rupp, Graysen Revord and Liam Schafer (photo courtesy of Ridgefield Life Magazine)
What made this ceremony extra special was the breaking of ground by six Ridgefield third graders from both South Ridge and Union Ridge Elementary schools. They will be among the first students to attend the brand new intermediate school as fifth graders at its scheduled opening in the 2018-19 school year.
The students from South Ridge included Sanjana Bryant, Graysen Revord, and Gabriel Warren. Colin Hutton, Ella Rupp, and Liam Schafer participated from Union Ridge.
"We had a great turnout for this event," said McCann. "This is another example of the strong showing of community support for Ridgefield schools."
The district is grateful to the Capital Facilities Advisory Committee, Citizens for Ridgefield Schools, and the countless citizens whose efforts helped to shape the 2017 bond program, making this historic groundbreaking ceremony a reality.