Giving Tree Makes Holidays Special for Ridgefield Students
Marie Bouvier
Monday, December 23, 2019
For many families, the holidays are a challenging time of year. Even small gifts can be out of reach on tight budgets. The Giving Tree program has provided holiday cheer for hundreds of children in Ridgefield schools each year, matching donors with wish lists from family members.
The Giving Tree at View Ridge Middle School

Giving Trees were set up at every school in the Ridgefield School District School. Counselors and the Ridgefield Family Resource Center identified families with school age children who could use some assistance in buying gifts. The students submitted their wishes, and the wishes were written on tags, along with the student's gender and age. (Students are never identified by name or any other information; it is anonymous.) Then donors selected a tag or tags from the Christmas tree at their school.
The parent teacher organizations at each school offered many hours of volunteer service to collect, match, wrap, store, and distribute the presents. Each family was able to pick up gifts or have them delivered in time for the holidays.
It was another successful year for the Giving Tree program; each school was able to fill dozens of gift requests. Union Ridge Elementary School was unusually busy; they received gifts for 377 children. "We had to refill the tree with new tags four different times," school counselor Nicky Dunn said. "The response was amazing. And it's all for Union Ridge originated families. At least one of the kids in the family attends school here, and other tags are for their siblings, because we support all of the kids in the home."
The Giving Tree is an easy way to make the holidays happier for families in need. Many thanks to the Ridgefield community for its generosity and holiday spirit.
Giving Tree tags identify gift requests for children.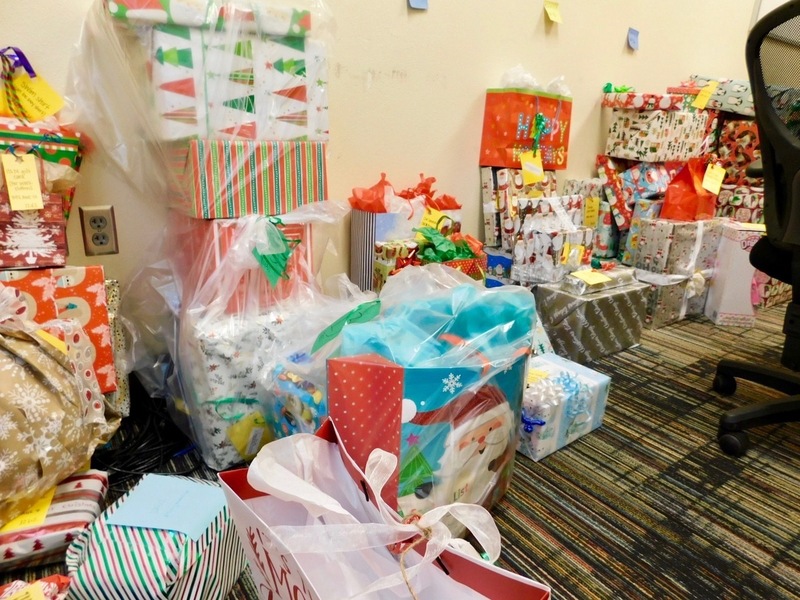 At Union Ridge Elementary, 377 gifts were donated for families in need.