South Ridge Students Build Tiny (Gingerbread) Houses
Marie Bouvier
Wednesday, January 01, 2020
The kindergarten students pressed their noses up against the classroom window. When they saw how the room had changed while they were at recess, their mouths dropped open. The tables were covered with dozens of bowls of candy, and tiny graham cracker houses were everywhere. "Can we come in now?" they pleaded.
The kindergarteners filed in first, and there were gasps of excitement when they saw candy everywhere. "Do not go to your tables yet! Don't touch anything yet," teacher Holly Gasca said, leading the distracted kids into a single file line.
The third-grade buddies entered the classroom next. They went to sit on the carpet. There were a few waves and smiles as students recognized each other across the room. Then there was an agonizingly long wait (a couple of minutes) while their teachers talked.
Third-grade teacher Kristen Paradis gave them the rules: No eating candy while you are here. When you get home, you can ask your parents if you can have some. Don't eat the house part though, because it is made from graham crackers glued to milk cartons. Share the bowls of candy and frosting with everyone at your table. No playing with the frosting, because it's sticky. And try not to lick your fingers. The students nodded quickly, excited to start the project.
There were only a couple of questions before they started. One student asked, "How does the candy stay on?" Their teacher explained it's not like normal frosting, it's more like cement, so it hardens and holds the candy in place.
Another hand went up. "Is there enough for everyone to do one?" Yes, they each got to make their own candy houses. But third graders still needed to help their kindergarten buddies. A kindergartener happily said, "They always help us with projects!"
It was finally time to start. Gasca and Paradis passed out bowls of frosting and craft sticks, as the students worked together to build the candy houses. Their classroom buddy program was going well—and it all started because Gasca and Paradis were buddies first.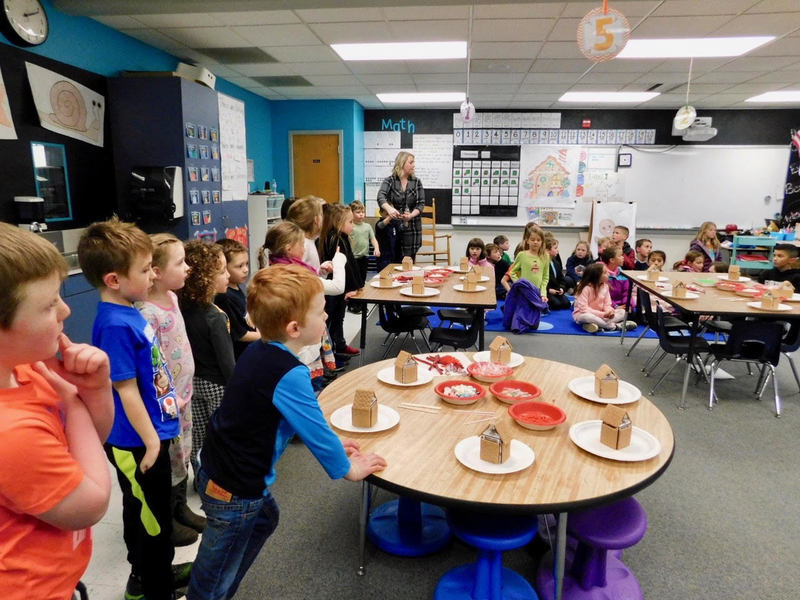 South Ridge Elementary School kindergarten and third grade buddies listen to the rules before they break into groups.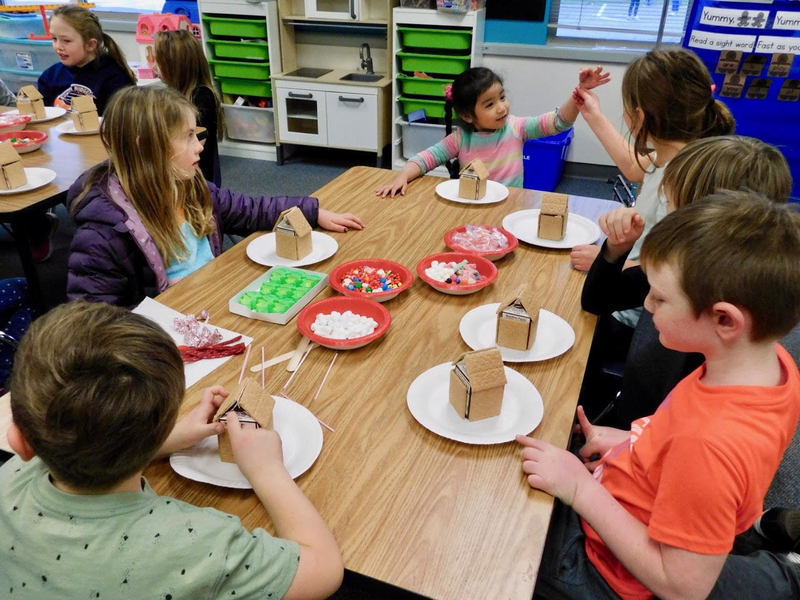 Kindergarten and third grade buddies get ready to make gingerbread houses together. Students had the chance to help each other with construction.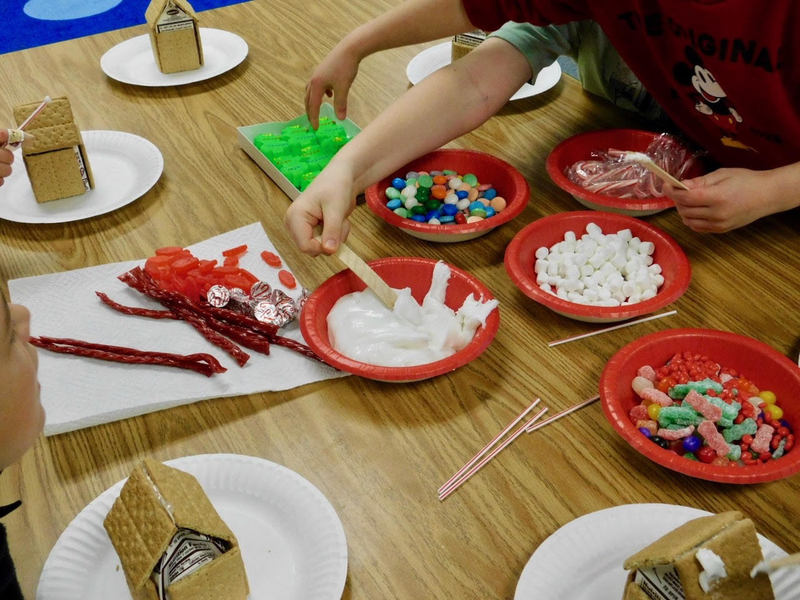 Students used bowls of sticky icing to glue the candies to the houses.

Gasca and Paradis both started out as kindergarten teachers at South Ridge Elementary School. "We really bonded," Gasca said. "When Kristen moved to third grade, we said, 'We should do kinderbuddies!'" Now the classes have worked together on projects that include STEM (science, technology, engineering, and math) concepts, reading, and even kindness.
The students love the program. They meet one or two times a month. "Almost every Friday, they ask if we have buddies today," Paradis laughed. "And if I say yes, they peek out the door to see if they're coming."
The third graders and kindergarteners loaded their colorful houses with more and more candy, until they verged on being structurally unsound. "One more on top!" a kindergartener sang. And his third-grade buddy helped him balance the candy on the last empty bit of roof. "Thanks! You're a great buddy!" the kindergartener said. And they shared a very sticky high-five.