Main Street Access Project Ribbon-Cutting Set for February 14
rsd
Wednesday, February 12, 2020
The Ridgefield National Wildlife Refuge is celebrating the completion of the Main Avenue Access Project with a ribbon-cutting ceremony on Friday, February 14th.
Come to Overlook Park at 1:00 pm in downtown Ridgefield for a one-mile walk to the Refuge along the recently-improved Main Avenue sidewalk. At the Refuge, a brief presentation and ribbon-cutting will take place at 1:30 pm. All Ridgefield students are invited to participate in the ribbon-cutting ceremony.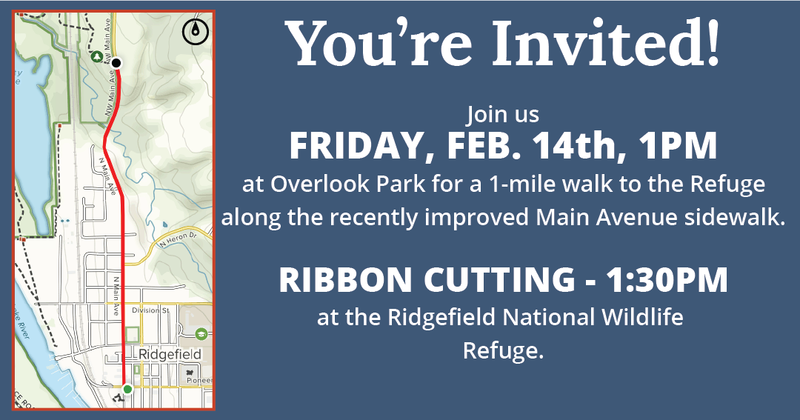 The newly-completed project improves access to the Refuge by linking it to the Ridgefield community. When the Carty Lake Trail opens in May, walkers will be able to complete 4.8 mile loop through downtown Ridgefield, the Ridgefield National Wildlife Refuge and the Port of Ridgefield and enjoy views of historic downtown buildings, Gee Creek, the Cathlapotle Plankhouse, Carty Lake and Lake River.
For more information, please call the Ridgefield National Wildlife Refuge at 360-887-4106 or visit their website at https://www.fws.gov/refuge/ridgefield