Ridgefield's First Annual Color Run Benefits Schools
Marie Bouvier
Monday, March 16, 2020
Crowds of people packed Davis Park for Ridgefield's first annual Color Run. Hundreds of participants turned out to support the fundraiser for Sunset Ridge Intermediate School and View Ridge Middle School. A blue, orange, and white balloon arch swayed in the breeze, brightening the grey day. As it turned out, those grey skies were the perfect backdrop for the riot of colors about to be unleashed.
Mayor Don Stose welcomed the runners to Ridgefield and introduced the pre-race color launch with a countdown. 3, 2, 1, go! Runners and walkers cheered as they flung colored powder up high and showered each other in clouds of color. Plumes of bright color floated in the air. The race was off to a beautiful start.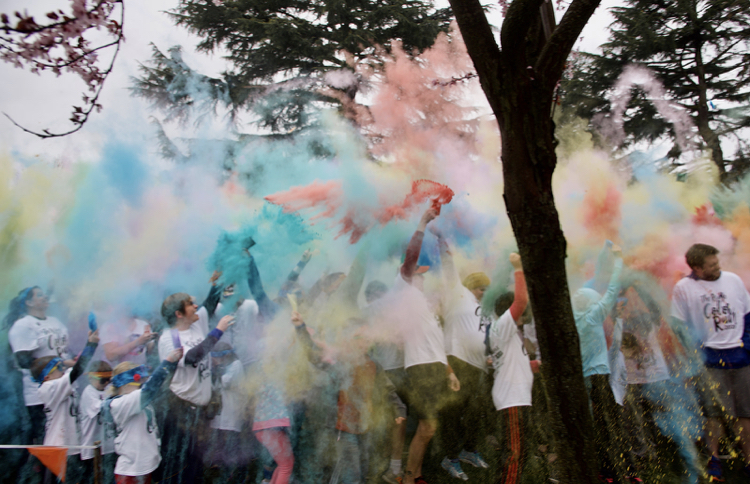 The pre-race color launch transformed Davis Park.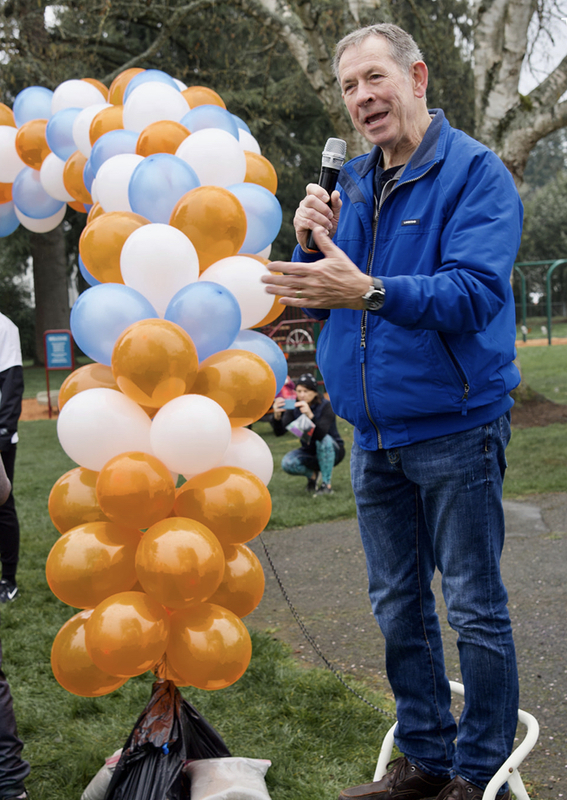 Ridgefield Mayor Don Stose addresses the crowd.

Along the race course were stations where even more color was sprayed out, allowing participants to run through pigmented clouds. The all ages event had many families walking and running together, and the kids were especially happy to have an excuse to cover themselves in pink, blue, yellow, green, and orange powder. By the end of the run, their white race shirts were covered in streaks and splotches of color, and they were ready to enjoy the post-race DJ and activities.
These kids and their sunglasses were covered in color by the end of the race.

The Ridge parent association partnered with the City of Ridgefield to hold the fun run as part of Ridgefield's popular First Saturday event and as a kickoff for Youth Arts Month. The Color Run served as a community-wide fundraiser to support student, teacher, and school activities at Sunset Ridge Intermediate School and View Ridge Middle School.
Ridge coordinator Tina Krause said, "The event was amazing, especially for the first year! The committee worked super hard on this event for the past few months, and we were very pleased with how it turned out." With over 370 pre-registered participants and many more registering on the day of the event, the Color Run was even more successful than they had hoped. "We will definitely do it again next year," Krause promised.