Beaches Restaurant Brings Green Eggs and Ham to Ridgefield First Graders
Marie Bouvier
Tuesday, March 17, 2020
Since 1996, Beaches restaurant has been helping first graders answer the question, "Do you like green eggs and ham?" by letting them try the real thing. Beaches cooks the special breakfast for thousands of students and parents across Clark County as part of the National Education Association's Read Across America Day.
The special event is a longstanding tradition for Beaches. In addition to cooking and delivering the delicious breakfast to schools, the restaurant also donates a Cat in the Hat style hat for each student. The event started 25 years ago when one school needed help encouraging parents to get involved. Beaches volunteered to provide breakfast, reading, prizes, and costumes. The event has grown bigger every year, and this year, they served more than 7,000 students and parents across Clark County.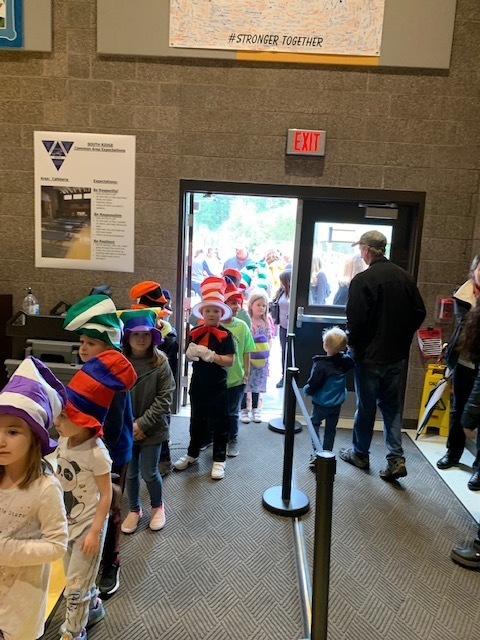 Wearing their "Cat In The Hat" hats, students line up for delicious green eggs and ham courtesy of Beaches Restaurant. Photo credit: Mike Lee

Special volunteers come to South Ridge and Union Ridge Elementary Schools each year to help with the event. The Mayor and members of City Council are there to hand out hats and help serve food. And at each event, someone reads the Dr. Seuss book, Green Eggs and Ham, to celebrate Dr. Seuss' March birthday.
So how did the green eggs and ham go over with the students? They were excited to get them—but a little less excited to eat them. Just like the character in the book, they were hesitant to try the colorful eggs. But with a little encouragement from parents and teachers, many students got brave and tried them.
The first graders were surprised to find that green eggs tasted just like regular eggs. Soon there were rows of children wearing tall striped hats, chewing happily on a very unusual (but still familiar tasting) breakfast. Much like the characters in the book, they learned that you have to try things first to find out whether you like them or not. And more than one student said, "I do, I like them, Sam-I-am!"
Community volunteers help serve real-life green eggs and ham to Ridgefield first graders. Photo credit: Mike Lee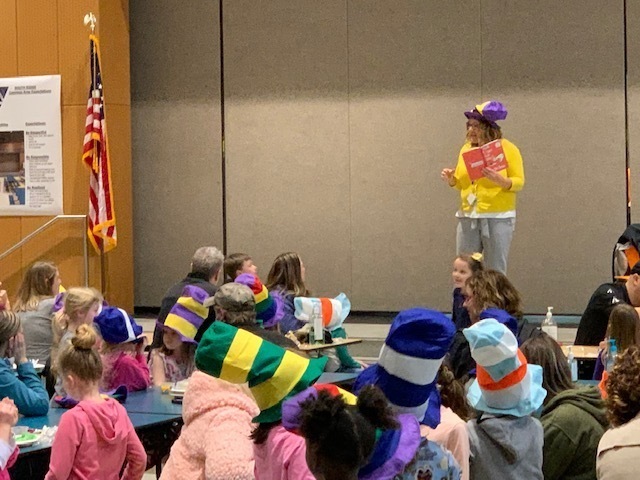 The students get to listen to "Green Eggs and Ham" as part of the event. Photo credit: Mike Lee