Video Pays Tribute to Cast and Crew of RHS' Theatre Production of "Cinderella"
rsd
Tuesday, June 23, 2020
Ridgefield High School theatre students were in the middle of preparations for their upcoming spring musical, Cinderella, when the threat of COVID-19 officially cancelled their spring performances. To recognize the hard work that students had already invested in the musical, RHS teachers Kaitlyn Etter and Bob Meek collaborated in producing a tribute video to showcase the collective talents of the cast and crew in the making of the production.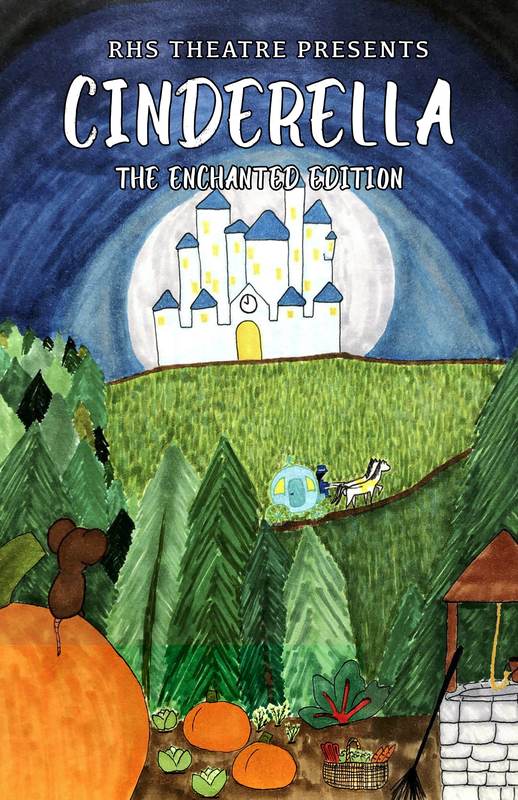 The 50-minute video, created during the school's shutdown, is a condensed version of the "show" and was recently shared with the students' families as well as staff at Ridgefield High School and View Ridge Middle School. It includes rehearsal footage of the group dance numbers with individual videos the students submitted (plus a little storyline).
Four seniors took part in the production: Cecelia Lerner as Cinderella, Sebastian Rojas-Rincon as Prince Christopher, Katelyn Brown as one of the Stepsisters, and Jason Gasca as a member of the ensemble cast.
Other roles featured RHS students: Kaitlyn St. John (Fairy Godmother), Sophia Miller (Stepmother), Cami McGravey (Stepsister), Peter Schafer (Lionel), Kaitlyn Williamson (Queen), and Aiden Baker (King).
Other ensemble members featured in the video were Tegan Petersen, Sydney Williams, Avari Harrison, Ella Ross, Kaya Felton, Summer Sedgley, Abby Brown, Josie DeBord, Caleb Ceravolo, Anna Vande Krol, and Clara Lewandowski.
The show's creative team included Kaitlyn Etter (Director/Producer), Bob Meek (Musical Director), Megan Smith (Choreographer), and Aziza Mansuri (Technical Director).
The video can be viewed at the following link: https://youtu.be/6LLk8LHM4O0. Please note: Copyright laws prohibit the re-sharing of the link on personal social media accounts.