Ridgefield School District Honors 2020 Exemplary Service Award Recipients
rsd
Thursday, August 27, 2020
Ridgefield School District is proud to announce the recipients of its sixth annual 2020 Exemplary Service Awards. The honorees were recognized in the district's annual Convocation ceremony held remotely yesterday.
CERTIFICATED EXEMPLARY SERVICE AWARD: Austin Biel, Math Teacher, Ridgefield High School
Austin's dedication to teaching helps his students grasp even the most difficult math concepts.
CLASSIFIED EXEMPLARY SERVICE AWARD: Kody Eastham, Grounds and Maintenance
Kody is a valued member of the district's Grounds and Maintenance Team. Rain or shine, he keeps our campus grounds always looking great.
PARTNER EXEMPLARY SERVICE AWARD:
Stacie Andrew, Ruth Chumley, Jennifer Holbrook, Angel Slack, Amber Vesely, Nicole Bartroff, Joanne Hazen, Vicki Marosi and Judi Sekidde, members of the district's "Lunch Superheroes Team" from Chartwells Food Services.
While not directly employed by the Ridgefield School District, this team of food service employees played an essential role in providing children with meals when COVID-19 disrupted food service at the schools. They stepped up to keep children fed each school day (including weekends) from Day 1 of the district's school closure on March 16th through the last day of school.
Watch the video of the award presentations here: https://youtu.be/Rp-gYYqepsc
Congratulations to all of our 2020 Exemplary Service Award honorees!
Austin Biel, 2020 Certificated Exemplary Award Recipient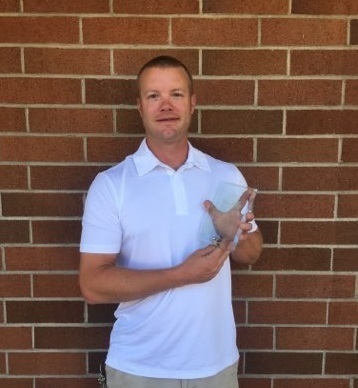 Kody Eastham, 2020 Classified Exemplary Award Recipient
The "Lunch Superheroes Team" from Chartwells Food Services, 2020 Partner Exemplary Service Award Recipients