Union Ridge Elementary's Annual Socktober Sock Drive Is On
rsd
Monday, October 19, 2020
The students in Stephanie Brown's class at Union Ridge's RISE Special Education program are organizing the annual Socktober sock drive again this year. Socktober is a nationwide movement to collect socks for homeless shelters, and the students are doing their best to collect as many pairs of socks as they can. This will be their 3rd annual Socktober sock drive.
Many of the students in the RISE (Reaching Independence through Structured Education) program are on the autism spectrum, and participating in the sock drive helps them to not only understand the concepts surrounding homelessness but shows them that anyone and everyone can make a difference by doing something to help others.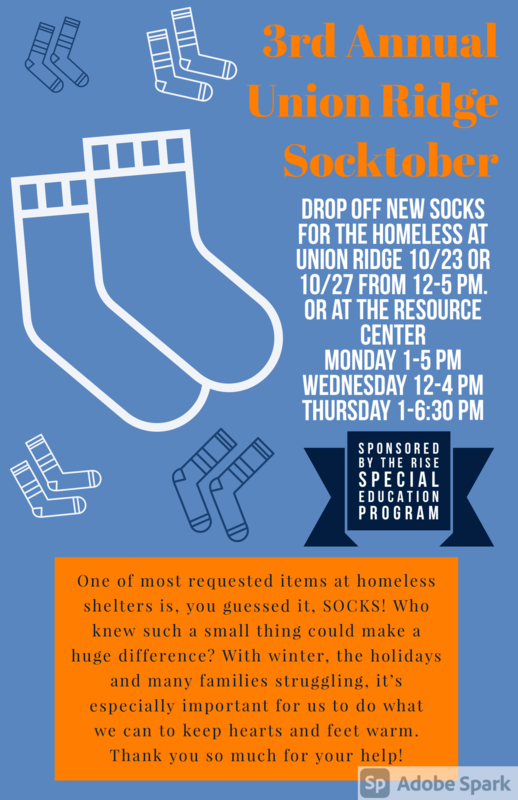 If you'd like to drop off new pairs of socks for the Socktober sock drive, please donate them at the Ridgefield Family Resource Center during regular donation hours: Mondays, 1:00 pm - 5:00 pm, Wednesdays 12:00 pm - 4:00 pm and Thursdays 1:00 pm - 6:30 pm.
Special drive-through collections for Socktober are also scheduled from 12:00 pm – 5:00 pm on October 23rd and 27th near Building B at Union Ridge Elementary where specially-marked bins will be set up for safe contactless drop-off of socks. On Friday, October 23rd around 12:45 pm, Rally the Raptor will make an appearance to personally deliver Adidas socks (100 pairs) especially for Socktober.
Bombas, an apparel brand famous for its comfort-focused socks and whose mission is to help those in need, will also be participating in Socktober this year. Their donation of socks, scheduled to arrive in November, will be allocated to the Ridgefield Family Resource Center and the Council for the Homeless in Vancouver.
Socks are one of the most requested but least often donated items at homeless shelters. This simple item can make a huge difference in the lives of individuals and families in need. Let's all do what we can to keep hearts and feet warm this winter. Socktober runs through the month of October.