Friendship Fiesta Lunch Events Celebrate Kindness at South Ridge Elementary
rsd
Wednesday, November 04, 2020
At South Ridge Elementary School, students in Karen Moses' fourth-grade class meet for a special lunch once a month. "Friendship Fiesta" happens on the first Friday of each month during the school year--in remote learning mode. Even though the students are spread out all over Ridgefield, they have fun dressing up, sharing lunch over Zoom, and learning what it takes to be a good person.
As they eat together, Moses teaches her students about the value of friendship and kindness. Their discussions center around ways they can make a difference for the people around them.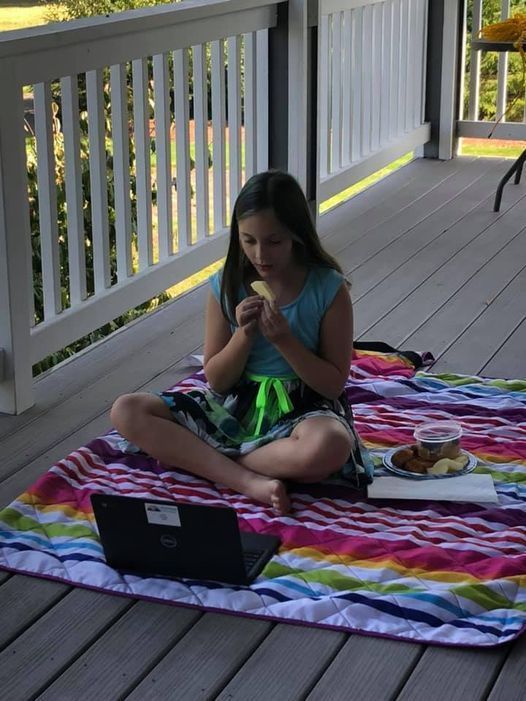 Fourth grader Sidney Krause enjoys lunch while connecting remotely via Zoom with her classmates and teacher, Karen Moses, on October 2nd during Friendship Fiesta.
Last year, Moses' students connected with a group of seniors at Highgate Senior Living Center. The students and seniors enjoyed four lunchtime fiesta visits together in person. Each visit built stronger friendships and bridged generations. The students learned much from the lifetime experience of their senior friends, and the seniors enjoyed being with the kids.
That was prior to the coronavirus pandemic. Now, COVID-19 restrictions make personal connections like these a challenge for the students to safely engage with community members.
"This has been the hard part, since there are safety restrictions," said Moses. "We are looking for other ways to make an impact in our community." This year, her students had hoped to make posters for kids' hospital rooms at OHSU Doernbecher Children's Hospital in Portland, but due to COVID-19 precautionary measures, they were unable to do so.
The students are not giving up, however. Their next Friendship Fiesta is this Friday, November 6th, and not only are they looking forward to connecting with their classmates via Zoom to have lunch, they plan to come up with safe, alternative ideas that will allow them to continue doing more kindness projects in the community.