Ridgefield Students Compete in "Nailed It!" Style Decorating Contest
Marie Bouvier
Monday, December 14, 2020
Nailed It! is a competition show on Netflix where home bakers try to re-create beautifully designed cakes and cookies in a timed challenge. Usually the results are. . . subpar. But the contest is lots of fun to watch. Now fifth and sixth grade students at Sunset Ridge Intermediate School have the opportunity to participate in their own Nailed It! style contest at school.
Nailed It! Sunset Edition came about because Counselor Kayla Mitchell was looking for ways for students to have fun outside of class—which is a little more of a challenge when they are all remote learning. The Nailed It! contest was one that could be done easily at home and also offered kids and families a different, fun activity.
Mitchell worked with Associated Student Body (ASB) students to figure out how to make the Nailed It! concept work for an online contest. ASB Leadership students Camden Dalrymple, Elizabeth Jones, Jael Benedick, Madison Cleaver, and Isabelle Walker made a video to explain it to the school. Here's how it works:
Students pre-make a holiday dessert, but leave it undecorated. They choose an inspiration picture of a dessert they want to re-create. Then students make a video that starts with the inspiration picture. They set a timer for three minutes, then decorate their desserts. At the end of the video, students show the results, with their inspiration picture next to their masterpiece.
Students, teachers, and staff are all eligible to participate. They have until Wednesday, December 16 to post videos. Prizes of Sunset Ridge spirit wear will be awarded to the fifth grade and sixth grade winners.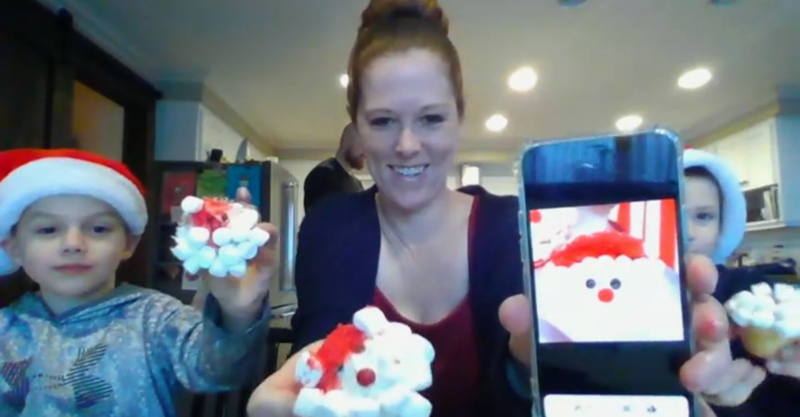 Kayla Mitchell and her sons, Jaden and Ronin (sons Cason and Colton are in the background) decorated Santa cupcakes.

Associated Student Body Leadership students made a video to explain the school's "Nailed It!" style contest.

Several students and staff have already posted three-minute videos, with frosting and candies flying. Clearly everyone involved is having a great time, with lots of smiles and laughter. Mitchell's video shows her decorating Santa cupcakes with her young children. "None of my boys are Sunset students yet," she said, "but I was hoping that having them participate would show families this could be a fun family activity!"
With only three minutes to decorate, the creations might not be close matches with the inspiration pictures. But Sunset Ridge students will get to try something new—and enjoy the delicious end results too. Luckily for them, cookies and cupcakes taste just as good with frosting fails as they do when they "nail it" in design.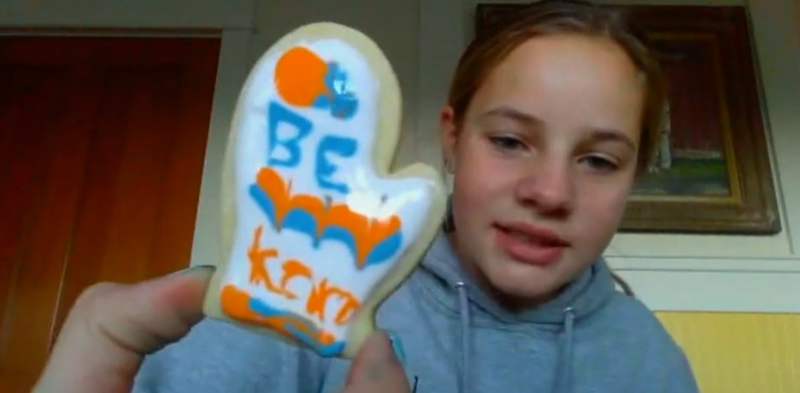 ASB Leadership student, Elizabeth Jones, made a "Be Kind" mitten cookie.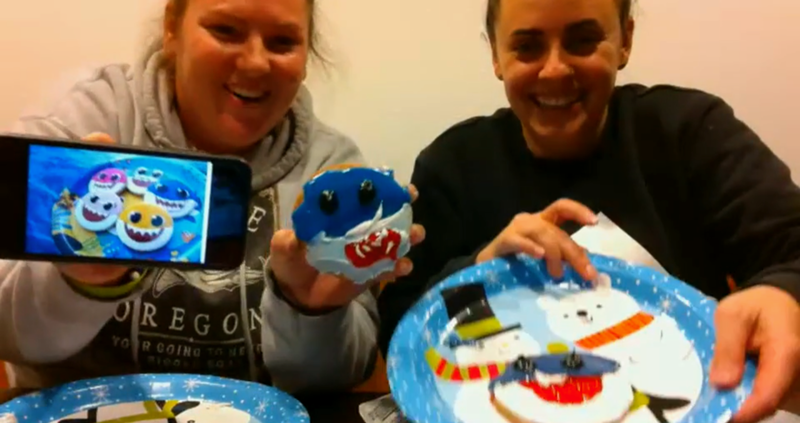 Paraprofessional Nicole Colpron and her friend, Ariel, made shark cookies.