View Ridge Middle Schoolers Participate in FIRST LEGO League Robotics Competition
Carolyn Enos
Friday, January 19, 2018
Last month, two robotics teams from View Ridge Middle School participated in a FIRST LEGO League Robotics qualifying competition at Washington Middle School in Olympia.
The VRMS Rebels (also known as "The Squishies") and VRMS Rebels Too (also known as "The RoboRebels") are coached by View Ridge English and history teacher, Raechel Cowell.
FIRST (For Inspiration and Recognition of Science and Technology) is a nonprofit international youth organization founded in 1989 that operates the FIRST Robotics Competition, FIRST LEGO League, FIRST LEGO League, JR. and FIRST Tech Challenge competitions.
FIRST LEGO League team competitions require student teams (in Grades 4-8) to design, build, and program a robot using Lego Mindstorms technology and drive it to complete challenges on a table-top playing field. This year, teams were also presented with a real-world problem (hydrodynamics) and were required to develop a solution by collaborating with community members and doing research culminating in a presentation to judges at the competition.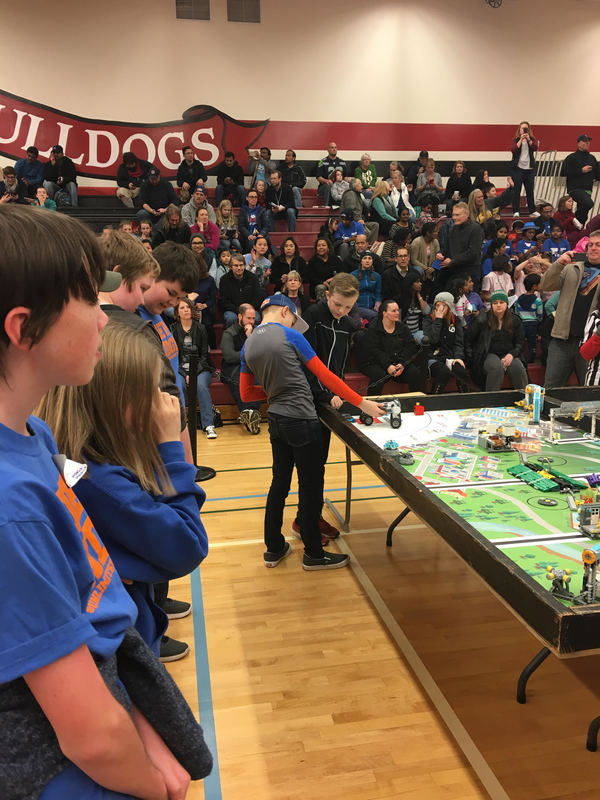 The competition helps participants learn to apply science, technology, engineering, and math concepts (STEM) along with creativity to solve a problem. Along the way, they develop critical thinking and team-building skills, basic STEM applications and presentation skills.
In addition, by embracing FIRST's Core Values, participants learn that friendly competition and mutual gain are not separate goals and that helping one another is the foundation of teamwork. The event provided the middle schoolers with the opportunity to meet students from other schools, get to know their teammates better and to have fun.
VRMS Rebels team (a.k.a. The Squishies) from left: William Sowders, Jud "JP" Kennedy, Carter Long, Cayden Lauder, Kaison Apol, Liam Rapp, and Isabelle "Izzy" Sheley. Christian Duquette (not pictured) is also part of the team.
At the competition, both teams faced numerous challenges required of their robot. After selecting specific challenges to work through, the students set goals, all of which they were able to accomplish. "THAT was very exciting," said Cowell. "The students worked hard and made effective use of downtimes to make programming changes. One team actually changed their robot design during downtime!"
"When we finally got to see our robot do the first challenge successfully, it was really cool," said Parker Staker from the RoboRebels team. "The best aspect of the competition was when we were pressured for time and within hours, made the robot able to do two more challenges than what we came in with. It was fun to see the saw blade attachment that I made work and help the robot do the challenge."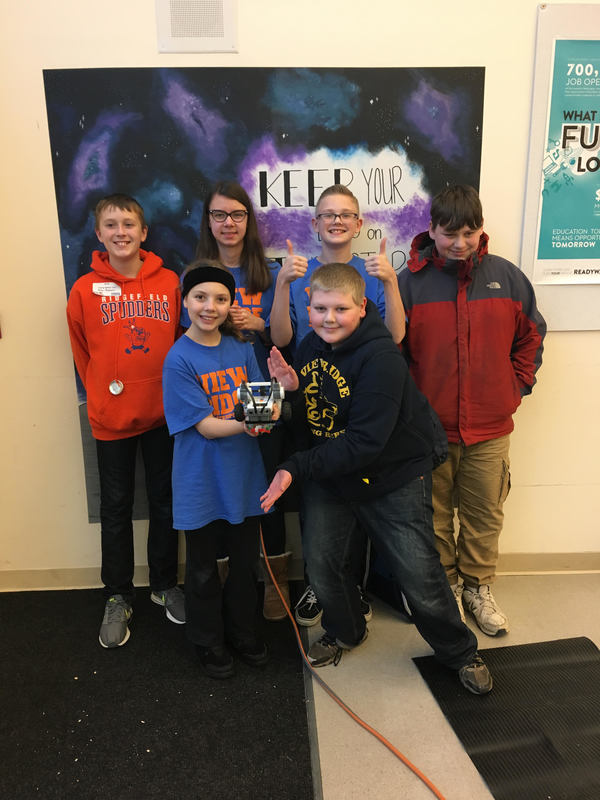 VRMS Rebels Too team (a.k.a. The RoboRebels) Back row (from left): Parker Staker, Mara Schwenneker, Dominic Harris, John Stryker. Front row (from left): Catalina Hagen and Gabriel Thomas. Other team members (not pictured): Olivia DesRochers, Aaron Breitengross, and Megan Weber.
In the end, View Ridge ranked 27th and 28th out of a field of 33 teams. "However, I am very proud of them," said Cowell. "They weren't trying to win necessarily, but had the full spirit in them to do their best. The students enjoyed themselves," she said, adding, "Many would have been happy simply designing robots and programming them. Students simply love to do this stuff."
The View Ridge robotics teams gratefully acknowledge the support they received from Ridgefield High School's Steel Ridge Robotics Team (Coach Jeff Brink and students Jake McCarthy and Eli Holter) and parents Chad Stryker, Mitzi Staker, and Timm Sowders.
"Being my first year doing robotics, I really enjoyed myself and found the entire robotics community very supportive," said Cowell.
FIRST LEGO League is an alliance between FIRST and the LEGO Group. It was founded in 1998 by FIRST founder Dean Kamen and owner of the LEGO Group, Kjeld Kirk Kristiansen to engage children in playful and meaningful learning while helping them discover the fun in science and technology.