Virtual Color Run Benefits Ridgefield Schools
Marie Bouvier
Monday, February 15, 2021
Last year's Color Run brought hundreds of participants to Davis Park in downtown Ridgefield. Runners dashed through bright clouds of color to raise money for Sunset Ridge Intermediate School and View Ridge Middle School. Unfortunately, COVID precautions made an in-person run impossible this year, so the Ridge Parent Association took the Color Run virtual. On March 6th, students, families, and community members will have the chance to support the schools together—while staying safely apart.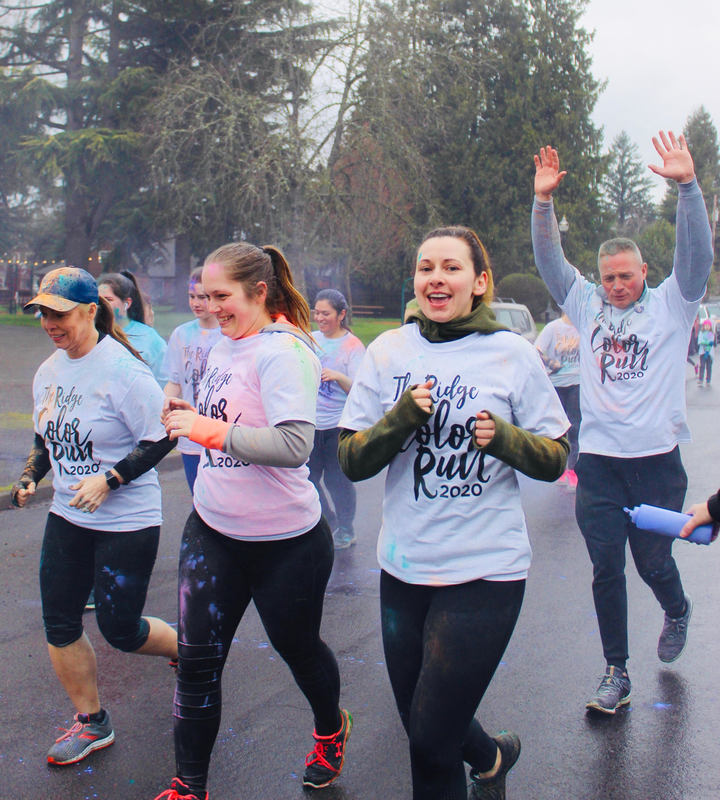 Runners in the 2020 Color Run celebrated as they neared the finish line. Photo Credit: Olivia DesRochers
The two-mile virtual run will be held on March 6. Participants will have the freedom to choose their own routes while still being a part of the event. Jog on a treadmill, run on a favorite route, or even walk the dog, then celebrate with your own cloud of color!
Early registration runs through February 19th. The $20 registration fee gets you a t-shirt and a colored powder packet. The first 150 registrants also receive sunglasses courtesy of Opsahl Dawson Accounting and a free cinch bag courtesy of J&R Wood Products. Late registration runs from February 20th to March 5th, and the $25 fee gets you a colored powder packet. To register, sign up at https://tinyurl.com/sih0d1n5
On March 6th at 10 a.m., Ridgefield Mayor Don Stose will lead the virtual kickoff with a video statement and race countdown on the Ridge Association group page on Facebook. Participants will be able to post and view pictures and videos on the Facebook page, as well as on Instagram (the_ridge98642). If you take pictures of your Color Run, be sure to tag #TheRidge. Support school activities, enjoy some exercise, and celebrate in color with the virtual Color Run!
The Ridge Parent Association is holding a virtual Color Run this year as a fundraiser for Sunset Ridge Intermediate School and View Ridge Middle School.


The first 150 registrants will receive a cinch bag and sunglasses