Ridgefield Athletics Back In Motion
Marie Bouvier
Wednesday, March 24, 2021
Ridgefield's stadiums and playing fields have been largely silent for the last year due to COVID restrictions. School sports were put on hiatus in 2020 until it was safe for schools to reopen. Fortunately, the recent downward trend in the number of COVID cases means school sports can begin returning to practice and competition. With safety restrictions in place, the Ridgefield High School Spudders are glad to get back in the game.
The Washington Interscholastic Activities Association (WIAA) issued guidelines so school teams could safely return to sports. They follow the Washington Department of Health approach of phasing in sports based in part on the level of contact between players and whether the sports are indoors or outdoors. Masks and social distancing are maintained when possible, even during competition.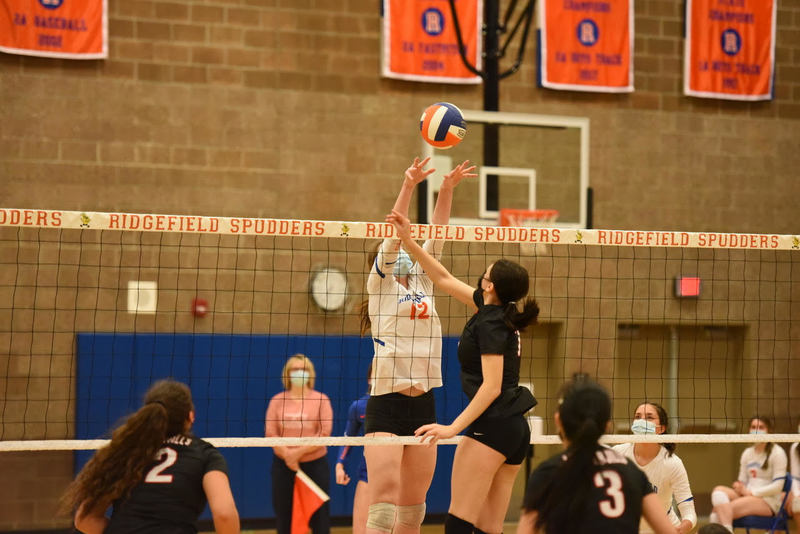 Masks are worn even in game for the RHS volleyball team and their competitors. PHOTO CREDIT: Jared Hundley

The Ridgefield High School boys' tennis team is ready to get back on the court. PHOTO CREDIT: Jared Hundley

The Ridgefield teams returning to the field for practice and/or games include cheer, cross country, football, golf, soccer, tennis, and volleyball. And they have been busy, with many games scheduled. The athletic department has been providing livestream links for most home games, allowing fans to cheer safely online for their teams.
With Washington state in Phase 3, more spectators are allowed now for high school sports. Masking and social distancing are still required for spectators at all events. The teams are looking forward to having more fans on the sidelines or in the stands again after almost a full year on hiatus.
Brynan Shipley, director of athletics and activities, has been busy tracking the changes to sports guidelines, managing practice and game schedules, and staying in touch with athletes and coaches. The hard work put in by Shipley, the coaches, and the athletes brings us a few steps closer to normal, where Spudders and Herons fans can be there in full force to cheer for their teams.
To find livestream links for Ridgefield athletics and more information on upcoming games, go to http://www.spudderathletics.org