Experience Ridgefield Set for Saturday, September 8
rsd
Thursday, July 05, 2018
Mark your calendars for some good old-fashioned, small-town fun as the Ridgefield School District prepares to host its third annual Experience Ridgefield event on Saturday, September 8. The annual community carnival celebrates Ridgefield's proud past, prosperous present and promising future.
This year, Experience Ridgefield will be held on the same day as Oktoberfest, which is sponsored by the Ridgefield Main Street Association. Both events will take place at the new Ridgefield Outdoor Recreation Complex (RORC) at 3125 S. Hillhurst Road from 11:00 am to 5:00 pm.
"Experience Ridgefield is truly an event where there will be something for everyone," said Bonnie Harris, Executive Secretary for the Ridgefield School District and the event's coordinator. "There will be food and craft vendors, informational kiosks, a carnival midway, a ribbon-cutting ceremony with guided tours to our new 5-8 campus, and much more."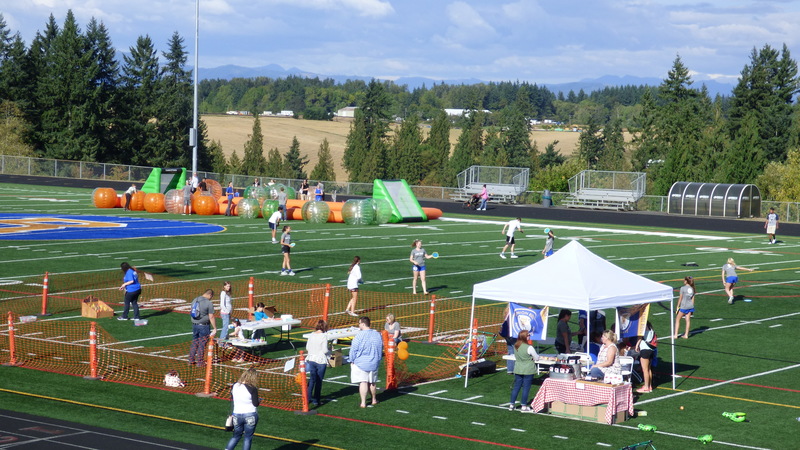 The carnival midway at Experience Ridgefield 2017
Experience Ridgefield was born from a concept developed by the Superintendent's Student Advisory Council (SSAC) consisting of twelve students from grades 4-12—each representing one of the district's schools.
A few years ago, when board members, Scott Gullickson and Joseph Vance, sought ideas for a way to bring the community together at a district-hosted event, Ridgefield School Superintendent Nathan McCann turned to his SSAC students for their input. The students came up with the highly interactive, carnival-like event, and designed it to represent everything that makes Ridgefield unique, capturing everything they love about their community. Appropriately, they named it "Experience Ridgefield."
The event, launched in 2016, was a phenomenal success. The students' marketing and promotional efforts brought in more than 40 vendors and secured a lead sponsorship by Holbrook Concrete Construction Inc. with assistance from The Historic Sportsman's Steakhouse and Saloon.
"I'm very proud of all the creativity and planning put in by the students in developing an annual event that celebrates the spirit and pride of this amazing community," said McCann. "We appreciate the generosity of our partnering sponsors and the many local businesses, civic groups and public entities who continue to support Experience Ridgefield each year."
The district is grateful to Draper Orthodontics who is the title sponsor for the upcoming event. This will be the school district's third year hosting Experience Ridgefield.
Vendors interested in reserving a space at the event can access an application at the district's website at www.ridgefieldsd.org. Click on Explore, Forms, Experience Ridgefield.