RHS Partners with Providence to Offer Free Youth Heart Screenings
rsd
Monday, November 05, 2018
Ridgefield High School is partnering with Providence Heart Institute (PHI) to offer all students in grades 9-12 a free heart screening during the month of November. PHI's program, called Play Smart, will provide screenings on November 9th and November 30th from 8:00 am to 3:00 pm in the Auxiliary Gym at Ridgefield High School.
To receive the free screening, students must complete a Consent Form and Questionnaire and submit them to the RHS Athletic Office. The forms are available here: Consent Form and Questionnaire.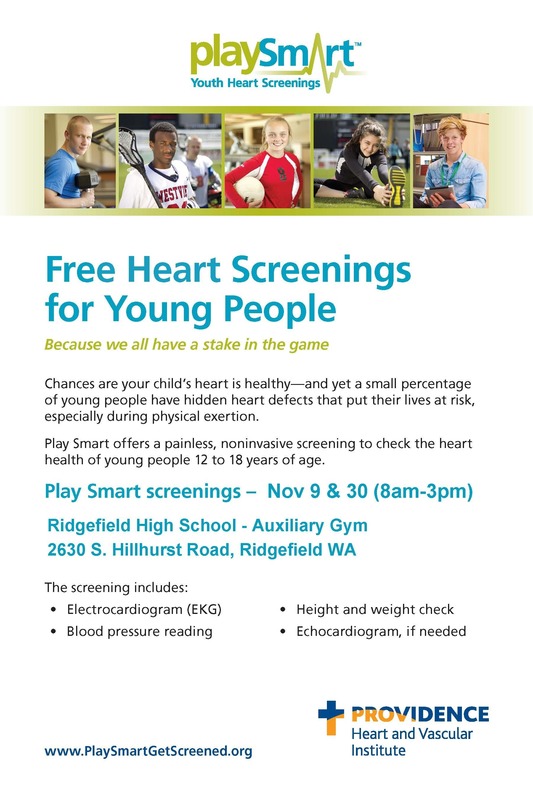 The Play Smart Youth Heart Screenings Program has been extremely successful in screening over 25,780 youth and identifying 1,328 students (6% to date) for further follow-up treatment. Young people with undiagnosed heart defects, especially athletes, are susceptible to sudden cardiac arrest. Often, there are no advance signs or symptoms. An electrocardiogram (EKG/ECG) is usually necessary to reveal signs of heart irregularities, something not normally done in "well-child" checks or routine physical exams.
Play Smart heart-health screenings are free, painless and non-invasive.
For more information about the Play Smart Youth Heart Screenings Program, visit their website at www.playsmartgetscreened.org.