Ridgefield High School Students Learn Marketing Pasta-bilities
Marie Bouvier
Tuesday, November 27, 2018
A giant Dorito walks up to you and says, "You should try our Cheesy Crunch Pasta!" You're not dreaming, you're at the Pasta Project.
The Pasta Project is a collaboration between Andrea Reinertson's marketing class and Sarah Fontyn's foods class at Ridgefield High School. The marketing class works in groups to come up with product ideas. Then the food class creates recipes and cooks the pasta samples.
On the day of the Pasta Project, Reinertson invites other classes into her classroom. "Imagine you are at grocery store sample day," she says. "There are nine displays here of different types of pasta. But you can only choose three. You'll decide based on four categories: their display, their sales pitch, whether you would actually buy the product, and the taste." She hands out three judging slips per students, and the students wander the aisles.
Each marketing group has created eye-catching product displays for their pasta. There is a wide range of choices, and the sales pitches are flying.
"Did you know 59% of Americans eat pasta twice a week? Our pasta cooks fast so families can get it on the table."
"Our pasta is easy to make but offers the same taste as exquisite Italian pastas."
"9 out of 10 Americans don't get the recommended of seafood in their diets. Our pasta has fresh ocean shrimp that's nutritious and delicious."
Students taste the pasta samples and select their favorites. It will be a while before votes are tallied. But in the meantime, all the students are enjoying the Pasta Project—including Danny Dorito.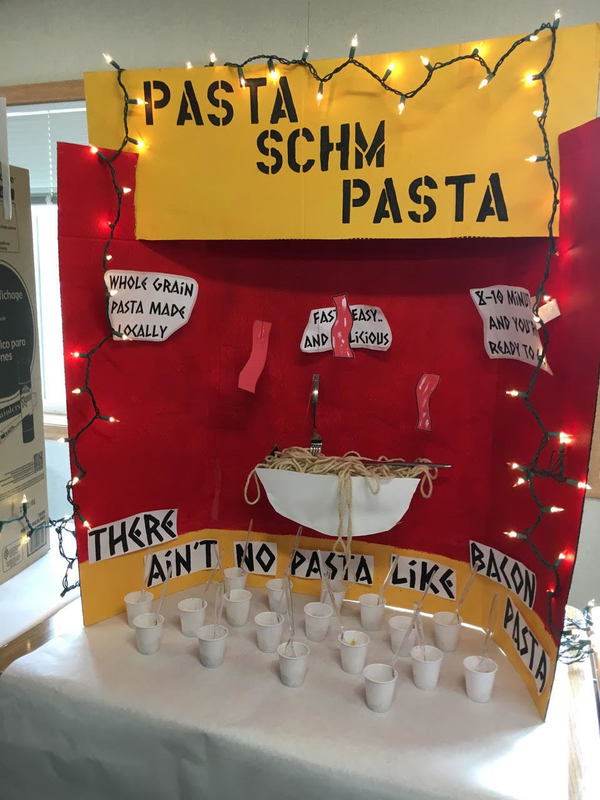 Pasta SCHM pasta is made from locally grown ingredients.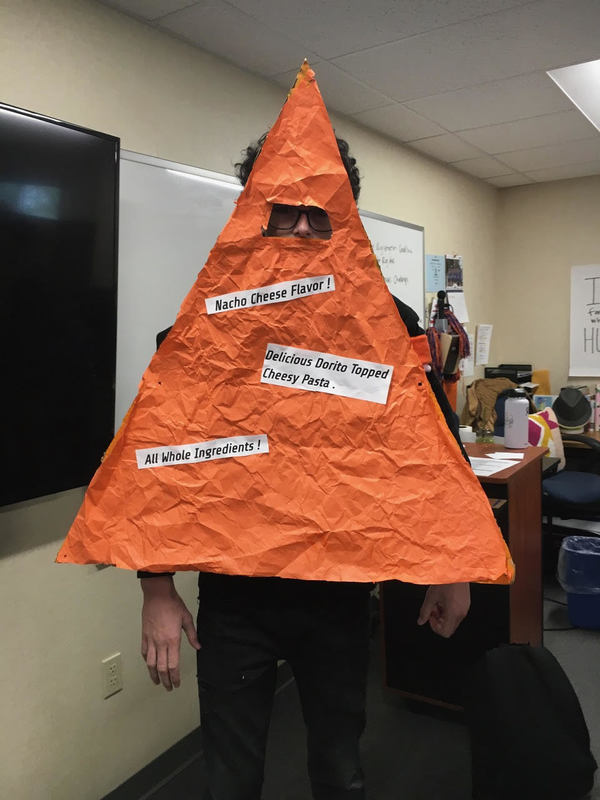 Danny Dorito, the mascot for Cheesy Crunch Pasta.