RHS Thespian Troupe Members Head to State and National Competitions
Marie Bouvier
Tuesday, December 18, 2018
The Ridgefield High School Thespian Troupe attended its first ever Southwest Regional Acting and Technical Theatre event in November—and walked away with wins in multiple categories. Kaitlyn Etter, the Theatre Arts Director for the high school, said, "Since it was our first time competing, I wasn't sure how well we would do, but the students exceeded all expectations."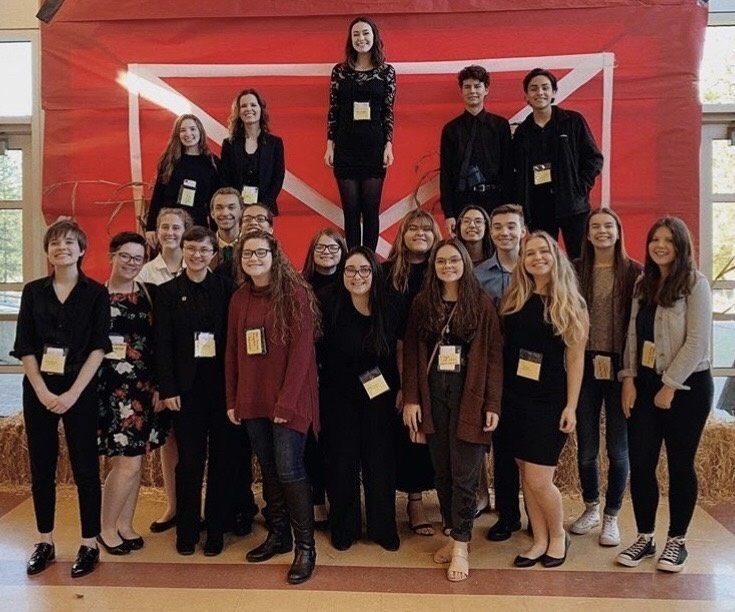 Numerous students received "Excellent" level scores, qualifying them for state competition.
Solo Musical Theatre: Cristyn LaChaine, Kennedy Howlett, Sofia Lee
Duo Musical Theatre: Bridget Donaldson and Sebastian Rojas-Rincon
Duo Scene: Callie Stenersen & Phoebe Langwell
Stage Management: Payton Kautz
And two students received top "Superior" scores, qualifying them directly for Nationals this summer.
Musical Theatre Soloist: Lily Ray
Monologue: Phoebe Langwell
Lily Ray said competing was "terrifying", but the support of her teammates made it easier. "Although I know each student was anxious about their piece, we were all very supportive of each other and able to showcase our talents in the best way possible. I'm honored to be able to represent Ridgefield's School District in this way."
The students will be doing fundraising to attend the State competition at Central Washington University in March and the National competition at the University of Lincoln-Nebraska in June.
"I was and am incredibly proud of them," Etter said. "The students represented Ridgefield High School so well, and we should be incredibly proud of their work. Congratulations to Spudder Theatre Troupe 8635!"