The first day of school will look different in many ways this year. Schools across the Ridgefield School District are transitioning to Ridgefield Remote, a fully online learning environment. Without the usual excitement in the hallways at South Ridge Elementary School, principal Jill Neyenhouse wanted to find a way to recognize the teachers for their hard work—even as they all worked far apart.
"One of the things we do as we return to start school is reconnect with each other and build our community together," Neyenhouse said. "It is so much harder to do all of that when we are in a remote setting." Inspired by the yard signs that recognized the 2020 graduates at Ridgefield High School, Neyenhouse decided to do something similar for South Ridge teachers.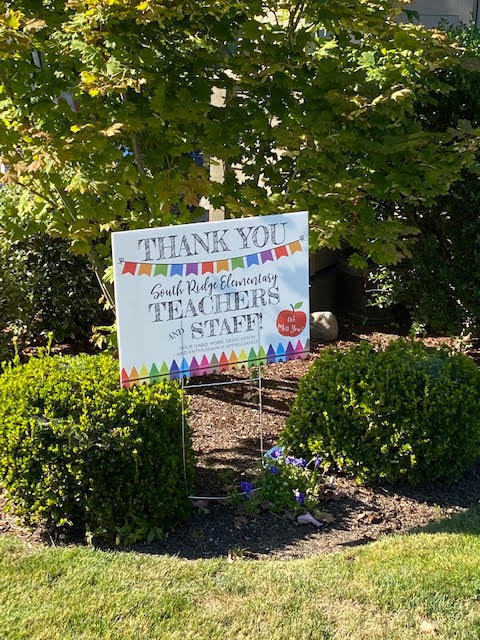 The yard signs thank South Ridge Elementary School teachers for all their hard work.
Neyenhouse contacted the South Ridge Elementary School Parent Teacher Association to get the idea in motion. "They were just as excited as I was to do this for our staff." The PTA quickly sourced and ordered the colorful signs. Together they made and delivered a total of 51 yard signs. Teachers were also given a goody bag with hand sanitizer, candy, a stress ball, bottled water, and a $10 gift certificate to local coffee shop, the Birds and the Beans.
Teachers across the school district spent part of their summer in professional development trainings. A wide range of courses were designed to help ease the transition to online learning. Neyenhouse was impressed with the South Ridge Elementary teachers' level of involvement. "It has been really amazing to watch the teachers rise to the challenge with such enthusiasm. They are incredible!"
Neyenhouse hopes the signs will remind people of all the hard work teachers have put in—and that the teachers realize how deeply they are appreciated. "I just want them to know that they are valued and seen. What they are doing is so much more monumental than usual and they deserve to be recognized for it. I am so proud of them and wanted to publicly acknowledge how amazing and awesome they are."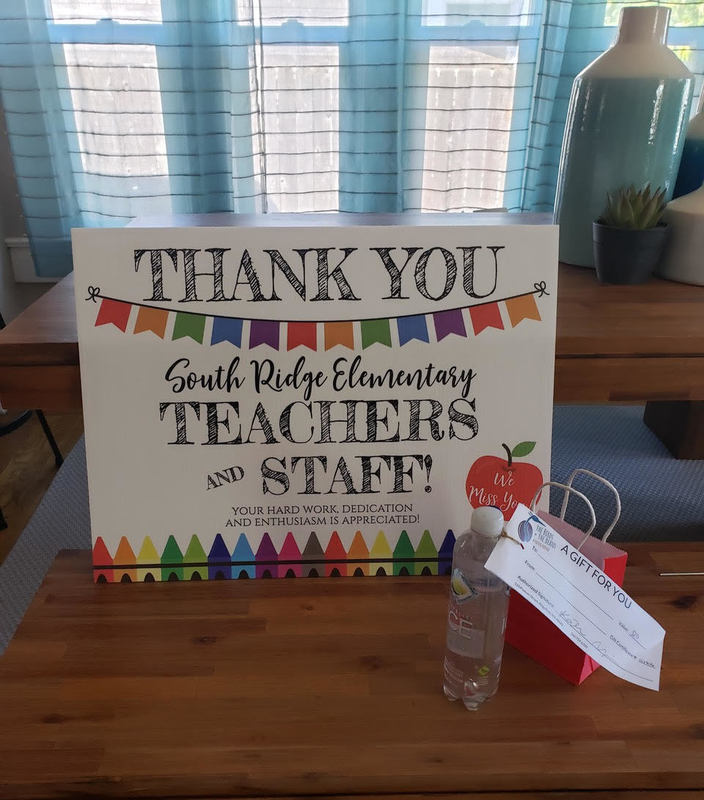 Teachers received the yard sign and goody bag just before the start of online classes for the new school year.
South Ridge Elementary School teacher Kristen Paradis was happy to receive a yard sign from principal Jill Neyenhouse.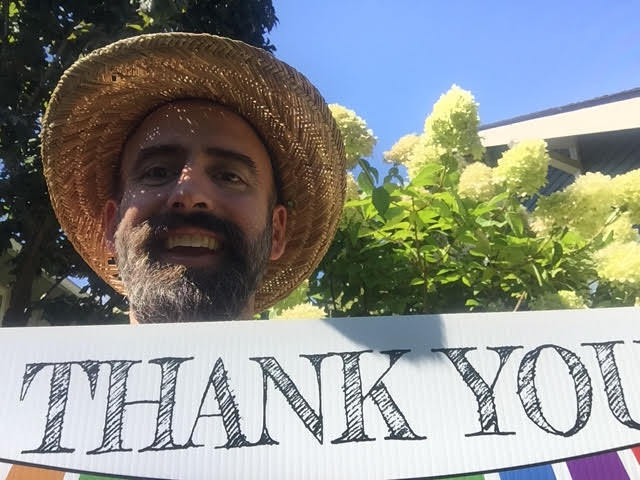 South Ridge Elementary School teacher Gavin Clarke proudly displayed his yard sign.