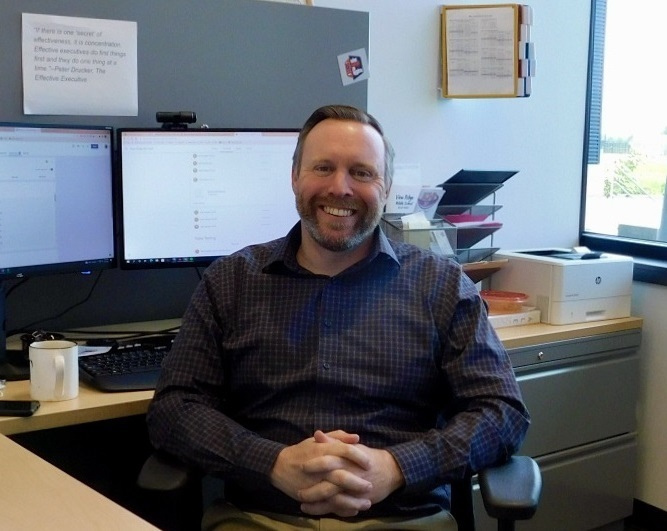 After seven years as principal, Tony Smith will be moving on from View Ridge Middle School at the end of the current school year. Smith presided over the school's move to its current building and managed the rapid increase in students due to Ridgefield's population growth.
"When I started, we had 372 students at View Ridge," Smith said. "Now we have 620. There have been a lot of changes."
One of the biggest and most unexpected changes for Smith has been his family life.
"I was single when I started working here," he said with a laugh.
Smith married his wife, Heidi, in 2019, and became stepfather to her two children, Travis, 17, and Maddie, 20. Then last year, the Smiths added two more to their family by adopting two boys, 12-year-old Santino and 10-year-old Diego.
Santino was a student in Heidi Smith's fifth-grade class at Monticello Middle School in Longview. She learned that Santino and his younger brother, Diego, had been in the foster care system for years, and she told Smith about them.
"Heidi said they were such great kids, and she was concerned. So I said, 'You know, we have an extra room here if they ever end up needing it.'"
The Smiths became certified as foster parents, and soon after, they started the adoption process.
"It felt right," Smith said with a smile.
He lights up when he speaks about all of their kids.
"Maddie is at Western. And Travis just won the Masonic Junior Achievement Award. And Santino and Diego, they like sports, and they're so bright." He beams with pride and shrugs, "Things have changed."
In the fall, Smith will start a new job as principal of Cascade Middle School in Longview, and one of the main reasons is to be able to spend more time with his family.
"With the commute, I got home pretty late a lot of nights, especially when we had events like sports and concerts. Next year, I'll be able to go home right after school, have dinner with my family, and watch my own kids in school sports and in band."
Smith is proud of his work at View Ridge, and he knows the school is well-positioned for continued success.
"I hired a lot of great folks," he said. "Some people don't realize the kind of talent we attract here in Ridgefield. As a principal, having great staff makes your life so much easier."
While Smith is sad to be moving on, he is grateful for the time he has spent in Ridgefield. He looks out the window of his office, so different from the old middle school building where he started as principal seven years ago.
"This staff, this community, and these students... I know they'll do fine without me, but I'm going to miss them. I've worked in a lot of places, and I feel lucky to be here."