Ridgefield High School 11th grade volleyball player Lizzy Andrew is having an incredibly busy year. In addition to the usual final exams and school projects, she is competing at the national level in volleyball. Andrew was one of only 20 athletes nationwide selected for the U.S. Volleyball Under 19 (U19) National Team. From that elite group, she was one of 12 chosen to represent the United States at the U19 NORCECA Pan American Cup in Puerto Rico, where her team won gold. In just a few weeks, she will be playing in the Junior National Championships in Chicago, Illinois.
\r\n
Andrew was one of the first volleyball players from the Pacific Northwest selected for the U.S. Volleyball U19 National Team in nearly a decade. The USA Volleyball National Team Development Program sent the 6' 5" middle blocker and 19 other top high school athletes from across the country to the Anaheim National Team Training Center in California.
\r\n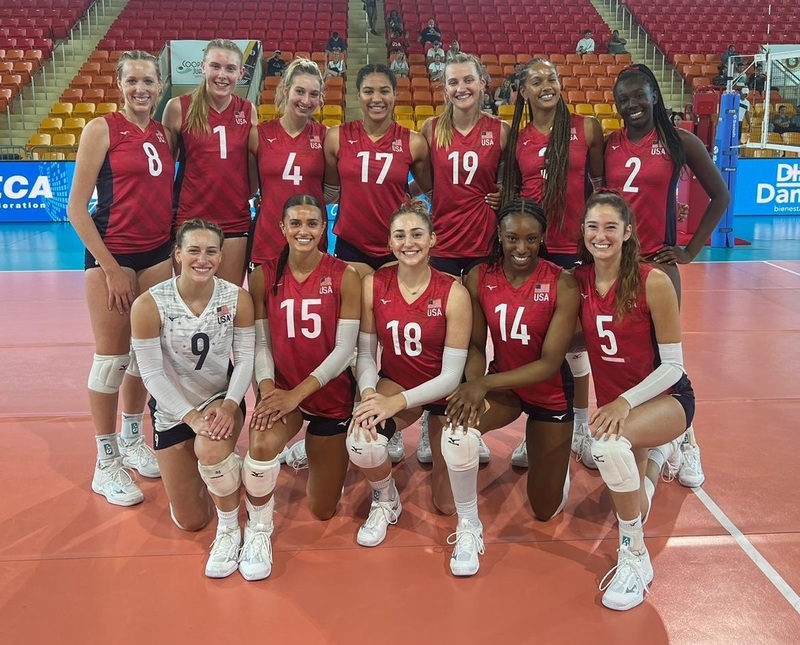 After a week of intense training with head coach Keegan Cook, USA Volleyball selected Andrew to compete at the NORCECA Pan American Cup in Juana Diaz, Puerto Rico. The championship event brought together top volleyball players from the United States, Canada, Mexico, Puerto Rico, Honduras, Costa Rica, Dominican Republic, and the U.S. Virgin Islands.
\r\n
Andrew flew to Puerto Rico for a week of competition as part of an entirely new team. "We were from all over the place, and I didn't know any of them," Andrew explained. "We had to get to know each other quickly so we could gel as a team."
\r\n
The team was split into brackets. Andrew's team played against the U.S. Virgin Islands in their first match and Costa Rica in their second match, winning both games. They earned a place in the semifinals after a win against Mexico, then moved on to the finals after defeating Costa Rica.
\r\n
Their championship match was against Mexico. "We played really well, didn't drop a set," Andrew said. But at the end, they weren't entirely sure of the results. "Everything was in Spanish!" Andrew said with a laugh. "When we heard Estados Unidos, we finally realized that we won." Her U.S. U19 team won gold with the Pan American Cup title, and Andrew won the Best Blocker Award for the entire tournament.
\r\n
"The trip to Puerto Rico was a long flight, but I had an incredible time," Andrew said. "It was cool getting to meet all the girls. It was really fun."
\r\n
With her packed schedule, she is already looking ahead to the next challenge: playing in the Junior National Championships in Chicago, Illinois with the Athena Volleyball Academy 17 Gold club team. After that, Andrew might get a short break before the new season starts for the Ridgefield High School Volleyball team. Andrew gave an unassuming shrug and smiled. "I don't mind staying busy."