Pickleball is one of the fastest growing sports in the country, and for good reason. Combining elements of badminton, ping pong, and tennis, Pickleball is a fun, easy-to-understand game that just about anyone can quickly pick up and play. For Ridgefield residents looking to play pickleball, no matter whether they're new players interested in trying the sport, or experienced players looking for a local place to compete, the Ridgefield School District has you covered!
Ridgefield High School now has two outdoor pickleball courts painted onto the school's tennis courts. Located just off Hillhurst Road in front of the high school, the courts are open to the public during non-school hours on a first come, first serve basis. School hours are Monday through Friday from 8 a.m. to 2:45 p.m. Student athletes practicing or competing on the courts get priority use even outside of regular school hours. There is no lighting installed at the courts, so they are not playable after dark.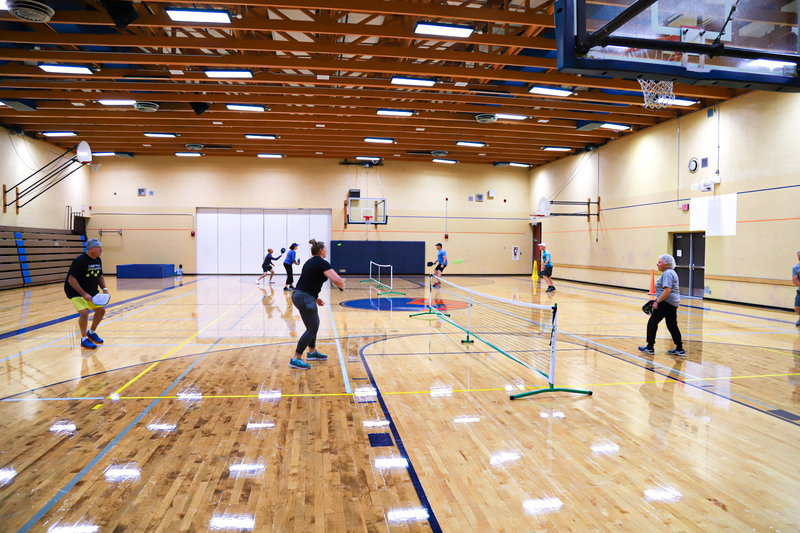 Indoor pickleball courts have also been installed inside the gym at the Ridgefield Administrative and Civic Center. For now, these courts have already been reserved through the district's Community Education program, but the district hopes to make them available for public play in the near future. The plan is to have both adult and family/youth time slots available, as well as for school and community-sponsored events.

Pickleball was invented by accident in 1965 on Bainbridge Island, Washington. When Joel Pritchard and two friends planned to set up badminton for their families but couldn't find the shuttlecock, they improvised. They found a wiffle ball, lowered the net, and after breaking a few badminton racquets, made new racquets out of plywood. Pritchard's wife gave the sport its name, saying it reminded her of the "pickle boat" in rowing, where a new crew is created by combining the leftover reserve rowers from other teams.
With smaller dimensions than a standard tennis court, pickleball requires less physical range and active movement. You don't need a large group to get started; you can play games with as few as two players for singles, or four players for doubles. While costs can vary, the equipment for beginners (a paddle and ball) starts at a fairly low price point compared to other sports. The game's simple rules make it quick and easy to learn for all ages, from small children to seniors. In fact, many students in the Ridgefield School District are learning and playing pickleball in their physical education classes.
In recent years, pickleball has skyrocketed in popularity and leagues are springing up nationwide. Now that Ridgefield has its own courts, the district hopes to see more residents getting and staying active by participating in this fun and engaging sport.