Over the past seven decades, several generations of students have passed through the doors of Union Ridge Elementary School. Going back to 1952, grandparents, parents, and children have all learned in the same building before matriculating on to RHS and graduating as Spudders. But Ridgefield's exponential population growth means that today, Union Ridge has nowhere near enough space to properly accommodate the influx of new students.
The capacity for the campus' two buildings is 655, but this year, Union Ridge has 830 Tater Tots. Administrators and staff have been fighting an uphill battle to wedge more and more students into a finite space.
Assistant principal Brian Heim is on crutches with a torn calf muscle, but he still hops up to lead a tour of the buildings. "It's important," he says. "We want people to know how much things have changed."
In the cafeteria/gymnasium, a huge blue curtain divides the room from floor to ceiling. The room used to serve as either a cafeteria or a gym. Now, with four lunch shifts per day, it has to be both at the same time. Heim walks past a group of students jumping rope and comments, "We used to be able to have school assemblies and family events here with the bleachers out. But now we can't even fit all of our students in this room."
The hallway to the classrooms is crowded–not with students, but with storage. It is jam packed with bookshelves and boxes; printers and a salmon tank are perched on a counter. At small desks pushed between the shelves, teaching assistants work with students, reading words out loud in a hallway that echoes with the sounds of other classes.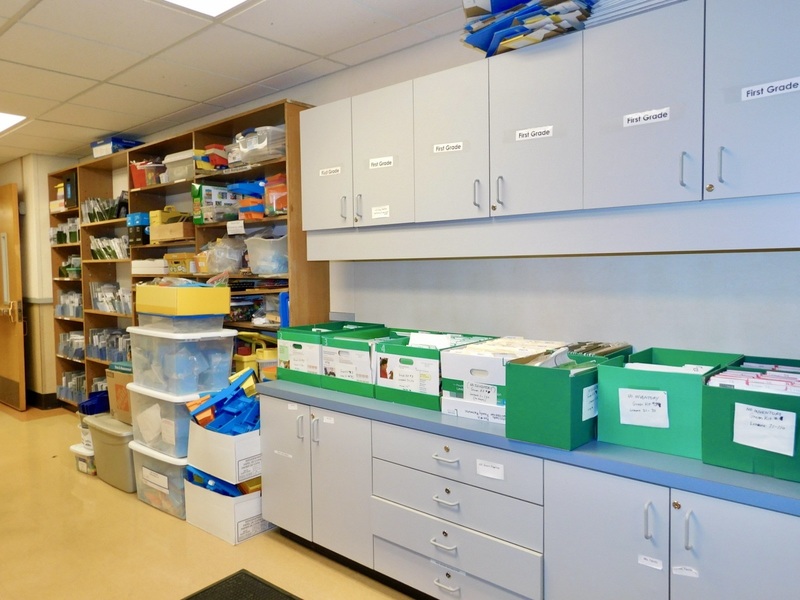 Heim stops at the end of the hallway to hold the door for a passing teacher. "The electrical system is too old to connect the buttons that automatically open the doors, so they are connected to battery packs," he explains. "The battery in this one is getting low, so this door is harder to open right now."
It has been thirty years since the school's electrical system was updated.
"The bigger issue is the number of outlets in the classrooms," Heim said, "We only have four outlets in each class, but each one has at least 25 students using Chromebooks. It makes it difficult to provide students with equitable access to technology."
Heim heads to the newer building. Next to the elevator, three small desks and chairs separated by panels make up the waiting area for the Connection Center. Unfortunately, there is no room for a Connection Center in the older building, so Heim and principal Angie Gaub try to fill in rather than send younger students across campus to this one. "The building at Sunset and View Ridge has a whole classroom for their Connection Center," Heim said. "For now, we do what we can here."
On the second floor, the common area, which used to be open and airy, is packed tightly with tables and chairs, cabinets, and rolling carts. Between mobile cabinets, the Title LAP and ESL programs use desks and chairs as makeshift offices. Nearby classrooms and the glass-walled former science lab (which has also been recommissioned as a classroom) have papered their windows over to block out the constant activity happening right outside their doors.
Heim stops to look outside. Shrouded in the fog are thirteen portable classrooms. Every single portable classroom is full, and more will be needed if the number of students continues to increase. The shortage of classroom space means even the backstage area in the cafeteria/gym has been called into use for music and band classes. The small space isn't designed for sound, and it gets loud with dozens of students playing instruments.
A young boy runs up to Heim on the playground outside the old building and gives him a big hug. "Hi, dad!" Heim grins and angles his crutches so he can lay a hand on the boy's head. His son runs off to join the other students and quickly disappears into the noisy crowd. There are 150 to 180 students on the school's playground for every recess.
Health aide Carla Bonebrake greets Heim at the office. She attended Union Ridge Elementary herself, and in 1969, her mother, Allene Wodaeage, helped found Union Ridge's Cispus Outdoor School. Bonebrake works in a small, windowless room, tucked into a space behind the school office.
"This used to be the superintendent's office," Bonebrake says, gesturing at the area around her. "But they had to turn it into several offices because we didn't have space."
What was once a single office is now the reception area, the principal's office, the vice-principal's office–and half of its former hallway serves as the school's health room.
"It's sad to see what Union Ridge has become," Bonebrake says, shaking her head. "We just have too many students for this space." Heim nods in agreement. "I really hope we can get the bond to pass. We need it. The kids need it."
If approved by voters, the $62.565 million bond would fund the construction of a new 75,000 square foot K-4 elementary school that would open as a K-6 school to help alleviate overcrowding at the district's existing elementary and intermediate schools. The bond would also fund an 18,000 square foot expansion at Ridgefield High School, featuring a new metal shop and classroom, eight general education classrooms, and space designated for future college, career and technical education (CCTE) classrooms. For more information about the Feb. 8, 2022 bond, please visit https://www.ridgefieldsd.org/.