The Ridgefield Family Resource Center's hours will be limited the week of Thanksgiving. Next week, the RFRC will be open for shopping on Sunday, Nov. 20th from 10 a.m. to 2 p.m. and Monday, Nov. 21st from 1 to 5 p.m. The RFRC will be closed Wednesday, Nov. 23rd and Thursday, Nov. 24th (and the RFRC is always closed on Fridays).
We are proud to announce that our CAPS Program has just been selected as one of the top 100 innovations to watch out for in 2023! We were chosen out of 3,000+ applicants for our impact in education innovation. Check us out in the #HundrEDGlobalCollection from HundrED.org! Download the report at: hundred.org/en/collections/hundred-2023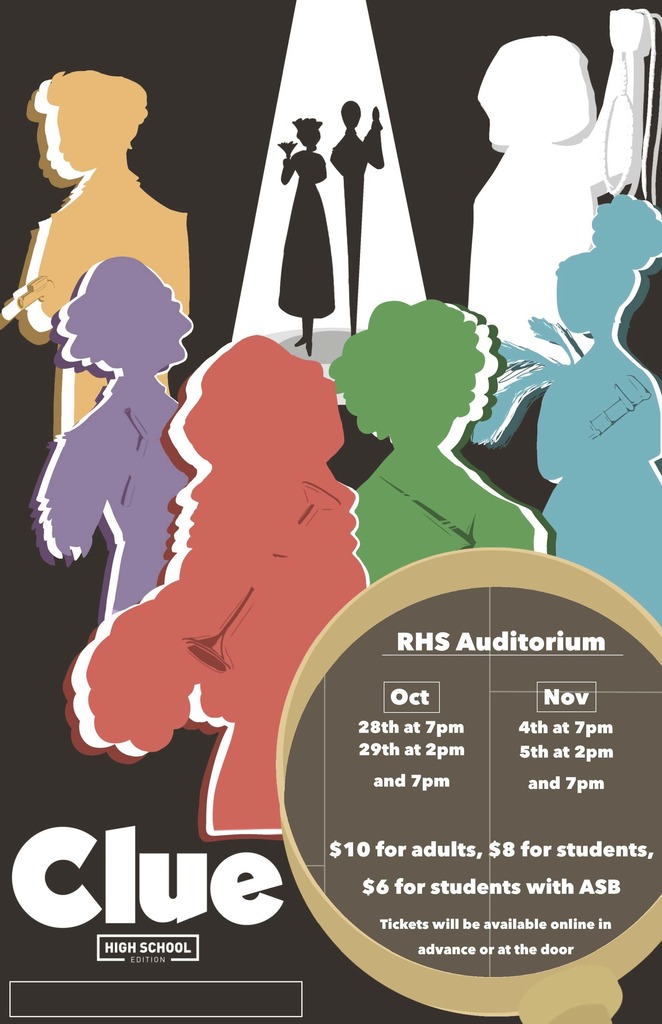 The first day of school is Wednesday, August 31, and we look forward to welcoming students back into classrooms for another great year of growth and learning. You may have heard or read about the ongoing labor negotiations between the Ridgefield School District and the Ridgefield Education Association (REA), which is the union that represents the district's certificated staff. While a new contract has not yet been agreed upon, the school year will start as scheduled tomorrow. The next bargaining session is currently scheduled for Wednesday, September 7, and we look forward to continuing negotiations with the REA. Please note that the first and last Wednesdays of the school year are not late start days. This means that Wednesday, August 31 (tomorrow) and Wednesday, June 14, 2023 (the last Wednesday of the school year) are not late start Wednesdays. Thank you for your continued support of our schools. District employees are all excited to welcome students back into our buildings and classrooms.
As of July 16, people experiencing a mental health crisis have a new way to reach out for help: they can simply call or text the numbers 9-8-8. The primary goal of the new number is to make it easier for people to call for help. Modeled after 911, the new three-digit 988 Suicide & Crisis Lifeline is designed to be a memorable and quick number that connects people who are suicidal or in any other mental health crisis to a trained mental health professional. If you are struggling, please reach out for help.
NOTICE OF SURPLUS EQUIPMENT FOR SALE Ridgefield School District has surplus equipment, bookshelves, desks and student desks, file cabinets, shelving, books, Chromebooks, desktop computers, projectors and other miscellaneous classroom supplies. These district properties will be disposed of no sooner than 30 days subsequent to the first publication of this notice. For further information, please contact Neil Brinson, Director of Maintenance & Operations, at (360) 619-1390. The sale will be held Thursday, June 23 from 8:00 a.m. to 3:00 p.m. at the RACC, 510 Pioneer Street, Ridgefield, WA 98642. Ridgefield School District will not be responsible for injury or damage to persons or property arising from or as a result of inspection, sale or use of any of the goods being offered for sale. All items are sold on "as-is, where-is" basis. The District makes no warranty, express or implied, as to the condition or fitness for a particular purpose of any of the sale items
On Sunday, June 5th, the Ridgefield Raptors are inviting RSD employees and kids up to age 12 to attend the game for FREE! The event will also feature performances by the Union Ridge Elementary School Choir, bounce houses, and more! The game starts at 1:05 p.m. Check out the flyer for details.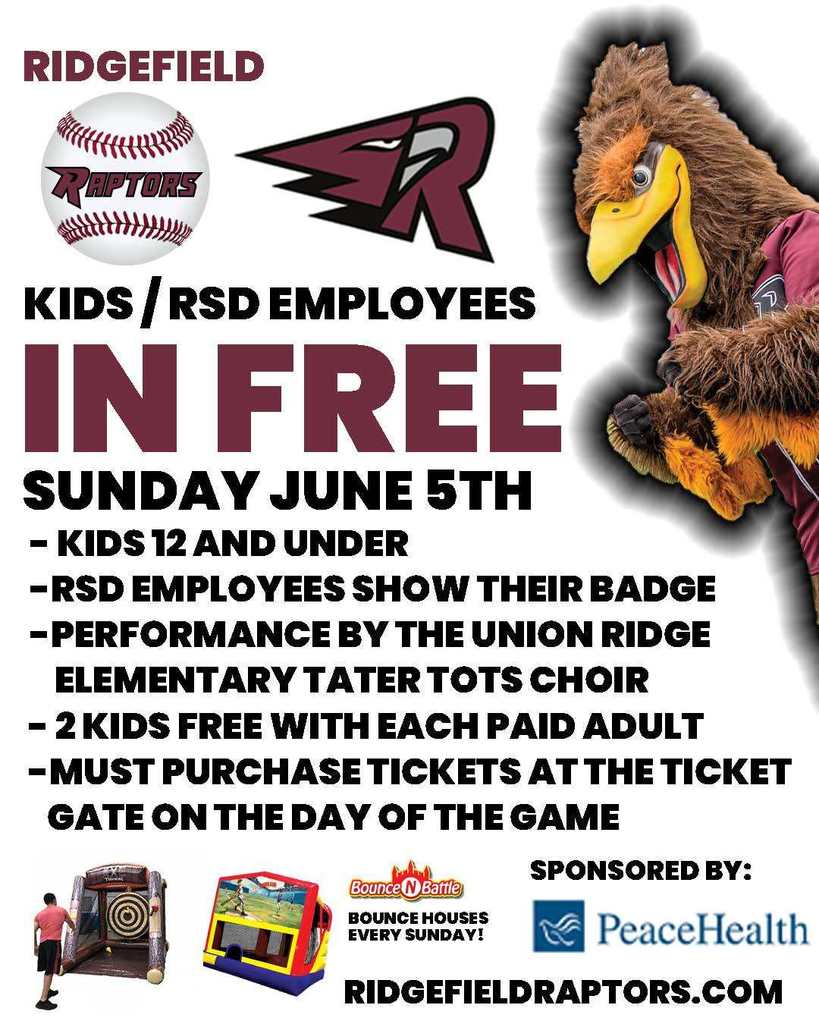 If you are headed to the Invitational Track Meet or the RHS Theatre performance of "The Music Man" on Friday, May 6, please be aware that these events are happening at the same time and parking may be limited. Please allow yourself a little extra time so you don't miss anything important!
Due to the inclement weather and the road and traffic conditions, all schools are CLOSED on Monday, April 11th. This includes all after school activities.
The Superintendent's office will be closed for official business from April 4th through the 8th for Spring Break. The District Office will be open over the break, however, staff will be taking time off, so we recommend calling ahead if you need to come to the office. Have a fantastic break!
Royle Road will be closed between Wells Dr. and S. Fieldcrest Dr. starting next Monday, March 7th at 7am, and will remain closed until Tuesday night, March 8th at 7pm. The closure is to accommodate the installation of underground utilities in the roadway. Please plan for additional commute time to get your students to and from school on time.
The Ridgefield Family Resource Center is also closed on Thursday, Feb. 24 due to inclement weather.

UPDATE - Due to inclement weather, all Ridgefield schools, including the Early Learning Center, will be closed today, February 24, 2022. All after school activities are also cancelled.
Join your fellow RHS alumni on Friday, March 4th at noon for the Annual Alumni Luncheon! If you plan to attend, please RSVP by Friday, Feb. 25th by emailing Dani Taylor at
danielle.taylor@ridgefieldsd.org
. We hope to see you there!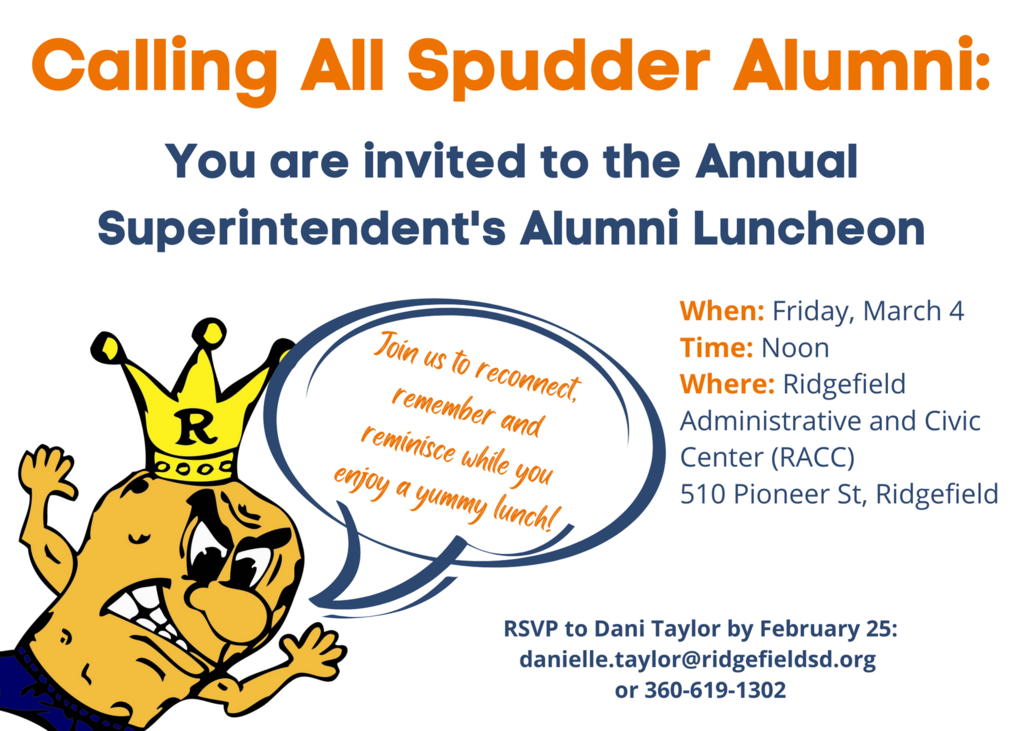 Today is Election Day! Be sure to return your ballot by 8 p.m. on Tuesday, Feb. 8th. There is a ballot drop box conveniently located in front of the RACC at 510 Pioneer Street in Ridgefield, but ballots can be returned to any of the 22 permanent drop boxes located throughout Clark County.
The RHS Theatre department is excited to announce this year's student-directed one act plays! The show features four different one acts that will be performed on Friday, February 4th and Saturday, February 5th at 7pm in the Performing Arts Center at Ridgefield High School. The four one-act plays feature about 50 students in the casts and crews working to make these productions possible, and we can't wait for you to see them! Tickets are free, but donations are always welcomed. We hope to see you there this weekend!