Congratulations to RHS athletic director Brynan Shipley for being named the GSHL 2A athletic director of the year! Well done, Shipley. Well done!

Congratulations to senior Hannah Barbaza for being selected as the RHS December Student of the Month!

Two more opportunities to see live theater as the RHS theater program returns to the RHS PAC stage for Radium Girls. Friday, Nov. 5 and Saturday, Nov. 6 at 7:00 PM.

Congratulations to our boys and girls cross country teams as they head off to Pasco to compete in the state championships this weekend.

State testing begins on Monday, Oct. 4. All freshmen, juniors and seniors will be taking a state test in October, and sophomores will be testing later this year. Students MUST have a school-issued Chromebook (not one from surplus) as testing can only take place using a secure browser, and those browsers can only be uploaded on school owned devices. If you need to check out a Chromebook, contact our tech department at
chromebooks@ridgefieldsd.org
Here is the link to the parental authorization for Chromebook check out. It is best to open this form on a computer rather than a phone.
https://webforms.ridgefieldsd.org/forms/mdca
Congratulations to Spudders Head Football Coach Scott Rice on being recognized as a Seattle Seahawks Coach of the Week! Now in his third season at the helm, Rice has been steadily building the program into a consistent winner and a state-caliber program. After beating 7-time defending league champs Hockinson 35-0 last Friday, the team is off to a 3-0 start and building momentum. Each week during the high school football season, the Seahawks and the Washington State Football Coaches Association select two high school football coaches as the Coach of the Week winners. Each recipient receives a $500 donation to the school's football program plus a framed certificate signed by Seahawks Head Coach Pete Carroll. Rice will also receive two tickets to a home Seahawks game later this season and be recognized on the field with the other Seattle Seahawks Coaches of the Week recipients. #GoSpuds!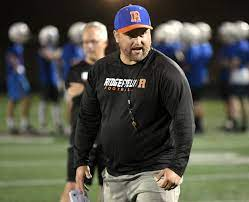 Picture day on Wednesday, Sept. 22 for all students who did not get their picture taken at orientation on Aug. 24 or who want retakes.

Student Orientation is Tuesday, August 24 from 8:00 to noon. Drop by anytime to get your picture taken, purchase an ASB card or yearbook, pay fines, put money on breakfast/lunch account or get a free/reduced lunch form, see your counselor, get a parking permit, get an off campus lunch permit (for seniors only), and check out a Chromebook (all students will need a school-issued Chromebook this year). Should take only about a 1/2 hour unless you need to see your counselor.

Welcome Mr. Jeremy Tortora to Ridgefield High School. Mr. Tortora will be working at RHS as an assistant principal.

Congratulations to junior Hailey Betts for being selected as the RHS May Student of the Month!


Congratulations to Ari Tumbagahan for being selected the RHS April Student of the Month.

Ridgefield volleyball defeats Woodland for district championship.

Seniors pose after their last home regular-season soccer game. Mackenzie Dewey, Sophia Melville, Kyera Jones, Tegan Petersen, Lilly Ziemer, Jaynie Murray, Paige Jones, Alyssa Dewey, and Kayleigh Gates. Not pictured is Rylee Ancheta

Seniors on Senior Night Luke Price, Bryce Harrison, Sam Everett, Matt Vance, Trent Miller, Tanner Roberts, Dylan Parton, Bailey Meek, Clexious Mendoza, Aidan Hundt with coach Rice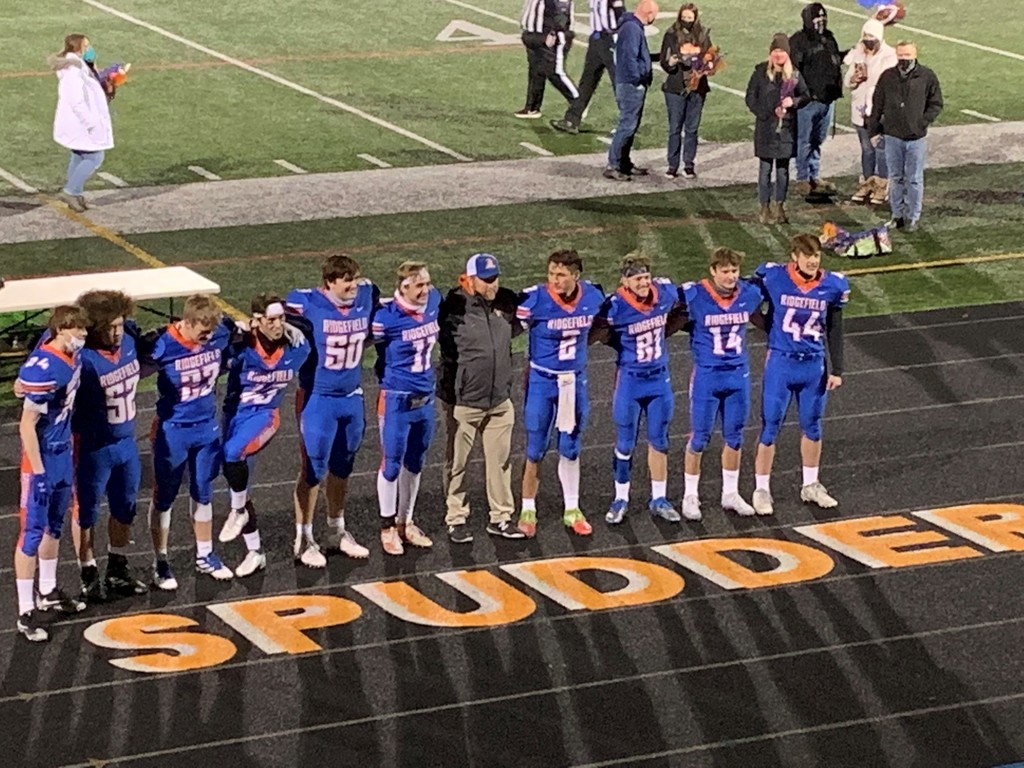 Season 2 - Spring Sports Registration opens Monday March 8

Congratulations to the March Student of the Month, senior Luke Price.

Congratulations to our Thespian Troupe #8635 at the recent virtual state competition. The following students were awarded Excellent scores in their category: Avari Harrison-solo musical theatre BriAnna Robbins-solo musical theatre Cameron McGravey-solo musical theatre Ella Ross--solo musical theatre Peter Schafer-solo musical theatre Sophia Miller-solo musical theatre Summer Sedgley-solo musical theatre & monologue BriAnna Robbins-monologue The following students scored Superior scores in their category and qualified for the National competition: Kaitlyn St. John-solo musical theatre Peter Schafer-monologue Congratulations to all and to their advisor, Ms. Kaitlyn Etter.

Congratulations to the following students for making it to the state Speech & Debate competition, and to their coach, Mrs. Michelle Hamann. Elizabeth Peery - Original Oratory Kaitlin Robey - Impromptu Kalie Hittle - Original Oratory and Impromptu Reese Gentemann - Expository Speaking Sierra Stern - Congressional Debate Stuart Swingruber - Congressional Debate

Congratulations to RHS science teacher Katy Sheley for being named the Ridgefield School District Employee of the Month for February!